Hi all,
Another 2 years in the life. (Well not quite)
European Beech, first picture 20/03/11, second picture 19/11/12.
It will be re-potted this spring at the correct angle. The rear trunk is new and has a lot of developing to do as does the carved stump at the back. Any comments on it or how to improve it would be greatly appreciated.
Thanks Sam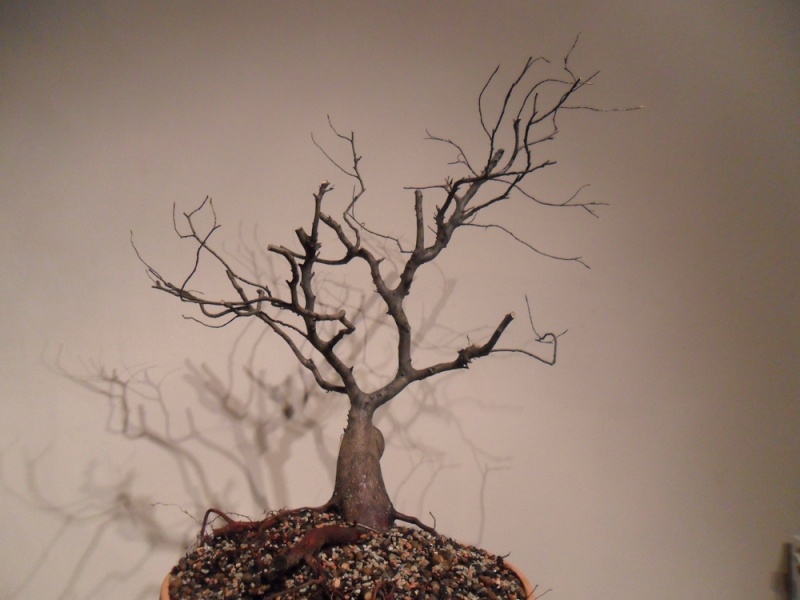 Mr Miyagi

Member





I love that cave.
First of all remember I am a newbie and know nothing!
So I am just posting what I see and makes impression on me, without knowing much about bonsai.
I like the top most picture better. Visually it apeals to me best. It looks very natural. I am not sure if bonsai is supposed to look natural?
I understand this is a work in progress and You must have some vision for it.
In the second picture the canopy looks to me too big. Are going to still prune it later and reduce it? Maybe You are trying to thicken the branches? Are there any guide lines for proportions?
I like the way it looks styled. What style is that?

Neli

Member





Nice work. Looks like a natural open beech canopy to me, the way I remember them to be (From climbing them as a kid ;D). I remember how surpprised I was at the lach of branches, just a few heavy trunk in the canopy.

The one thing I find somewhat displeasing it the branch that comes from the center of the tree, and is bend forward sharply to lean down a little. I probably did not have any buds on the front of the left main branch. But I find it fairly unnatural, and may come to bite you in a few years as the tree develops further. It all is nicely distributed, except for that one branch. Maybe you can graft a branchlet onto the main trunk?

leatherback

Member






---
Permissions in this forum:
You
cannot
reply to topics in this forum