I don't often post pics of my trees, but I've been working on improving my technique and it's getting a little better. A better camera (and of course better trees) might help. Let me know what you think.
Here's a crepe myrtle I've been working hard on for about 6 yrs. I let her bloom this year. A new base was created by air layer first, and then about 2/3 of the top was removed a couple of years ago (actually by suggestion of Jim Lewis in response to the original pics I'd posted). The structure is pretty good now although the apex needs more development and the die-back scar from the apex removal will have to heal, which will take quite a while. The new roots of the nebari are also thickening very very slowly and are not ready to be exposed.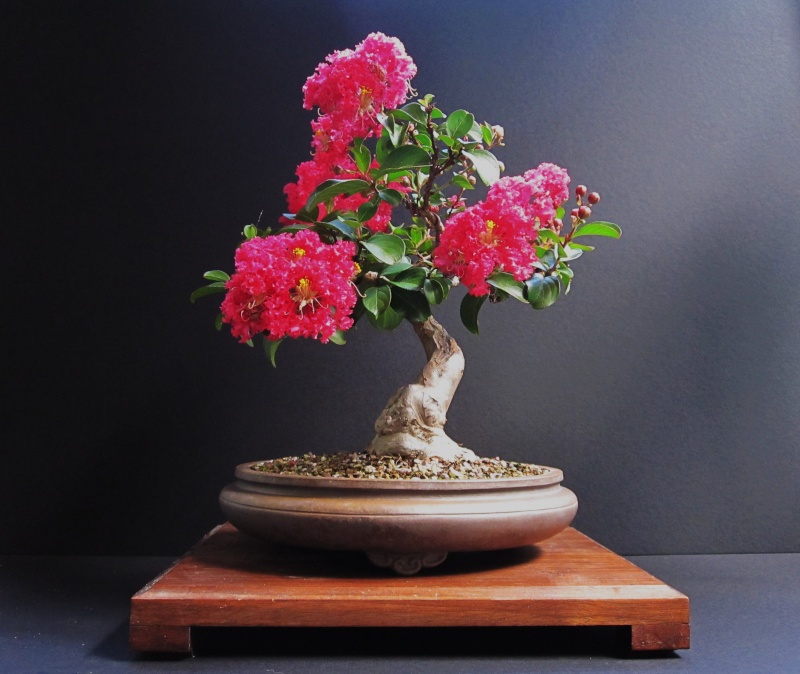 The second tree is a portulacaria I have been developing for probably 6-7 yrs now. I just repotted it a few weeks ago and made a major change to the front which I am pleased with. It's a little messy right now as it has to recover from the repot and get strength to make it through the winter in a window. The pot is a dry river bed style from Dale Cochoy.
Mike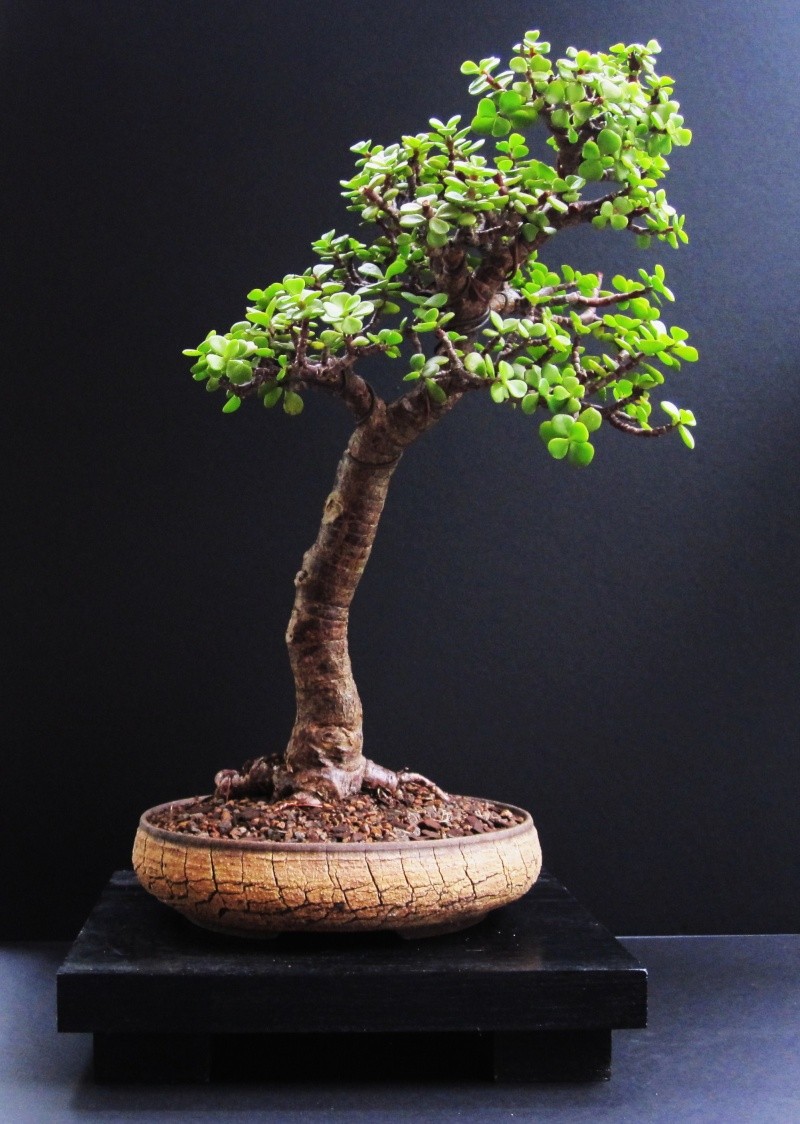 Love the crape myrtle! Good job. I especially like the little face at the base. <g>
_________________
Jim Lewis - lewisjk@windstream.net - Western NC - People, when Columbus discovered this country, it was plumb full of nuts and berries. And I'm right here to tell you the berries are just about all gone. Uncle Dave Macon, old-time country musician

JimLewis

Member





C/P............Love the crape myrtle! Good job."
...crape Jim....hehe..........mee tooo I love it

yamasuri

Member





Really like the crepe, and it looks good in bloom, it seems to be closer to the canopy than I've ever been able to attain with mine. Good pot match on the portularcaria. I've got a BRT that would look great in a pot like that...
Crape myrtle looks great, especially with close in flowers.

_________________
"Eschew obfuscation"

John Quinn

Member





Oh,the second pot is very special !
Thank you 4 shared!!!
Thank you all for the encouragement! Perhaps I will start posting more pics in the future.

The myrtle I keep trimmed back pretty hard in general, and find if I remove the initial flower buds it will send out new shorter ones, sort of like defoliation does with leaves. Then I trim back the top half of the cluster of buds to keep things close and in scale. Unfortunately in this pic it looks a little like a seal balancing a pyramid on its nose, but the emphasis was on showing the.blossoms. It's been trimmed and wired a little more since then and I will try to get a decent pic up showing the branch structure better.

The Portulacaria is one of my favorites because of the elegant trunk line and taper, plus the great pot from Dale. In a year it will have it's foliage pads back and will look better.
Mike
My fave is the Portulacaria. They're both ten times more developed and impressive then any of my newbie trees. And the CM is gorgeous. But there's something about the Port that really speaks of age and character to me. Please follow up with updates on it in the future.

MikeG

Member





I think it's a pretty impressive tree
Thank you both


---
Permissions in this forum:
You
cannot
reply to topics in this forum