I have been making pots for bonsai for about a year. I am not a bonsai person but a potter.
I came across this web site a few months ago. I was very excited to see the open way that pots are discussed here.
Here are four of my pots. The first two were fired in reduction to cone 8 in a gas fired kiln. The last two were fired in an anagama with wood to cone 12-13. The atmosphere in the anagama cycles from oxidizing to reducing and back again. With the addition of fire wood, the kiln is flooded with ash which combines with the vitrified clay to form a glaze. The anagama is fired for three and a half days.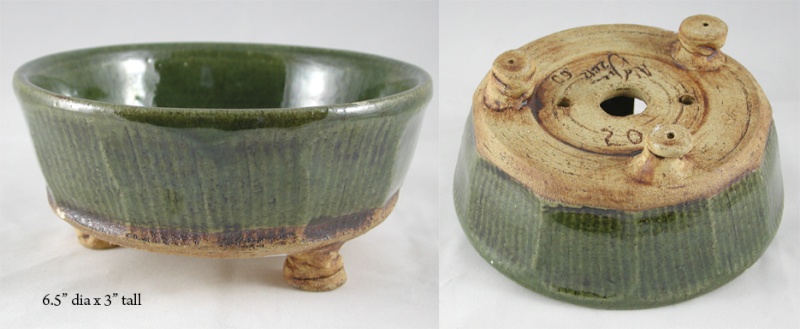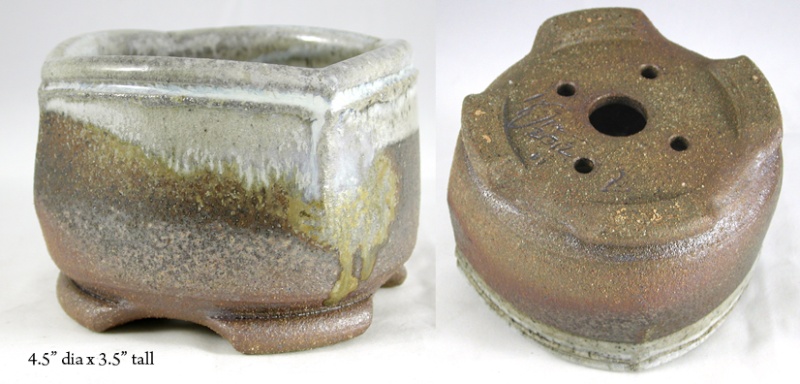 Steve McGrew

Member





Nice start, Steve. Welcome to the IBC!

_________________
"Eschew obfuscation"

John Quinn

Member





I like that last one best, Steve.
btw - nice pics


_________________
"Espouse elucidation"
_____________________________________
my website

fiona

Member






Orion

Member





fiona wrote:I like that last one best, Steve.
Me too!

Poink88

Member





Thank you all for your kind remarks and for not stating the obvious, that two gas fired pots and two anagama fired pots should equal pics of four pots, not three. Here is the second anagama pot (I hope).


Steve McGrew

Member





And now I think I have to say it again...I like the last one best. Nice work.

Jesse McMahon

Member





The last is my fav, too, but I like #2 also. Good work.

I think most bonsaiests might feel that the legs on most of these are just a wee bit too long.
_________________
Jim Lewis - lewisjk@windstream.net - Western NC - People, when Columbus discovered this country, it was plumb full of nuts and berries. And I'm right here to tell you the berries are just about all gone. Uncle Dave Macon, old-time country musician

JimLewis

Member





yep, definitely 2 and 4 for me.
Any web site you might be selling your work on ?
I really appreciate your remarks. The 4th pot was my all time favorite but I sold it and now its gone. I agree that the legs are too long for some bonsaiests (neat word,Jim), but I have had some people looking for unusual configurations including long legs. I'm struggling with a web page where more of my pots can be seen. [url]bonsai-potter.com[/url]

Steve McGrew

Member





very nice - keep making more! We need more good bonsai potters here in California.

- bob


cbobgo

Member






---
Permissions in this forum:
You
cannot
reply to topics in this forum