BEAUTIFUL
...

These lingbi are rarely seen in the USA , thank you for presenting the lingbi wen ! I did see one that was shown in the Aisekikai Newsletter and owned by Toy Sato. Is there a poetic or common name for these lingbi ? They give me the impression of intricate quilting.
best regards,
Norma

Norma

Member





Hi Jack. Hi Norma.
The stones in your photos are simply extraordinary, Jack.
THANK YOU, FOR ANOTHER TREAT!!!
Our stone friend Kemin Hu wrote that
'White Horse' (Zhou-jia) Mountain
was the original scholars' source of Lingbi Wen stones. Jack notes they are quarried near the village of Bai-mu which also translates as 'White Horse.' They agree, & Jack accurately depicts the location in the southwestern region of the Qin mountain chain in North-central Anhui province. I am glad to learn (thanks, Jack).
Kemin notes that modern quarrying of Lingbi Wen stone began in the early 1990s. Most stones are sold locally and are not widely distributed through international vendors. Kemin describes the earliest modern quarrying of White Horse Mountain as the "1st layer" with many wrinkles. Later, "2nd & 3rd layer" quarrying have produced stones with notably fewer wrinkles.
From my collection-- a Lingbi Wen stone 'turtle' & a Lingbi stone 'human figure' (lower lamp rim height 16.5"/42cm)...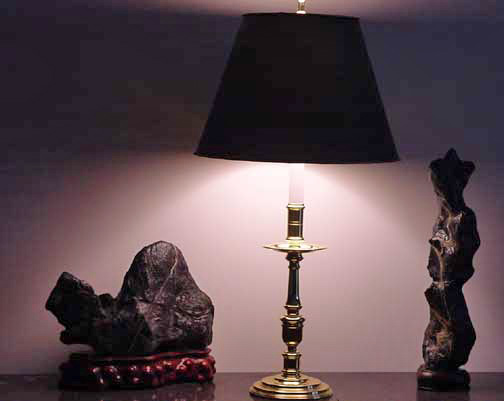 Chris Cochrane

Member





HI CHRIS ,

I read your last article regarding the Lingbi stone history in USA and mentioned some books in your essay ,but ,I think that the other collector who provided us with more precise articles and books that introduce the history of Lingbi stone in your Amercian .

I just browsed it roughly and fond the article cancelled ,it is a pity !
Hi Jack... Sorry for not being so active in the past week. Several family medical & financial needs had to be addressed (and continue). Potomac Viewing Stone Group had its first collecting trip of the year on Sunday. I wish I'd taken more photos but hope to post something of the mountain stream collecting.

Peter Aradi's comment originally posted on this thread has been split to a separate post & is there in its entirety (unless Peter has amended it). The thread is entitled, "Lingbi scholars' rocks in early/mid 20th century America" which is what Peter addressed rather than Lingbi Wen stones. I hope more will be shared on both threads... :-)

Perhaps, you could comment on the publishing & distribution of the rare book he mentioned that was published in China with English translation-- the same book translated later with extensive commentary by Edward Schaefer & variously referenced as Yunlin Ship'pu, Tu Wan's Catalogue of Cloudy Stone Forests et al..

We should hear more on threads which extend understanding... :-)

Chris Cochrane

Member






---
Permissions in this forum:
You
cannot
reply to topics in this forum