I just bought a Ficus b. 'Kiki' at our club auction. It has one trunk at the base, then divides into two competing ones. I would like to remove one, but I don't want to bother air layering unless I have to. The stem in question is about 1/2 inch, say 1.3 centimeters, at the base. Can I root that as a cutting on the windowsill (plant room is shut down for the summer)?
Other question, does 'Kiki' backbud on the trunk easily?
Iris

bonsaisr

Member





bonsaisr wrote:Can I root that as a cutting on the windowsill (plant room is shut down for the summer)?

Yes

Other question, does 'Kiki' backbud on the trunk easily?

Not in my experience.

Iris

Billy M. Rhodes

Member





Thanks. It has some low branches with bare space in the middle. I have more thread grafting to look forward to.

Iris

bonsaisr

Member





yes they back bud very easily. my main picture is actually a kiki. its about 20 years old. i get it to back bud very well. no airlayering needed on this type of ficus, they root well just in plan water, but you have to change the water every 3 days or so. only down fall about that is that they take a long time to root in water verses airlayer, about twice the normal time. water= about 4 weeks for suficient roots, airlayer= about 2 1/2 weeks. if you have anymore questions about the kiki variety i can probably answer them because i deal with them on a normal bases. i have grown and given away kiki's i have experimented with from my mother tree so many times ive lost count and ive never fail at any attempts with this tree on introduction to any methods that would be practical for this type of tree and the style i have grown it in.

thatboy5454

Member





I operated on the little tree & it is doing fine. It produced a lot of buds on the trunk. I rooted the other piece successfully, but after I potted it, it was neglected so I may have lost it.
thatboy5454 states that he is very successful with Ficus 'Kiki.' However, you don't tell us where you live. How do I know that your methods would be successful in my part of the country? Continental United States takes in eight USDA climate zones.
Iris

bonsaisr

Member





Your profile says central NY if I'm correct. I loved there for 5 years. I'm currently in Colorado. The weather in central central NY is about the same for the part of Colorado I'm in, as far as seasons go. The humidity is a little higher than here though. But it get just as cold and as hot as it does in central NY. With the exception of this record drought the united states has been seeing especially in Colorado. But mt ficus has grown As well as it has in NY as it has in Colorado. When I first arrived to colorado I wasn't certain of how there weather was so for the first year I was there my ficus was grown under led for that year until I was certain of how the weather was.

thatboy5454

Member





Yes, the climate in Colorado and Syracuse might be similar for Ficus.
As I said, my Kiki produced many new buds on the trunk after pruning & repotting. However, there are still two major bends in the middle of the trunk that need to have branches coming out, & of course no buds. This is known as the Law of Davke, one of the major laws governing bonsai.
No picture yet. You don't want to see another stick-in-a-pot-with-wires.
So I have a thread grafting job coming up. I am training a couple of long shoots for the task.
Iris


The English translation of "DAVKE" is "specific or exactly (the opposite of what you expect)".
Last edited by bonsaisr on Sat Jul 28, 2012 4:48 pm; edited 1 time in total (Reason for editing : Add definition)

bonsaisr

Member





Well I've noticed with my kiki that it also back buds well along the trunk and main branches when given the right humidity during the growing season. I've been lucky I guess to have a tree that does well with filling in the gaps. Of course with this I also get buds in undesirable places which I turn into more trees from cuttings. Ill post a couple of picks of the mother tree and the cutting I have here and also show this years back budding. I just recently did a partial defoliation so the mother tree won't have many leaves but ill be sure to indicate on the pictures where the back buds from this year are.

thatboy5454

Member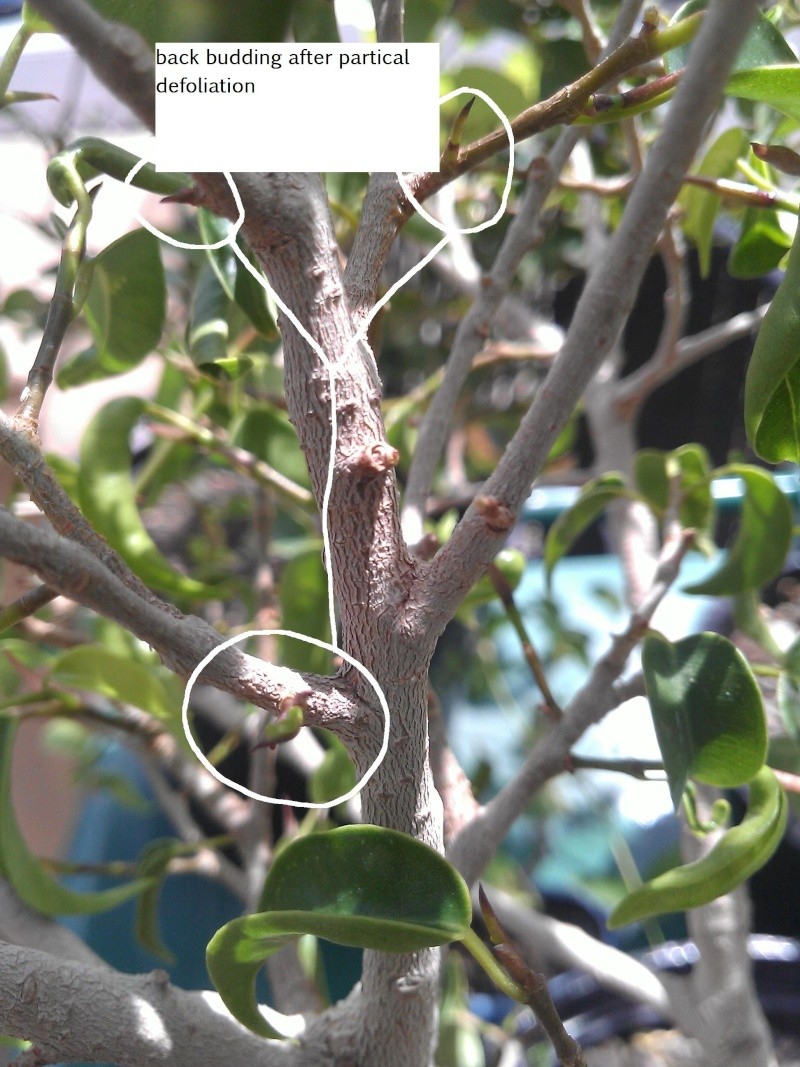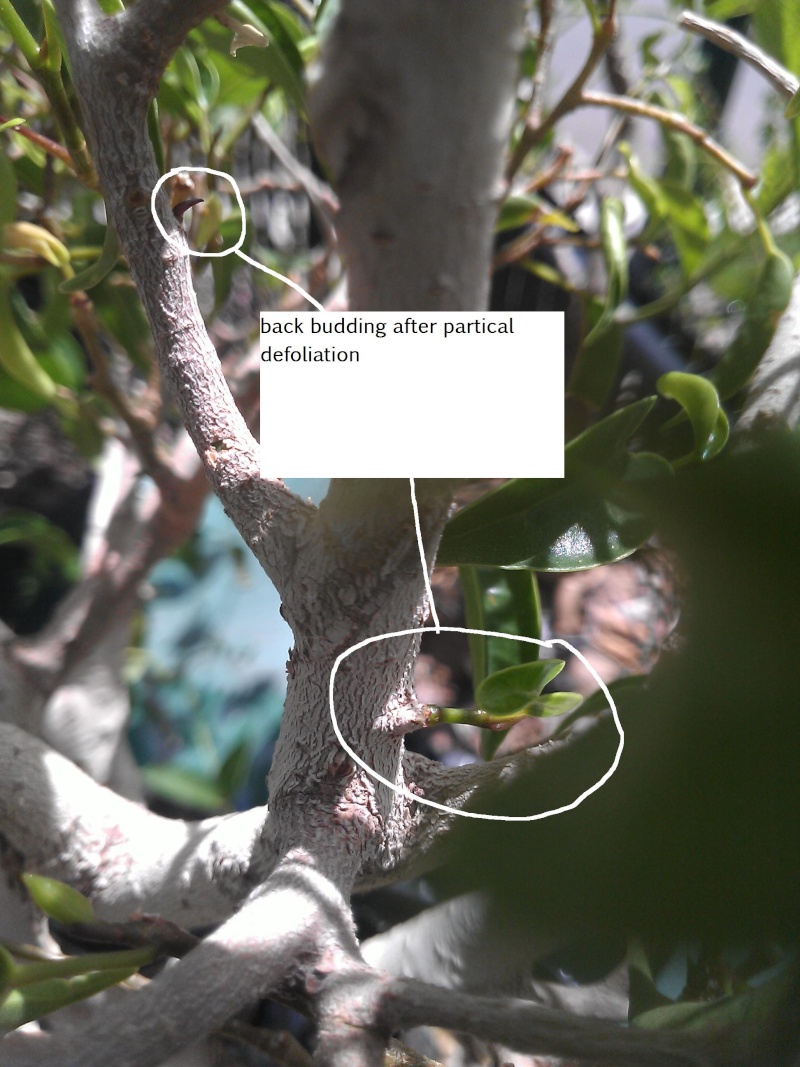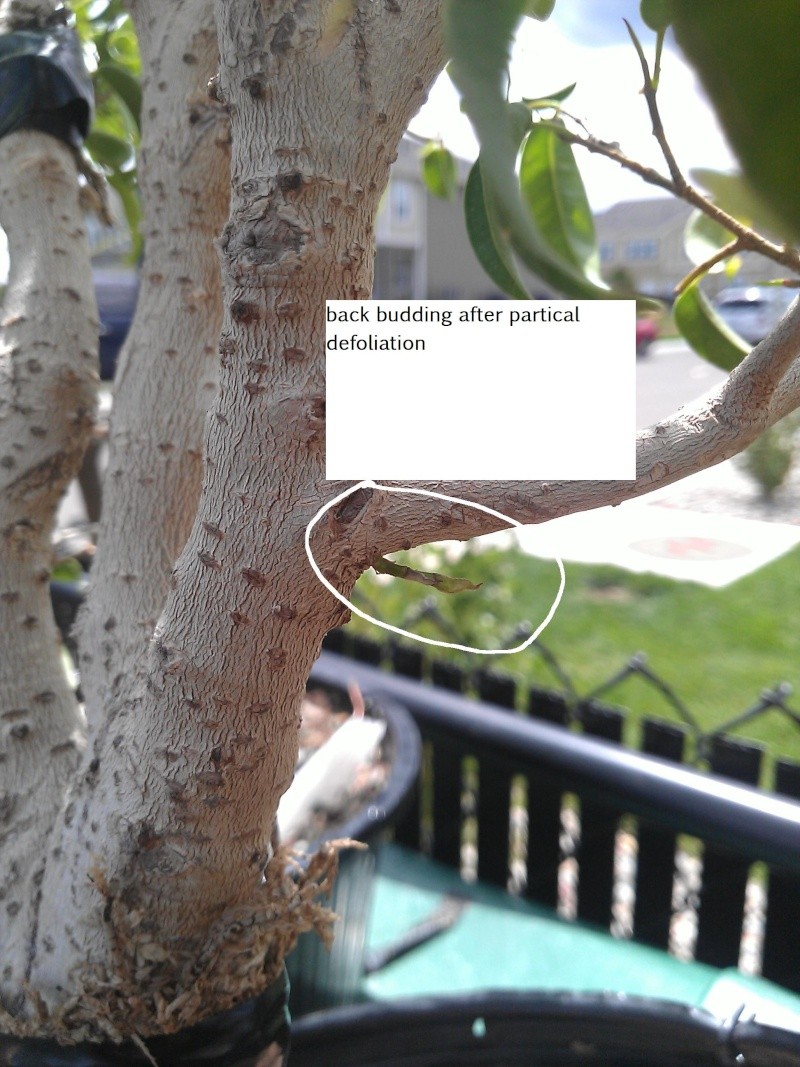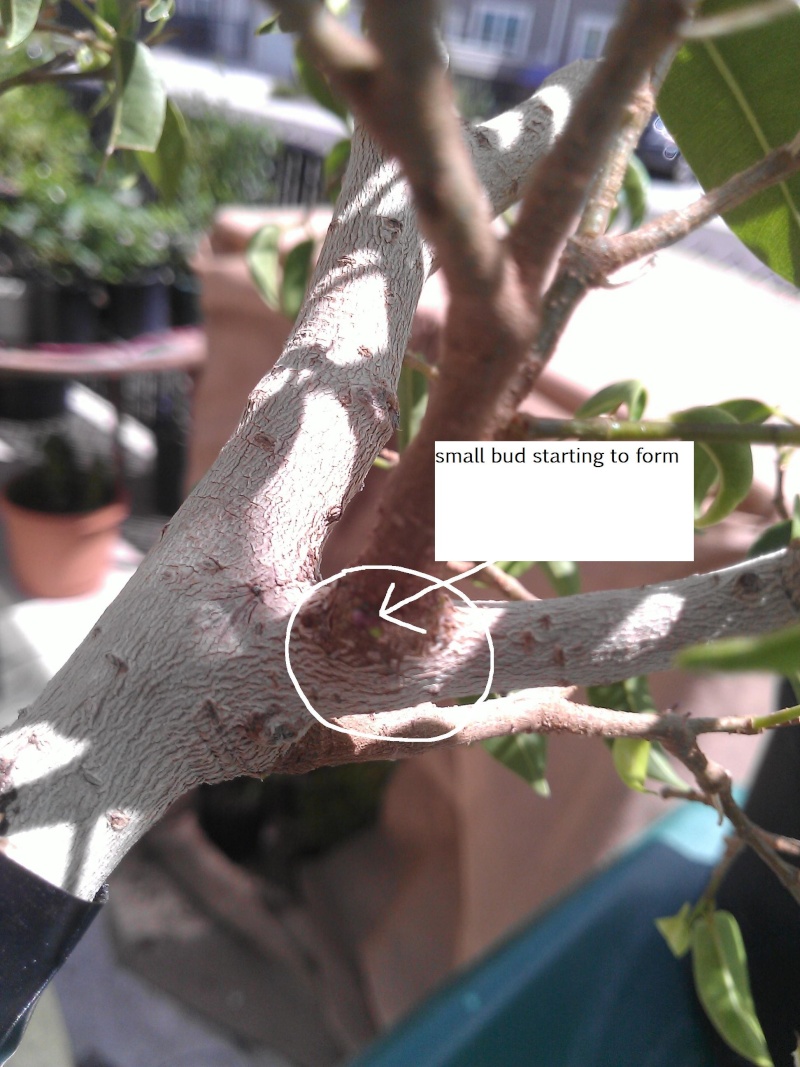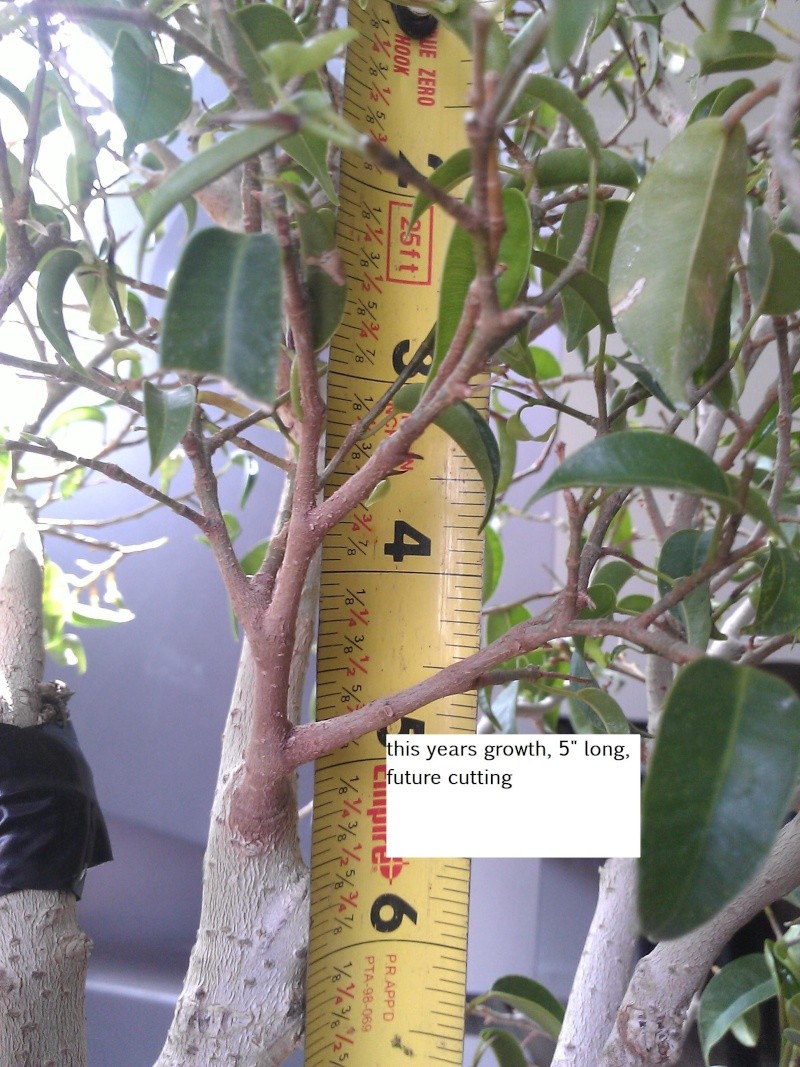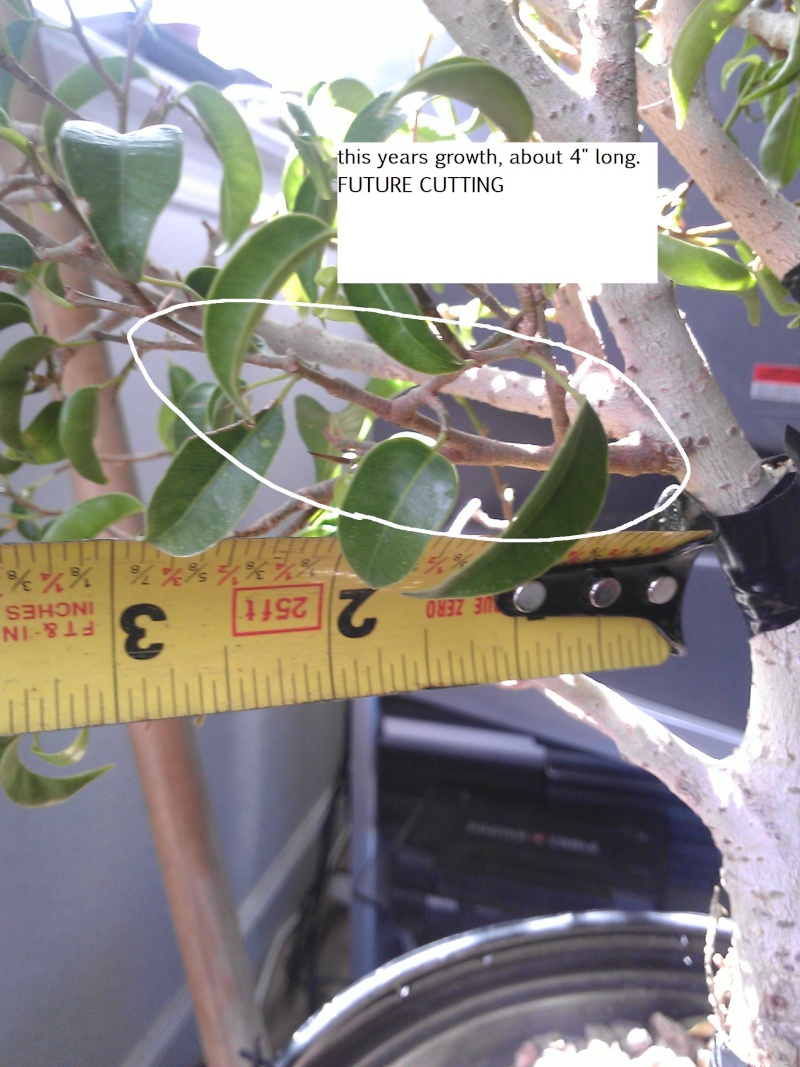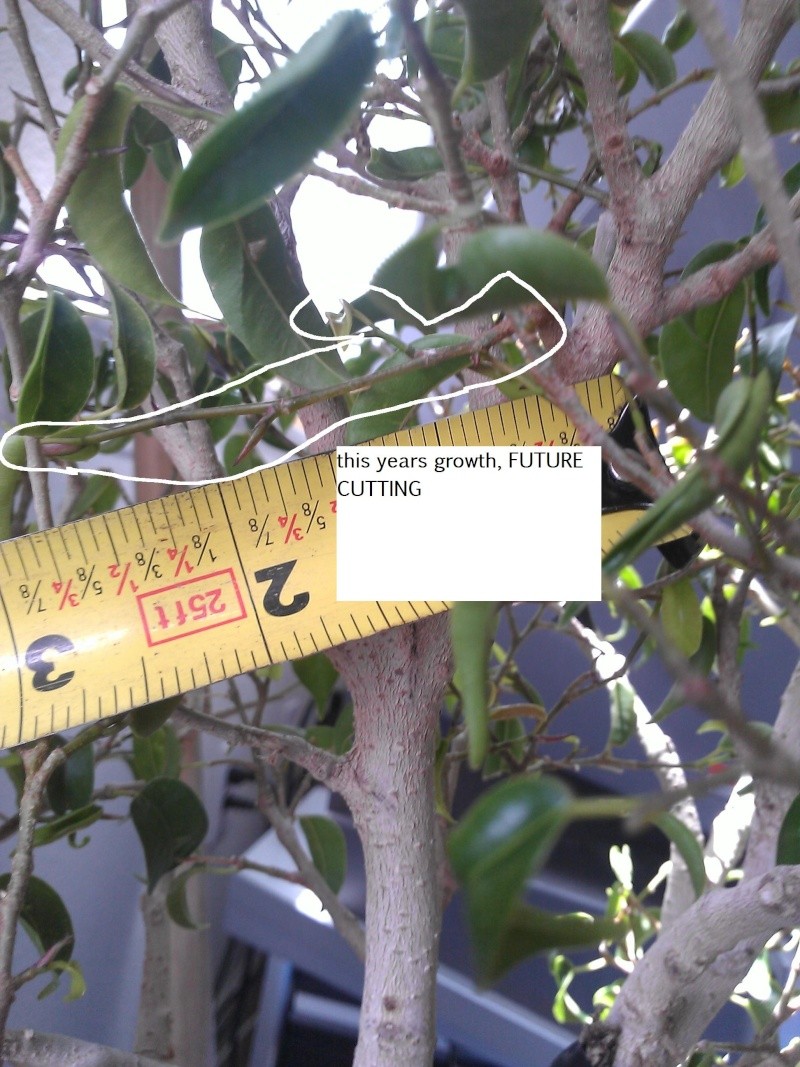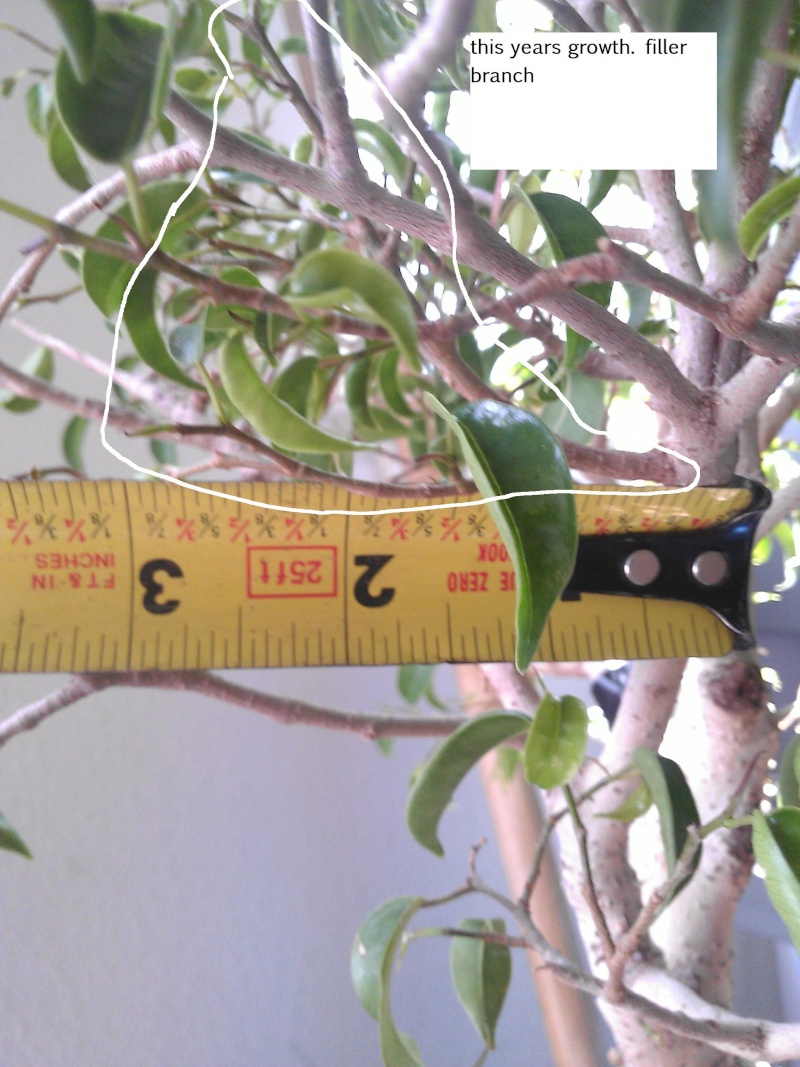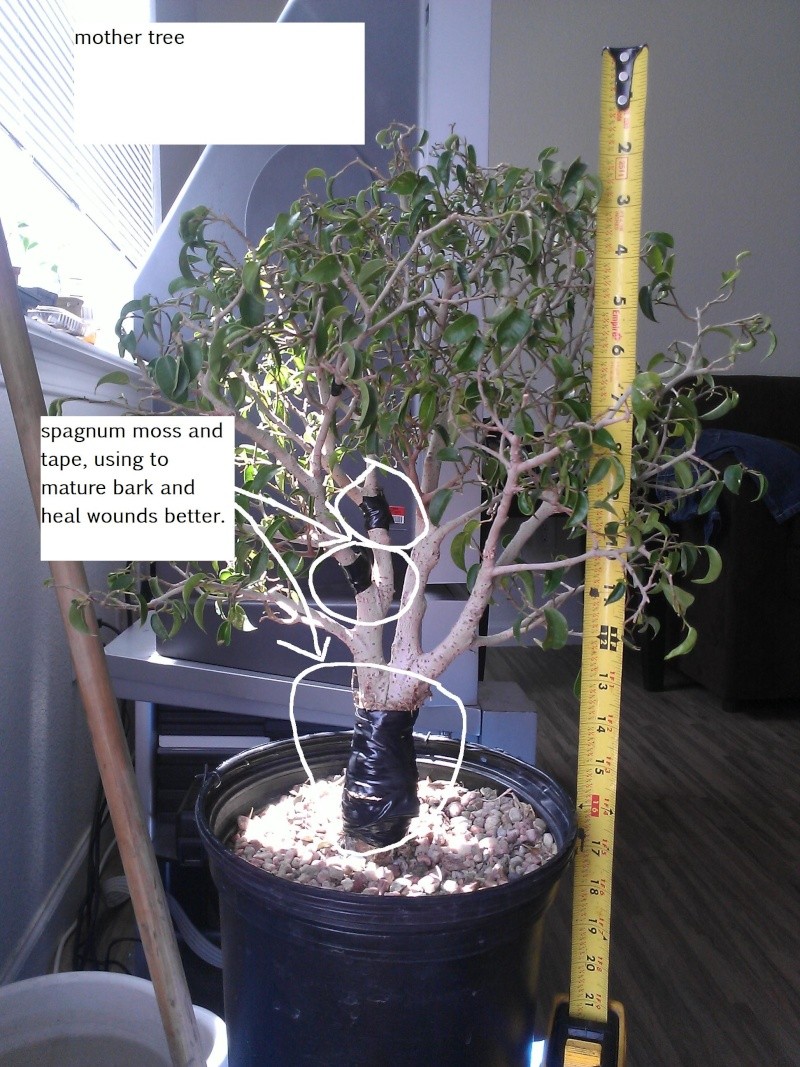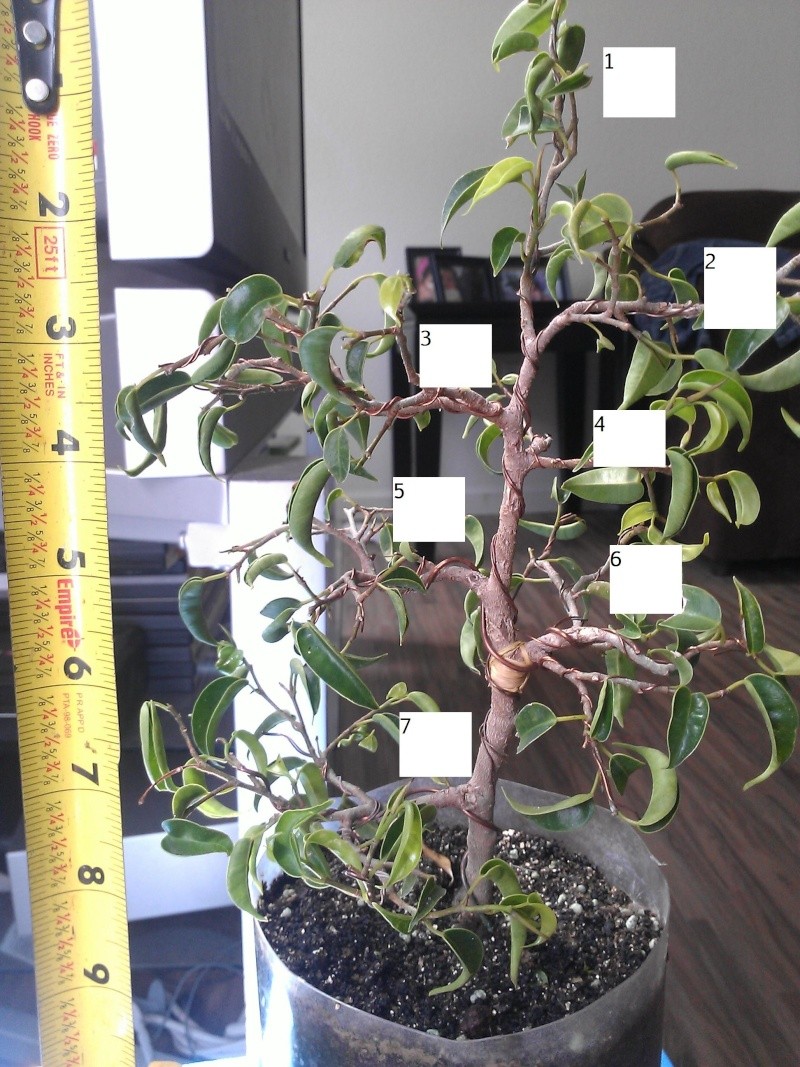 this is one of the cuttings im starting to train. its about 9" tall or so and about a year old. it started out as a 1" cutting, id say it was as about the same height that 1 is from 2. doing a little work on the branches, i have it in a deep pot because im tieing off the roots in order to make new ones above them to for a new base. but as you can see the porportion for the branching is a little off. 3 is bigger than 4, and 6 is bigger than 7. so i did a little pruining on the appropriate branches in order to get back budding and as you can see it works very well. 6 was pruned of all new budsas that of 3. as you can see there are many new leaves and buds on the branches that werent pruned. this is one tree that takes direction well. there really isnt much fuss when it comes to getting it to react the way you want it to with proper feeding and nurishment of course. i mist about 3 times a day on a timed misting system.

thatboy5454

Member





Here is my Kiki at present. Pot is 5 inches, about 12.5 cm. I managed to avoid thread grafting by finagling some of the branches. It is very apical dominant and needs more suppression at the top. It serves in my shohin display. Jerry Meislik says it doesn't do well for him. I grow it outdoors in less than full sun for the summer and under fluorescent lights for the winter, with close to 70% humidity. One of our club members has a Kiki about 15-20 years old, a splendid specimen.
Iris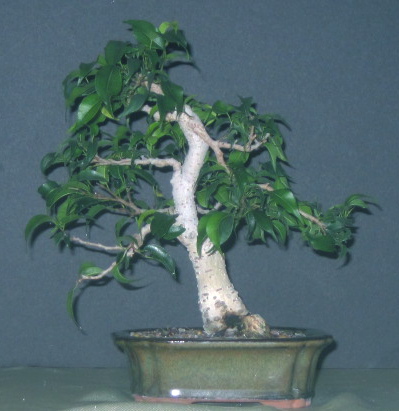 bonsaisr

Member






---
Permissions in this forum:
You
cannot
reply to topics in this forum