I posted this tree a couple of years ago & thought I'd show what it looks like today. It was leaf pruned on Saturday, and should be putting on the small reddish new leaves within 2 weeks. Haven't mossed it yet...sorry ! Comments welcome.
Ed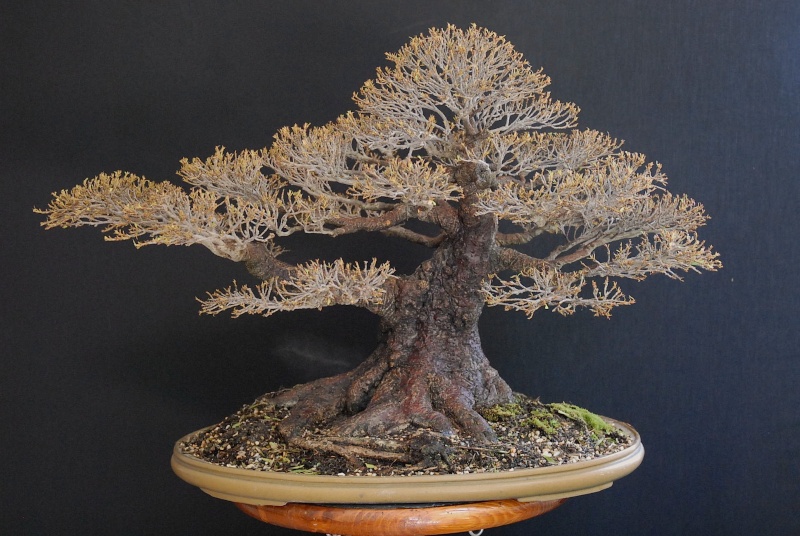 Ed....I have always loved seeing this tree, whenever you have chosen to post it....truly a stunning specimen in my eyes...it is always an inspiration to me. I would enjoy seeing it again as the new red-tinged leaves begin to appear.

Best regards,
Tom

Tom Simonyi

Member





WOW. Just wow.

What soil mix do you use?



CraftyTanuki

Member






Jerry Meislik

Member





Looking fine Ed. Going to be fun seeing it in New York.

Rob Kempinski

Member





ED,, It is a outstanding tree !!!! be proud of it... take care john
Wow. My scissors fingers hurt just thinking about removing that many leaves.

Lovely tree, Ed.
_________________
Jim Lewis - lewisjk@windstream.net - Western NC - People, when Columbus discovered this country, it was plumb full of nuts and berries. And I'm right here to tell you the berries are just about all gone. Uncle Dave Macon, old-time country musician

JimLewis

Member





Wonderful tree.
Shalom Luciano.

luciano benyakob

Member





stunning. The trunk/nebari is over the top. I am curious about the ramification and the resulting canopy. I have nothhing with that kind of fine development, so have no idea what happens when all those leaves get going. Is this a maintenance challenge ? I can see the foliage overtaking the tree as a whole very quickly. The tree is a magnificent sculpture as it stands. My sincere admiration goes out to you.

lordy

Member





No Moss, how dare you!!!!!!!!!!!!!!!!!!!!!!!!!!!!!!!!!!!


hiram

Member





nice tree

ogi uyehara

Member





---
Permissions in this forum:
You
cannot
reply to topics in this forum