Searching the net one day...I could not belive what I saw.
A Bigei pot, wich in the Tokoname-catalog has the number 106F30, and is shown without glaze.
The pot is mine now
It was listet as new, but it was clearly used after all, and that is not a problem. The pot is in mint condition.
I dont remember ever seeing this pot with glaze, and I hope one of you out there can help me, with the age of the pot ( Ryan) ....My guess is, it is only vintage. But I would very much like to know for sure.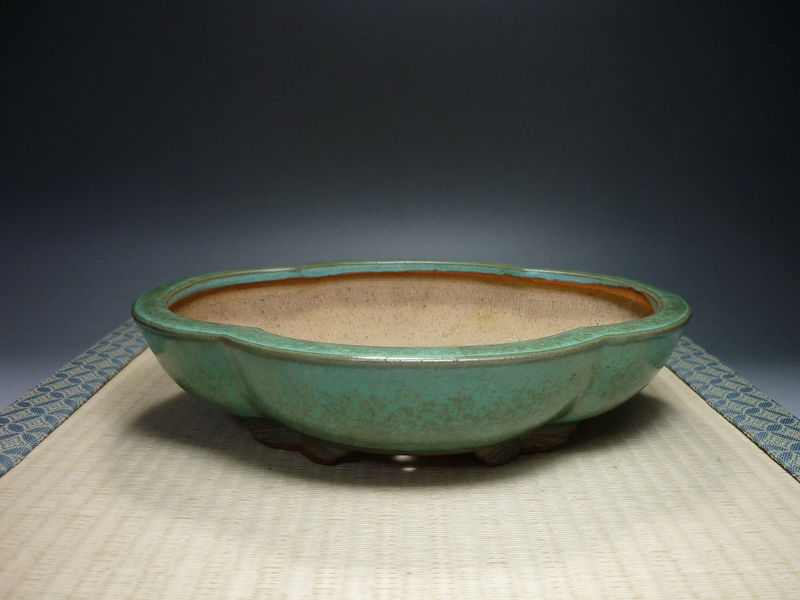 Kind regards Yvonne
Nice mokko pot Yvonne, thats one like that I need for my new mume.

Sorry cant help you with age.

Peter

landerloos

Member





Hi Yvonne,
Bigei pots aren't often glazed, but they're not exactly rare either. In my travels on The Japanese Internet, I see them a lot. The one offs like this mokko pot aren't listed from the Tokoname Yuyaku. That is an older stamp though. Age is tough to guess, but I'd say 15-30 years old, given Her(Hirata Atsumi) age, the signs of use on the pot, and the stamp. While Bigei is known for unglazed pots with etchings and reliefs, I've several that are glazed that are gorgeous. It's a great pot Yvonne, did it come from Hiro("genuine Japanese bonsai pot")? If so you got a good price. He sells a bit below Japanese retail.
Yvonne,
As it concerns age as well, Bigei kiln independence happened in 1976. So the max age for any bigei pot is 35 years. Please check out this bio of a fellow famous female potter at your leisure, you'll enjoy it!
http://www.yoshoen.com/tuhan/pot/pot_a19.html
Just remember, the Showa period started with Hirohito, who became Emporer in 1926, so add whatever number to 26 and you'll get the western year! Showa 50=1976.
Ryan
http://japanesebonsaipots.net/
Last edited by Ryan B on Sun Dec 18, 2011 7:12 pm; edited 1 time in total (Reason for editing : Forgot linK)
Hi Ryan
Many thanks for you help....a ,one off, Bigeipot is not bad at all....But Most of all, do I just feel VERY lucky to find the pot,it was exacly what I wished for, I have more than one tree, who want the pot.....
I found it on Ebay, and there was an another bidder, who wanted the pot too.
I will send you my winningprice to you, in a private message...please let me know what you think of my luck afterwards.
I just saw your second reply. I will take a look
Very kind regards Yvonne
Hi Ryan
I am so happy to learn, that Bigei is a woman. I never gave it a thought.....I will be happy, to use more of her pots, in the future. And I cant wait to place a tree in the glazed pot.
I was looking at my pots....and found this one. I have had it for a long time, and the patina is old....Now I wonder if you can help me with the name and age of this pot?
Kind regards Yvonne
Hi Yvonne,
Just got your message. The chop is upside down. I cannot make out the top two characters when I flip it, but from what I can judge from the two characters I can see, the pot is Chinese, from the patina it's 40-120 years old. I'll have to wait til I get get home to compare the chop to my Chinese database of chops.

---
Permissions in this forum:
You
cannot
reply to topics in this forum