I was a lot more tamed this year for hoarding nursery material... but I had to have atleast a couple. So I went to the Home Depot close to work and bought a 5 gallon Spiraea and a 1 gallon Mugo.
The Mugo I got was a typical ball of needles labled Dwarf Mugo Pine 'Pinus mugo x Pumillio'. The needles were very healthy, had a single trunk (most of them were clump), and the trunk had some nice movement.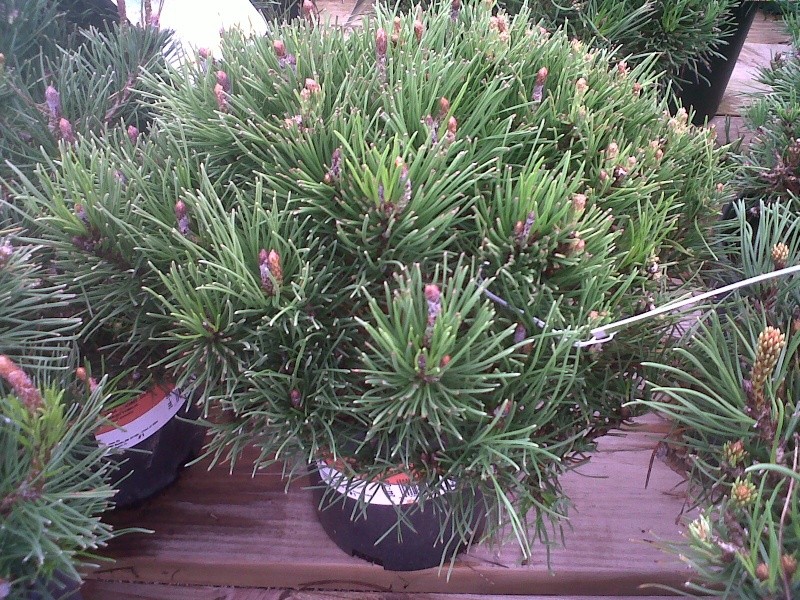 This shrub cost me little less than $5. And here it is after some initial cleanup:
I am going to let the foliage fill in for the next year. The size of this tree is around 6" to 9" depending on how deep the actual base is inside the pot. Let me know what you guys think.
- S
Once the tree regains strength, the tree's height would be reduced further by lowering the apex. This will bring the focus more towards the trunk movement and the cascading branch.

- S
I've read the "dwarf" Mugho's are more touchy than the standard, although you did find a nice bit of movement and branching in all that pincushion! I confess I've given up on Mugho's.
-Jay

drgonzo

Member





Jay,

That is what I have heard too... but given the cheap cost and a fairly good potential, I think it is worth the try. This will be a good learning material (even if it dies).

But I think it will atleast pull through the winter based on the healthy root-system, healthy foliage, and tons of buds on the branches that are there.

- S
I could be wrong, but I think I see me some po-tential in that thar tree.

Please pardon me. I have no idea where that accent came from.

EdMerc

Member





All of the taxa you see below Pinus mugo are incorrect synonyms. They are all Pinus mugo, period. The only exception is Pinus mugo subsp. uncinata, which is the population in the Czech Republic. The miniature Pinus mugo distributed by Iseli are registered cultivars.
Iris

bonsaisr

Member





Hi Iris
Thanks for the explanation. I think that even Pinus rotundata.
Best regards Pavel

Pavel Slovák

Member





I also happened to snag a Mugo this past month and planted it and see what happens for at least the next two years. My questions are:
What pruning should I do to it since there are plenty of branches? I would like to get a nice tree out of it. (its quite young and had some summer damage but it is showing new needles.)

What would you suggest for leaving the Mugo in the ground before seriously working with it?

I also bought a seriously injured pine, there was no label on it but I thought I would see if I could get it to pull through and it has the standard cone shape but with the damage its hard to say how much of the upper portion of the tree is dead. I have noticed a tiny bit of improvement with this tree and I feel it will live even if I lose the top portion. The trunk is approx. 3" in diameter. Altogether it stands roughly 24 or so inches tall.

For the Pine my thoughts are more inline with when to cut off dead wood and or stop any fungus that may attack the tree during the winter. I placed some mulch around both trees to help keep them moist in this dry Kansas dirt and its doing its job but should I keep the mulch there or is it alright.

yf

Paula

Best pruning for mugo´s like the shown (late summer or early autumn/fall operation): Shorten the branches leaving at least a pair of branches with needle bunches back - remove the middle bud with the strongest growth, and remove the two year old needles (cut the old needles leaving only a two mm needles back).
The harder the cut back followed by old needle removing at the same time, will make young specimens like this one back bud heavily. Feed well in the following growth season, and see what happens. My experience is that many new buds will emerge further bacj on the branches and even the trunk, making the first styling much better after a few years of growth after this operation.

Regards
Morten Albek


Guys, I don't mean to muddy the waters but this is a very young Pine. There is no bark and doing such extensive work at this age only delays a mature looking tree. Regular fall pruning to take care of problem areas and thin tips for 3-5 years will give plenty of new branches, extra caliper and bark.
Wood
http://thingsofwood-gary.blogspot.com/
looks good so far, thanks for the pics as I have seen these at the local nursery as well but never been able to see the hiden tree, think I will be having another look at the weekend at the garden centre

cheers

steve

---
Permissions in this forum:
You
cannot
reply to topics in this forum