Anew rock planting just completed using a large piece of lava rock that I was very frotunate to acquire. No trees added as yet, that will be completed next year. I aim to create a small grove or forest on the top the rock.
Sorry about the large pictures, I was have trouble uploading at a smaller size for some reason ?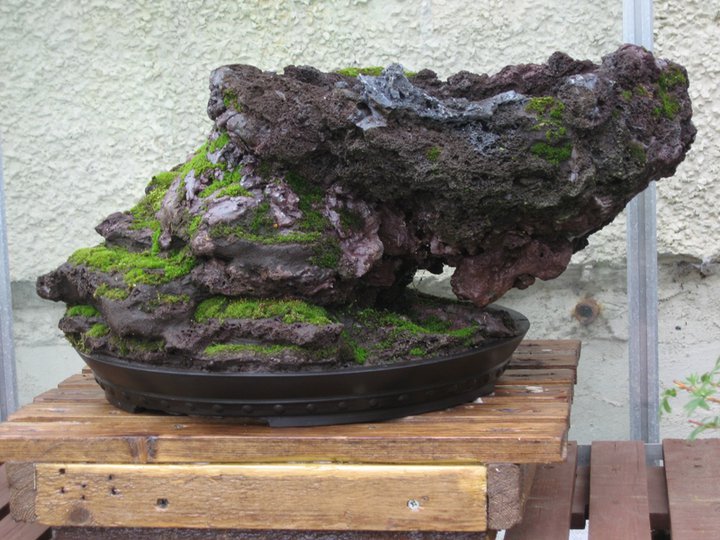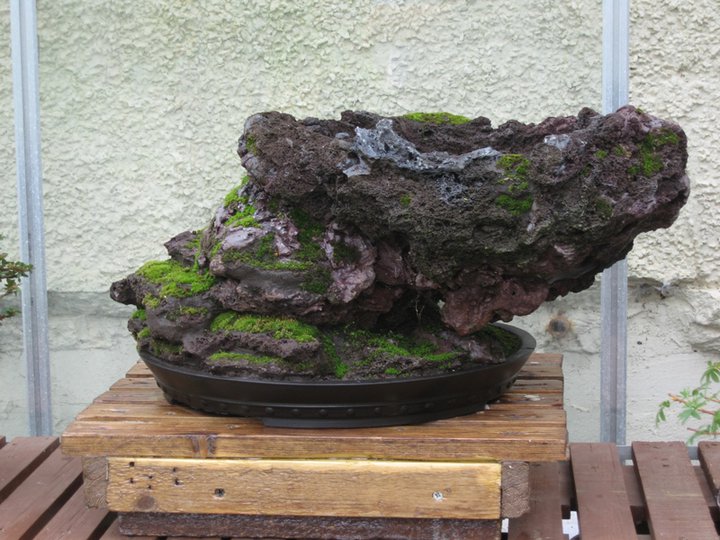 GROWFORIT

Member





That's a nice stone! I like what you've started here, and I look forward to seeing this landscape with some trees on it! I hadn't seen this post until now, perhaps re-posting in the "bonsai" section will generate more feedback... I don't check the suiseki page too often, I just happened to be browsing the topics without replies and found this. Nice work though!



G

Gentleman G.

Member





This is a great start.

Are there trees on it yet?

Cockroach

Member





Beautifully composed. I also look forward to seeing it further planted. If the rock is hard enough to accept freezes/thaws & even growing roots, it is not far from a Chinese scholars rock in the Rosenblum Collection (see _Worlds within Worlds_, Figure #55, pp. 254-256). That stone is referenced as "Flat-topped Rock with Moss-covered Summit." The moss covers an area used by a previous owner (during its 200 year history) for burning incense.

As in a previous thread (see Hung Tran's thread "Re: Stones found in the water," April 2013, p. 3), we can see cases for modest vegetation (e.g., short grass, moss, lichen et al.) as a welcomed addition on rare occasion. This one stretches beyond normal practice for viewing stone appreciation.

I own a Hudson River stone from Yuji Yoshimura that as in his suiseki text. When sold at his retirement auction (1995), it had been wired for planting trees. It easily grows lichen if given opportunity & I once allowed them to grow, but I have since discouraged their growth. It is a delicate balance to decide & depends much on the stone's physical integrity.

Chris Cochrane

Member





This looks very nice, but a word of warning - my experience of lava rock in our climate is that it will crack and crumble in the winter due to freeze/thaw action on moisture trapped in the small holes in the lava. You may need to protect it from freezing, or just accept it as a short-term planting.



Tom

Member





I love your stone pot combination. Both are awesome; where did you find the pot?

Todd Ellis

Member






---
Permissions in this forum:
You
cannot
reply to topics in this forum