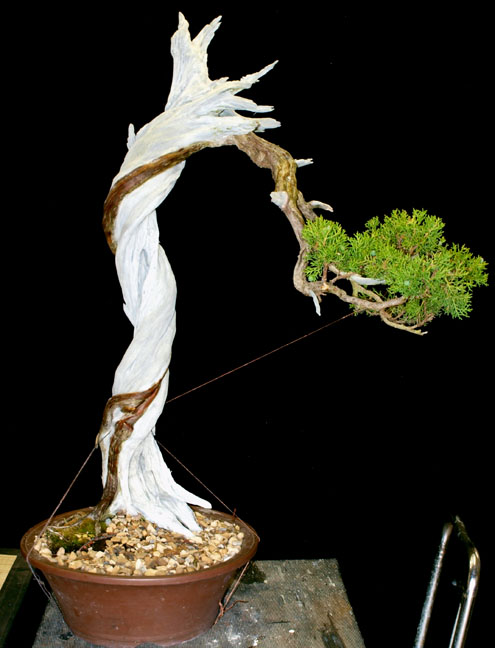 I've owned this California Juniper for 20 or so years. It was originally collected by "Mr. California Juniper", Harry Hirao in (I'm guessing) the late 1970's. My first sensei, Bob Kato bought it from Harry. Bob never worked on it, and after He died in the mid 1980's I worked on it for his widow for a couple of years.. She decided that cash was more useful than the tree so I bought it.
No carving has been done on this tree. The wood is all natural, except for some jins at the top which were broken to shorten the tree and improve the apex.
The height from the pot rim is 41 inches.
Mike

mike page

Member





That's a show stopper Mike!

Pat

bonsaistud

Member





Mike, I like your tree very much and its history adds to it's beauty. However, it seems to me that the green bits are not very structured. Have you thought about shaping the foliage to appear more "refined" or "groomed"? I think that would be an interesting contrast to the deadwood on the trunk. Thank you for showing us your work.
Knowing that no carving has been done on the trunk, makes this one even more significant and worthy of awe! Thanks for sharing.

Carolee

Member





Hi Mike,

You are very fortunate to be "care-taker" for this wonderful California yamadori. The only improvement I would do, if this bonsai belonged to me, would be to allow the deadwood to darken as in nature. The extreme white gives the appearance of youth and distracts from the ageless quality of this fine tree.

Do you have any other photos of this tree ? I'd love to see it's progression over the years.

Norma

Norma

Member





Thanks all, for your comments.
Norma, flash photography of trees that have lime-sulfer applied to the deadwood will always come out brighter than when viewed in person. I mix a black water soluable ink into the lime-sulfer solution to darken it and when viewed in natural light it has a slight gray appearance.
The attached image was taken without flash with the trunk in the shade. It is more realistic,
Mike

mike page

Member






Similar topics
---
Permissions in this forum:
You
cannot
reply to topics in this forum