This is "Ed" my only named Bonsai/potentsai, a Yamadori trunk chop collected last year and in root training ever since. A vigorous tree, I am thinking now about which leader to choose, Leader #1 is in a more frontal position yet further down the trunk then I may want It would require a cut at chop #1 position. Leader #2 is in a more side facing position relative to what will become the front of this tree, yet would produce a taller tree. It would require an angled cut at chop #2. I have included some relative measurements to help out. This is of course one of my "longer term" projects but I couldn't resist the power in the nebari and trunk. I would welcome all comments and will try to keep a progression log posted so we can all share in the training. And yup thats me in the window.
thank you all for your constructive insight.
the existing branches will be guy wired down in a few weeks, below is a more frontal view of hat I'm dealing with here.
I think Ed looks better in the first picture. The root is too wide in the second. I would chop along the red line drawn and let the leader go for at least 3 years unhindered.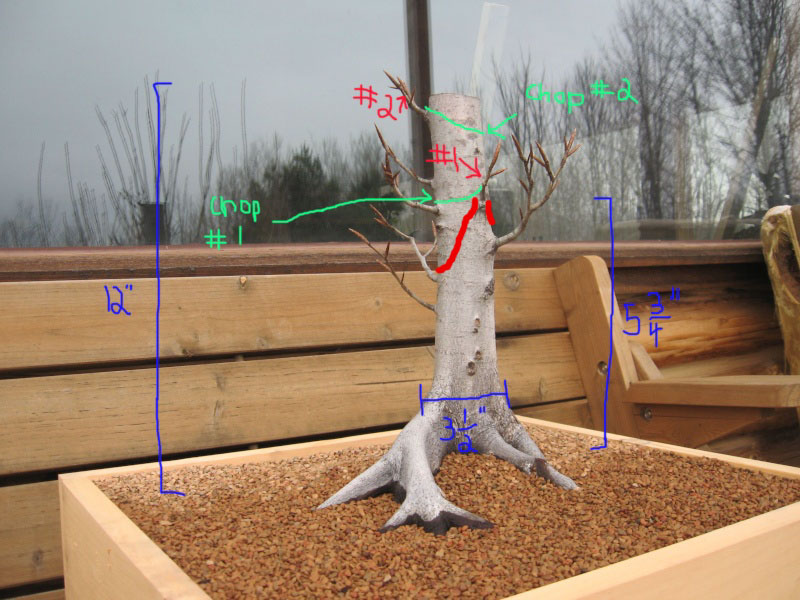 thank you Will, Changing the front as you recommend does have the effect of snaking that root towards the viewer which I like.
I agree with Will. In the first picture that snaking root is very dramatic, in the second picture it is somewhat lessened. I would also go for the angular chop at the #1 leader but I would allow it to grow and gain strength first to ensure that it will survive the chop. This tree has some nice potential, I like it. Why is it named Ed though?

Todd

DreadyKGB

Member





The name 'Ed' dervives from long before It was even chopped out in the forest. There is a local wood-cutter out my way, who is a tall lanky yet strongly built man, he always has a toothpick clenched between his teeth which has the effect of accentuating all the ligaments in his neck. I thought If this guy were a tree, he'd be a stolid old Beech tree with over accentuated roots, just like the this particular tree, and so I named it after him. Mostly the Nebari reminded me of his Neck. Again I never name trees with human names but this just fit so well and has stuck for 3 seasons so thats it, thats 'Ed' and the real 'Ed' doesnt know he has a Bonsai named after him.
I too had thought to let that leader grow out for a season and "prove itself" to me before I cut back to it. The tree needs to heal some root work that was performed earlier so I thought to let it rest this season also, and just work on wiring down some of the branches I'm going to keep.
I posted a comment then pushed the wrong key!!!!! sorry!!! JOHN
this was what John posted I'm adding it here to keep tthings all in one place...


you have a nice trunk to start with!! the chop at the top is where i would go...i am chicken!!!!! the lower chop will make a larger cut how do the trees heal over???? good start either way take care john

moyogijohn
Member

Posts: 692
Joined date: 2009-01-20
Location: zone 6 west virginia


And to answer..Thank you The trunk and mighty roots were what made me take on this project, I will probably chop where I indicated at chop#1 with my original green line, the branch Will suggests I cut back and downward too is actually a rear branch in the back of the tree and my photo makes it look like its on the side but thats the photo's fault not Will's. Beechs heal slowly and by slowly I mean molasses. That's why It is very important stylistically to get the trunk reduction angled as best I can to minimize any scarring that could be visible in the finished tree. In fact there is a good bet the tree would never completely cover that sort of scar but thats to be expected and why it would be angled back and is also why I was keen to get some of the expert advice present on this forum to help decide which is the best leader to use.
Wow beautiful roots.
I love beech, once they settle they are very rewarding to work with.

Bonsai Kas

Member






---
Permissions in this forum:
You
cannot
reply to topics in this forum