Heres my little spruce I bought a couple of years ago. It was a dense bush and some might remember I posted it. Dont think I had any images from right after I got it.
After my first restyling 2009: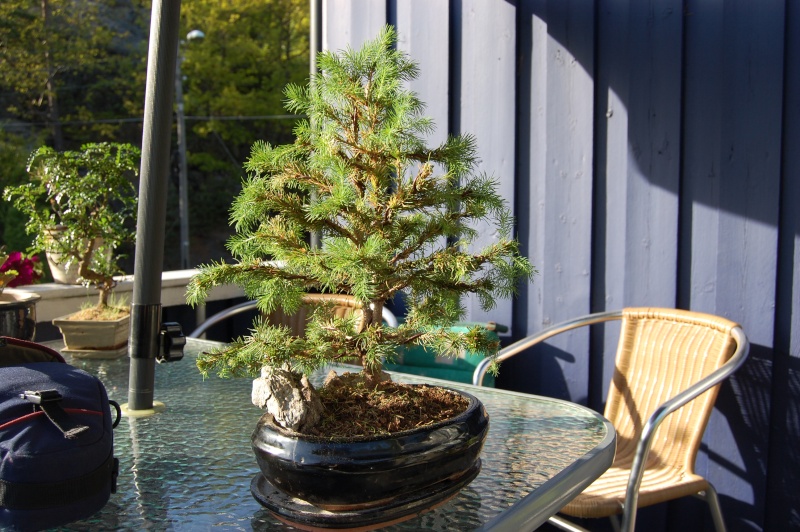 August 2010:
Before today's haircut: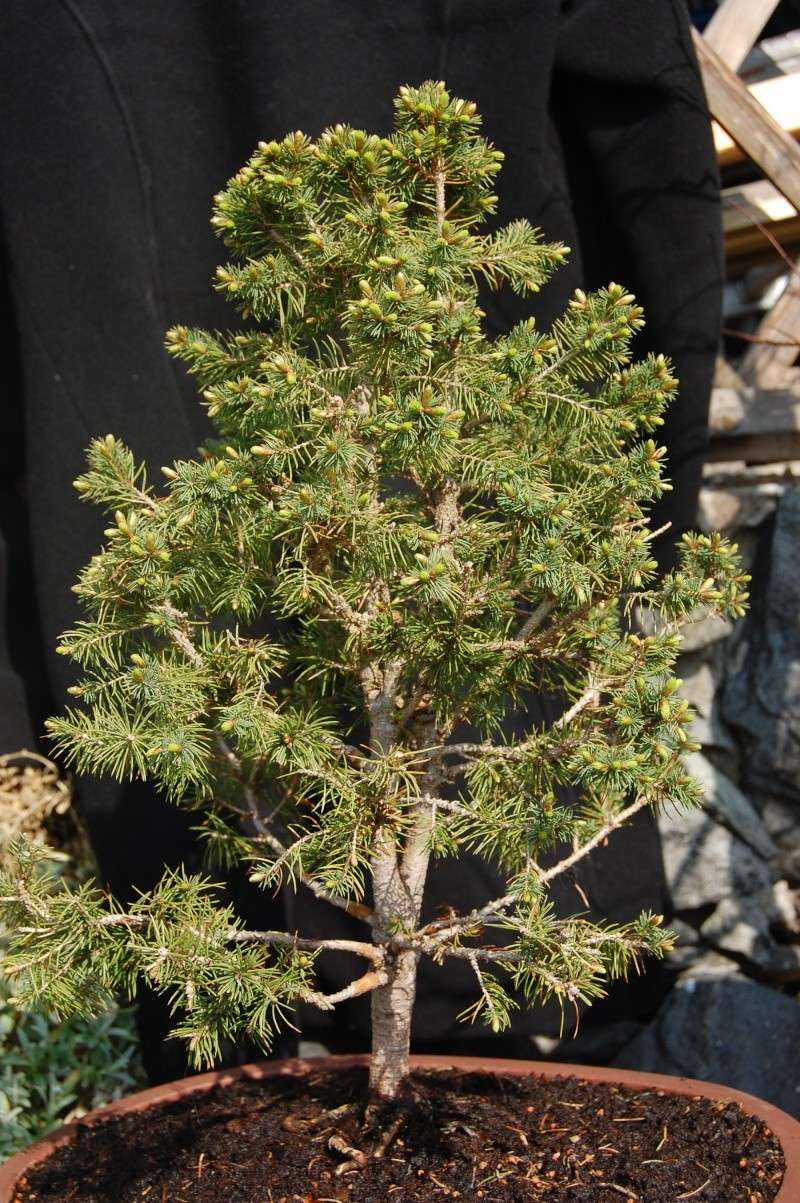 After: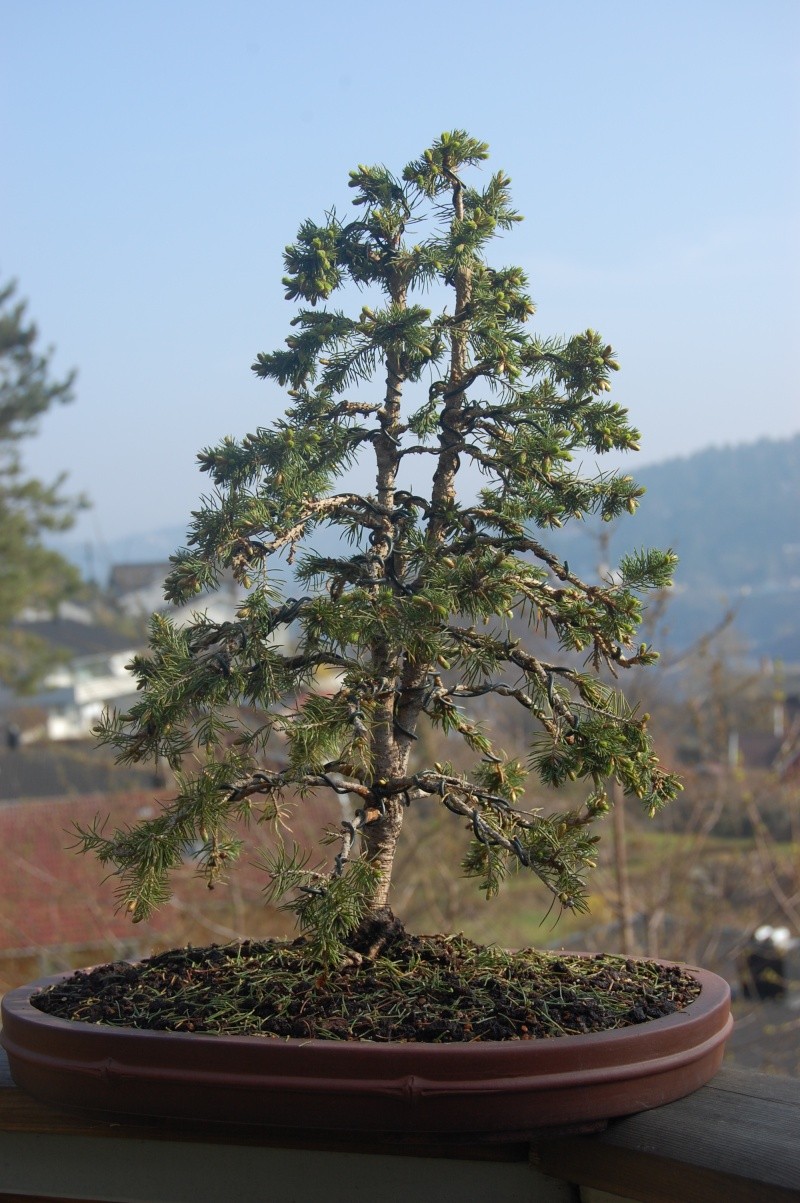 Not sure what should be the front yet. In a year or two, Ill let it get a new pot.
Im quite pleased with the result so far, just let it grow out a bit. On the picture it seems like too much wire and branches, but I dont feel it does it any justice. Keeps me thinking how good the top game trees look in real life.
Criticism is mostly accepted!
Sincerely
Storm

Storm

Member





My first and very novice reaction is that the two main branches are too close together at the moment to keep them both. My feeling is that they need to be separated more or one of them removed. I still find it a pleasing tree, but I feel that to make the most of it that would be a necessary long-term step. I feel it might also help a bit in time with the hint of reverse taper...I'm a bonsai noob though just trying to learn so others may feel quite a bit differently.

Jesse

Member





Hi Jesse, I was thinking about the same thing, and I will probably make a bigger space between them in the future. Also, I think I should remove more branches and one at the bottom so I dont get an even more inversed taper. But I will leave it to this for the moment so it gets time to recover.
Thanks for your reply
Edit:
I also am thinking of making one of the "trunks" higher than the other in the future so they wont be almost evenly long.

Storm

Member





Hello Storm. If you are considering keeping the two trunks long term, you should reduce the thinner one in height. It looks like the bottom branches are getting weak too. Do you pinch or twist the new growth?
I've just removed some buds from the branches that were placed at bad positions. The lower branches didn't get that many new buds this year, thats why I took away the strongest areas on the tree, and shortened most branches at the top. Hoping for more backbudding and stronger lower branches. The new top growth was mostly at the upper 4 branches.
Im planning to shorten then thinner trunk, and if I get some good backbudding, shortening several branches more for a more "struggling" look.
This is just the first step on the new way, and wanted to hear what you think of it so far
Its not an old tree and haven't had much time in a pot.
Storm

Storm

Member





Sounds like a plan. I agree with losing the branches near the junction of the two trunks to help avoid reverse taper. Keep us updated. I think it's great to see the development from where you started.

I can just make out what would seem to be a beautiful setting behind your tree. Looks like you have a great view from your deck.

Jesse

Member





Hi Storm

I like what you do with this spruce...I know it has a long way to go before 'finished'. But I'm surprised that you've managed to give the spruce some character allready. ;-)

best regards from

Loke Emil

Loke Emil

Member





Thank you for great and friendly replies!
Im thinking of getting some moss now for the top dressing. It was originaly planted in 100% cat litter, but even if I watered 3 times a day, the sun would make it bone dry. So I put on some gardensoil on the top to make some more water retention since its so shallow. Im hoping to have it in the pot for some years so it can make a good rootcarpet for future repotting. Not so fun when I have to tie it like a sailer into the pot to make it stand. Its for training at the moment, so its way to wide for the tree.
Im just worried about my bonsai mix, since the talk some members had about the water retention. Most natives have been in 100% cat litter and made it fine through winter, but when its so darned cold, theres hard to know what to do. Atleast I know the trees get fast root growth at most occations.


Storm

Member





Great! I am looking for this, because I have some of that tree but still do not know how to do with them.

---
Permissions in this forum:
You
cannot
reply to topics in this forum