Last evening Hiroyoshi Yamaji from the Takamatsu area of Japan traveled to Rochester, New York to present a program on the exciting upcoming ASPAC Convention in November and to show us some of his shaping techniques for pine bonsai.
Hiro is a second generation bonsai artist who specializes in pine bonsai and exports specimens around the world. He is the proprietor of Sansho-en Bonsai Exports. His first teaching trip to Rochester was 30 years ago. And, by the way, that first demo tree is still alive in one of our prior members' personal collection.
Hiro does excellent work, speaks English and freely shares his techniques. He works very hard and also sweats a lot too since he puts all his efforts into producing an exciting demonstration, yet still educational.
He used a large Japanese black pine from my nursery for the demo and gathered all the material necessary for his techniques, including a large 4 foot piece of iron re-bar and my wife's 5 foot iron pry bar which is used for removing stones from deep holes when digging in the garden. It is quite heavy and about 2 inches in diameter. He kept these two items hidden until the very end when he "pulled" them out to raise the terminal section of the trunk.
Two of my friends and advanced students, Harvey Carapella and Doug McDade assisted him and did not need much instruction on where and how to wire, but more importantly how to use these large tools for leverage. Both have assisted me for decades doing the same. It's great when you have talented, dedicated and knowledgeable helpers!
The event was a special extra meeting for our group because we are hosting Kenji Miyata, originally from Japan, but now living in California, in two weeks for more programs, different topics of course. Even though this was not our normal meeting evening we still had over 65 people from Rochester, Buffalo and Syracuse attend. We did not charge our members extra for this event because everyone fully supports our society by attending meetings, working hard for our annual exhibitions and more importantly purchasing plenty of raffle tickets to help pay for quality demonstration plant material and distinguished speakers from around the world.
The demonstration took approximately two hours and Hiro never stopped for a break, but did have a couple of cups of ice tea, of course.
Bill
Hiro presenting information on the ASPAC Convention in Takamatsu, Japan, demonstration tree under the blue sheet on right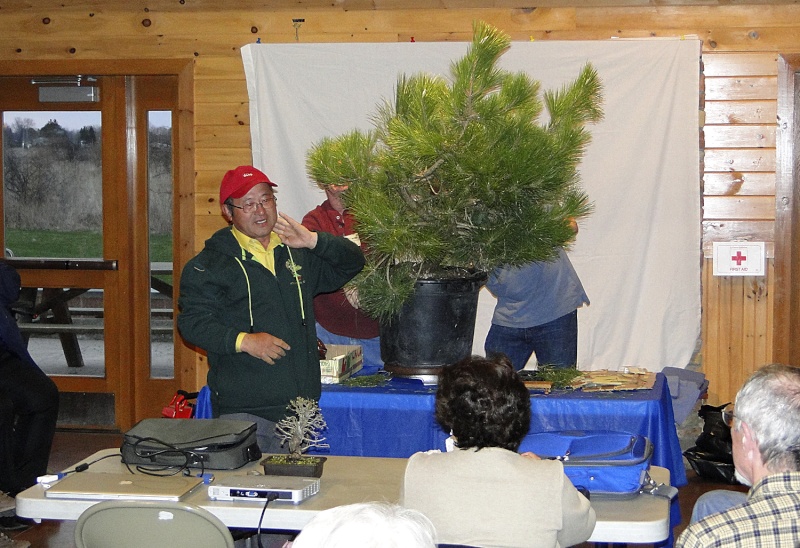 Japanese black pine demo tree before beginning, Hiro commented on how healthy and good green color the pine displayed. This is important before using extreme shaping techniques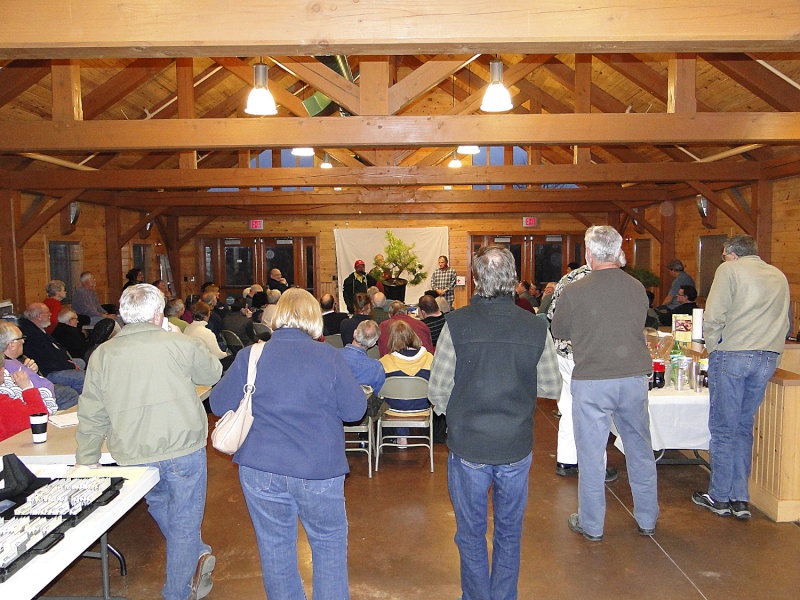 Our members filled the room to watch and learn from Hiro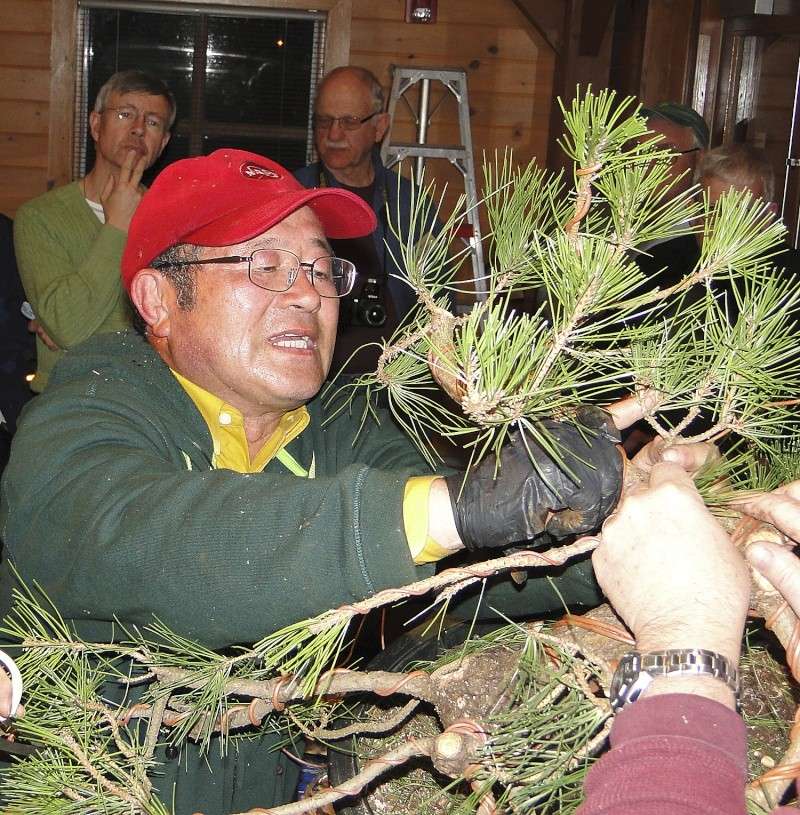 Hiro working hard to shape the bonsai
Members came up to closely observe Hiro's shaping techniques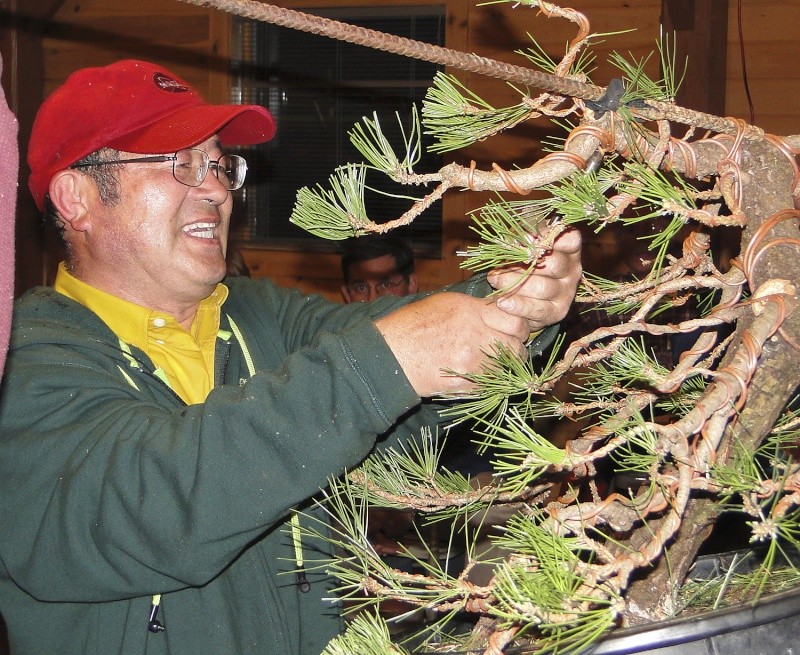 Hiro enthusiastically working away, iron re-bar in position, but not raised yet
"Raising the bar"
Near the end of the demo, after all branches were wired, Doug McDade (left) and Harvey Carapella (right) skillfully helped Hiro use the large iron pry bar and re-bar to provide the necessary leverage to move the top section of the trunk upright
Hiro was working hard, sweating while we all learned and were amazed by his techniques
Hiro explaining how and why he used the two large bars to shape the trunk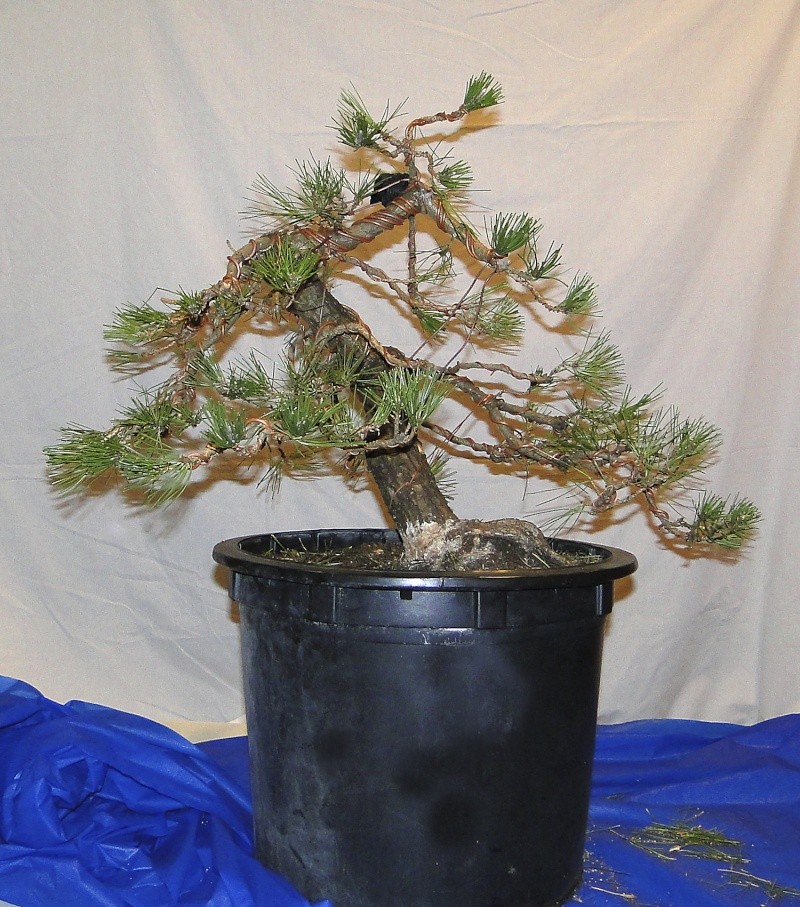 Final view of demonstration tree by Hiroyoshi Yamaji. Please note the large heavy iron pry bar and re-bar were removed at the end because they would not fit into any vehicle, especially the lucky winner, besides my wife Diane was not about to give up her pry bar...

William N. Valavanis

Member





I met Hiroyoshi Yamaji in China last fall and look forward to the trip to ASPAC in November.

Billy M. Rhodes

Member





Thanks for the photos Bill. I met him too last year and he is a great guy. Plus I like his hat - didn't know he was rocket scientist too.
The Takamatsu area is quite far from the devastation of the recent earthquake and tsunami and now radioactivity.
The trip to ASPAC and Taikanten will be a memorable one.

Rob Kempinski

Member





Really wish i could have made the demo, looks like it was a real hit.

Neil

Neil Jaeger

Member





Hey Bill,

Thanks for posting the pics and also a detailed description of the event. Next best thing to being there....

Regards
Ravi

Ravi Kiran

Member





hi Bill.
That's a great technique for setting an apical branch for the overall scale of the tree. I've applied it to this pine a few years ago with Colin Lewis. The difference between your demo pine and mine is that my apical branch was a "wheel spoke" that came from 90 degrees to almost vertical. I've had to hollow out some wood at the fulcrum point to ensure no breakage during the bending. As the branch is quite old (and my cold climate zone), I've used the rebar to raise it gradually over two years. Instead of tying the small rebar to the black pipe, it's tied to the trunk. The large black pipe (with tapered end for staking) is used for bending the middle part of the trunk for a more upright posture of the pine. I'm going to remove the metal in June to see where both bends set and adjust if needed. I'll have some bud grafting to do for inner branching where needed. This won't be for awhile, though. All things come in stages.....Peter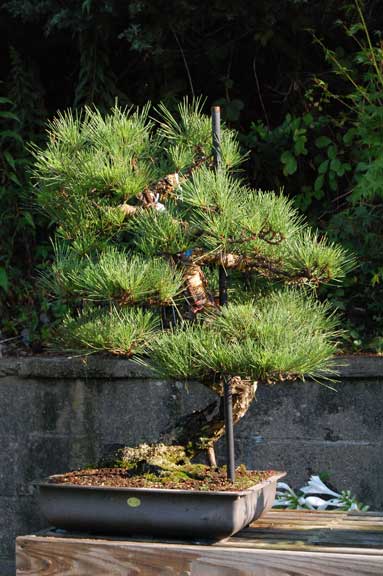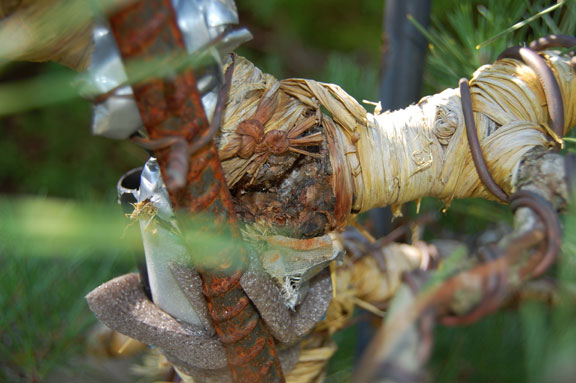 Last edited by peter keane on Wed Apr 13, 2011 2:33 pm; edited 2 times in total (Reason for editing : clarity of content)

peter keane

Member





Very educational AND entertaining demonstration! The tree underwent quite a transformation. Being new to this, I've seen references to using rebar to bend trunks, but had never seen it being done in person. Now I know what they're talking about!

Chris

coh

Member






---
Permissions in this forum:
You
cannot
reply to topics in this forum