Hi all, I dug this camelia about a year ago, it is throwing many new shoots even some you cannot see from the photos and i am wondering if some one could give me some direction maybe with a vert or drawing.
Its a lovely big stump, I would like to train some movement in the new branches now while they thicken.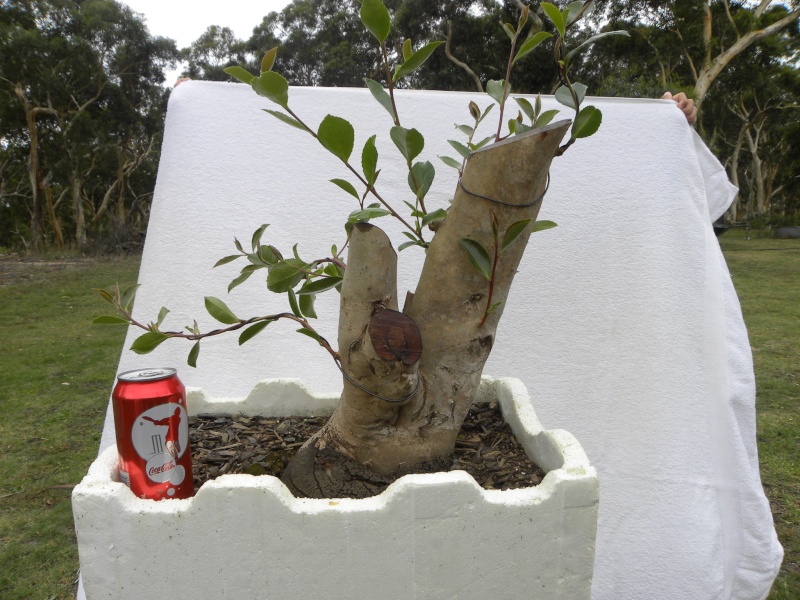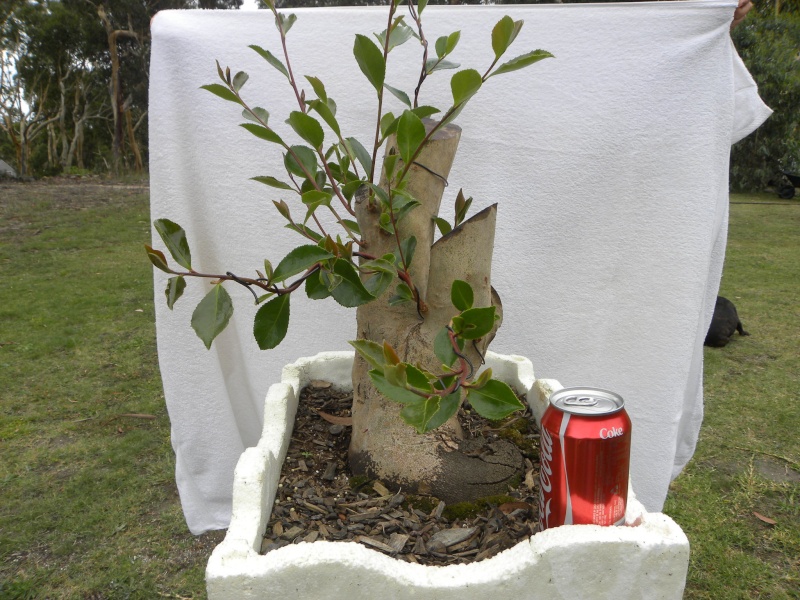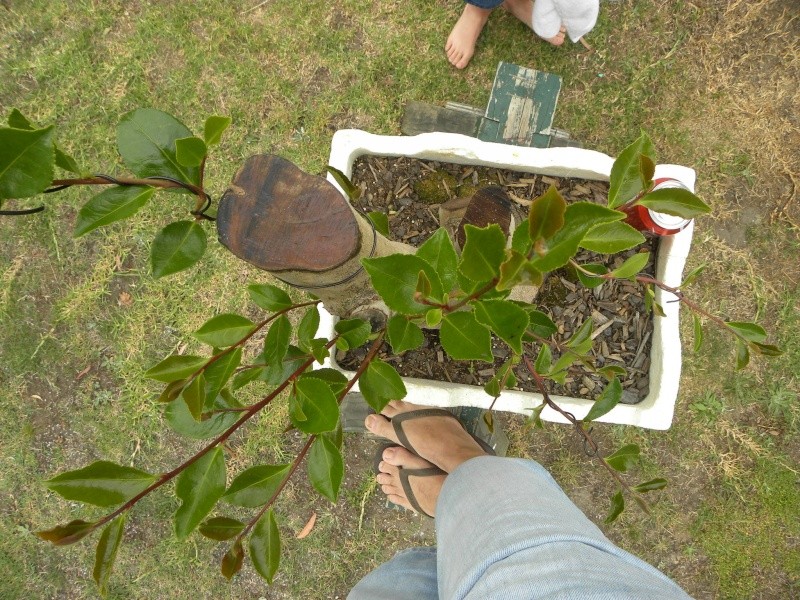 Mick, I not technologically advanced enough to be able to do you a vert.
Over the years I've bought a few of the Kokufu albums, you can pick some up quite cheaply online.
When I'm looking to give a tree it's 1st design or re-style I spend time looking through the Kokufu albums for inspiration, generally you will see something that you can mimic with your own trees.
If you decide to buy any of the Kokufu books try to buy one from the last 10 years, as the quality of the trees exhibited has increased greatly over the last decade.
Have fun with your tree.
John
Thanks John, the only design i can come up with is a triangular style canopy, and i'm no good at drawing.
I was hopeing someone with more experiance could help with an individual design to suit this type of plant and this stump.
If someone can come up with a good design, i will post its progression and name this Camelia after that person for thanks.
If you need more photos, just ask.

Regards
Mick
Mick,

I can't help wirh a virt either, but I can pass on some tips.

Go ahead and pick a front, even if it may change later. You are obviously going to have some carving to do LATER, so try to factor that into your choice. That cracking bark on that root indicates dieback.

The shoots you are getting now are the only ones you are likely to get. Be very careful with them. They break off very easily when you try to bring them down. For now work with all of them, don't try to make any "first branch, second branch" decissions. The more branches you have now, the more options you have later. Camellia branches are hard to wire later and not scar, so carefully working with them now is a good idea.

Hope this helps!

R

Russell Coker

Member





Thanks Russell that makes perfect sence.
Would you bend them down with some movement or put the movement in the branches facing up?
Mick
I'd just let it grow now. Those new shoots will be delicate -- as Russell said -- so let them grow for at elast one growing season. And you haven't anything to do a virtual from yet. You have a couple of thick stumps. They could go anywhere.

Let it grow. Work on something else.
Last edited by JimLewis on Wed Mar 09, 2011 3:10 am; edited 1 time in total
_________________
Jim Lewis - lewisjk@windstream.net - Western NC - People, when Columbus discovered this country, it was plumb full of nuts and berries. And I'm right here to tell you the berries are just about all gone. Uncle Dave Macon, old-time country musician

JimLewis

Member





I agree with PART of what Jim sez...

I have found that working with camellias is a lot like working with azaleas. When you cut back to just a basic "stump", both pop with new shoots. BTW, trident maples respond the same way, they all grow straight up. While the shoots are soft and pliable, I'd wire them (like you did a few), put some movement in them and work them into a horizontal plane. They are going to be what you build from. If you let them just grow and harden off you're missing a window of styling that you won't get back. If you just let it grow and don't manipulate NOW, you'll end up with bone-straight upright branching that you can't do a thing with.

I hope this makes sense. Today is Mardi Gras, and it's in full swing here in Mobile (the birthplace of Mardi Gras in America). I may read this tomorrow, with ashes on my forehead, and be horrified.

Russell Coker

Member





Thanks Jim and Russell,
I have put some movement in all branches, and i will leave for a season.

There was Marti Gras here in Sydney over the weekend, however i don't think it is the same type.

Regards Mick

Similar topics
---
Permissions in this forum:
You
cannot
reply to topics in this forum