Hi guys! I just renewed my certified pesticide applicator license by taking an all-day class on important issues to the pesticide applicator. Generally this is a gigantic snore-fest, but this time we had a local entomologist talk about the brown marmorated stink bug. Heaven knows I'm familiar with them- one of them flies into my head practically every day- but I learned a lot more about them. The good news is that the ones flying around your house right now have woken up early and will starve to death. The ones sleeping in cracks in your house's foundation and attic will live to breed in the spring. These insects came here from China in the mid-90s. Its natural host is the empress tree (Paulownia tomentosa), which, amusingly, is itself an invasive species here in the US. In China, the bugs have natural enemies that keep them in check, but here, the birds don't like the taste and the wasps that parasitize green stink bug eggs don't recognize the brown stink bug's eggs as food. Like many bugs (and by bugs I mean insects with piercing mouth parts), they lurk in forests and when food runs short, they fly into fields and start eating crops. This behavior makes them hard to control, because even if you kill the first batch more will come. They have been causing devastating losses in West Virginia on peaches and apples, but that's only the beginning: they are spreading to soybean and corn, tomatoes and peppers. The entomologist, an emeritus professor from the University of Maryland, said this is the most dangerous insect he's seen over the course of his career. Organic farmers have nothing to control it. Home gardeners will be hard-put to keep it out. There's no way to spray corn at the stage when the insect attacks. It's a nightmare, and that's not even counting the nuisance value it has when it swarms houses in autumn. A friend of mine had her heat pump explode into flames when the pilot light ignited thousands of bugs nesting in her pipes.

So what to do? Well, our lab leader is also leading the USDA station in Delaware, which is an insect research lab, and I can assure you that they are working on the problem. Spray cheap cologne around your door frames to make it harder for the bugs to smell thier own stink (they find each other and aggregate by using a pheromone). Most of the nasty insecticides will kill it; the problem is the vast numbers of them. Your bonsai? Well, some are hosts (easpecially the roseaceous ones, like plum and crab), but the stink bugs act like most bugs in flying by, poking leaves or stems, and leaving a strange puncture mark surrounded by a cloudy halo. A few of those won't hurt the tree. If you have a lot of them, you can throw netting over the trees. The entomologist told me the bugs were sneaky like cockroaches and that this wouldn't work perfectly on their favorite hosts (like pepper), but would be fine for bonsai.

This problem is only going to get worse- the stink bugs is happy to hitch rides in cars and trucks, so there is no way to stop its spread. So start preparing.

JimLewis

Member





Thanks Jim. Marmorated means "marbled", incidentally, not "creepy and annoying".
BUT . . . I understand that they do bite! Painfully. That's creepy and annoying.

JimLewis

Member





I realize this is an old thread, but I'm hoping for some new insight into a leaf damage problem that I am trying to solve and the internet has minimal information regarding these insects' affinity for bonsai. Any help would be greatly appreciated!
I've been dealing with an infestation of these brown marmorated stink bugs in my tropical bonsai over-wintering room since fall when the temperature began to drop, though I haven't put much effort into removing them (
until recently
) because they didn't appear to be doing any damage to my trees. Every time that I saw one (
if it wasn't too much trouble to get to
) I would pick it up by hand and throw it out the window (
somehow I haven't been bit yet
), so I only see one every other day or so at this point.
However now I am being very vigilant, because just yesterday I noticed significant leaf damage on an American Hornbeam pre-bonsai that I keep in the room. I received the tree from Florida via FedEx about 2.5 weeks ago, and it had already begun to bud new leaves, thus I decided to trick it into thinking that spring had started by putting it in my over-wintering room, rather than putting it outside and having it go back into dormancy (
we still have some cold weather left here in Alabama
). The tree seemed to be doing well, it has put out a ton of leaves, until yesterday when I noticed the leaf damage (
pictured below
).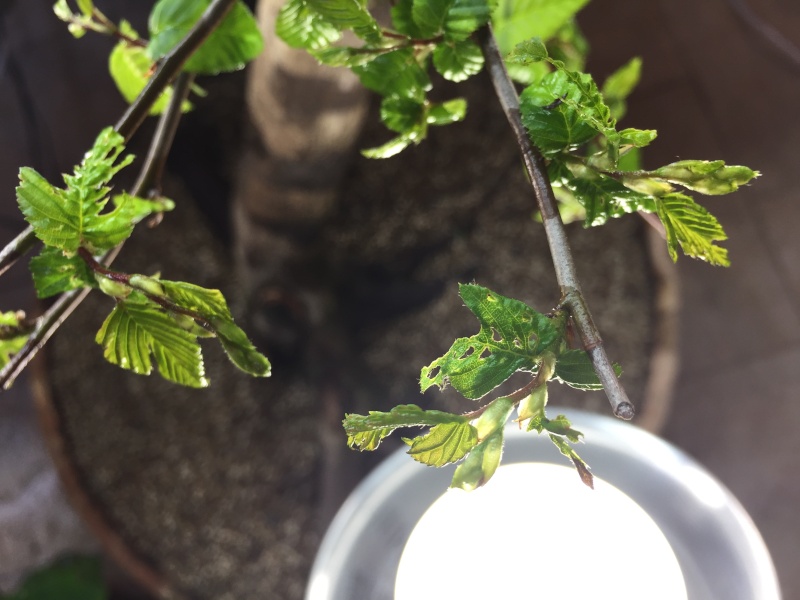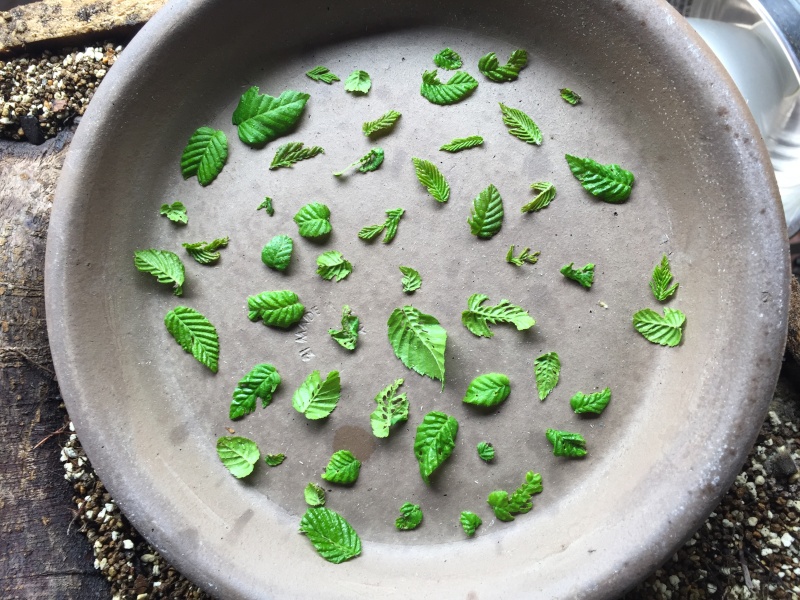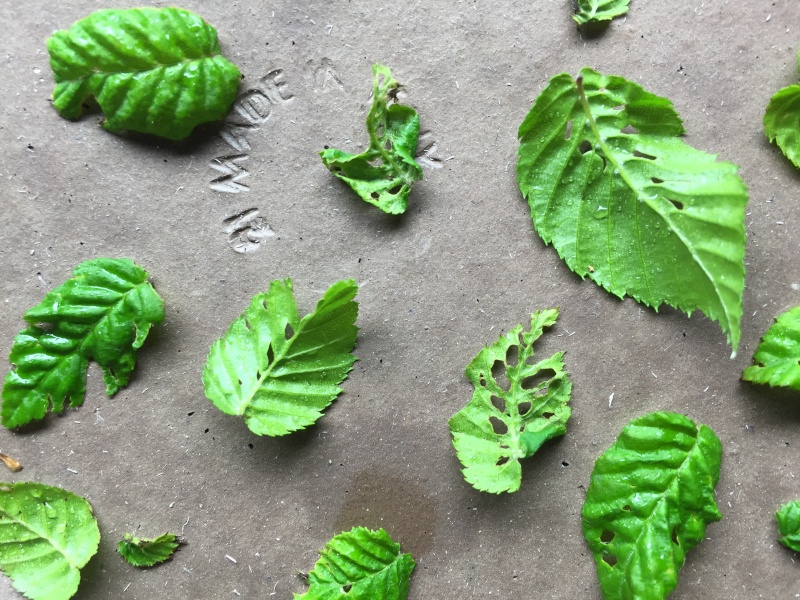 Could these stinkbugs be the culprits behind all of my leaf damage?
I have spent hours searching for worms or caterpillars, to no avail. I did find 7 tiny black insects (
that I can't identify
), 1 small green insect with non-functioning wings (
that I also can't identify
), and a scale infestation. But I am not sure if any of these insects could have caused the leaf damage. Maybe the environment in which I keep the tree is not ideal (60-85F, 40-85% RH [
both depending on the outside weather
]), or perhaps the lights are burning the leaves after I spray the tree (
which deposits water droplets on the leaves
). Below are pictures of the room and light setup if someone would like to make an environmental judgment call (
my apologies for their misorientation, I couldn't figure out how to make them upright
).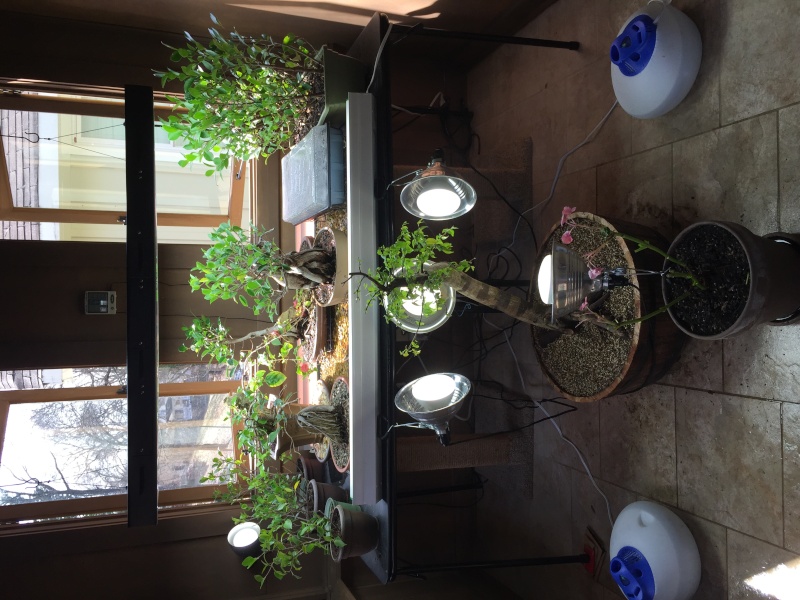 Does anyone have some insight they would be willing to share?
I would really appreciate it!

Also, any advice on treating scale on Hornbeams?
I have scraped off as many as I could find, but they are so well hidden that I am sure there are many more that I cannot see.
Here are YouTube videos that I uploaded of the insects found on the tree, maybe they will help someone ID these potential pests and decide whether or not they might be destroying my leaves.
Tiny black insect video:
Small green insect video:
When I originally tried to catch this green insect it hopped like a flea to the next leaf over.
             When I finally caught the insect I injured it, thus it is moving more slowly in the video than it did before caught.
Scale removal video:
Could anyone ID which species of scale this is? Below are pictures taken via microscope that may help.
Scale shell
(
inside surface
)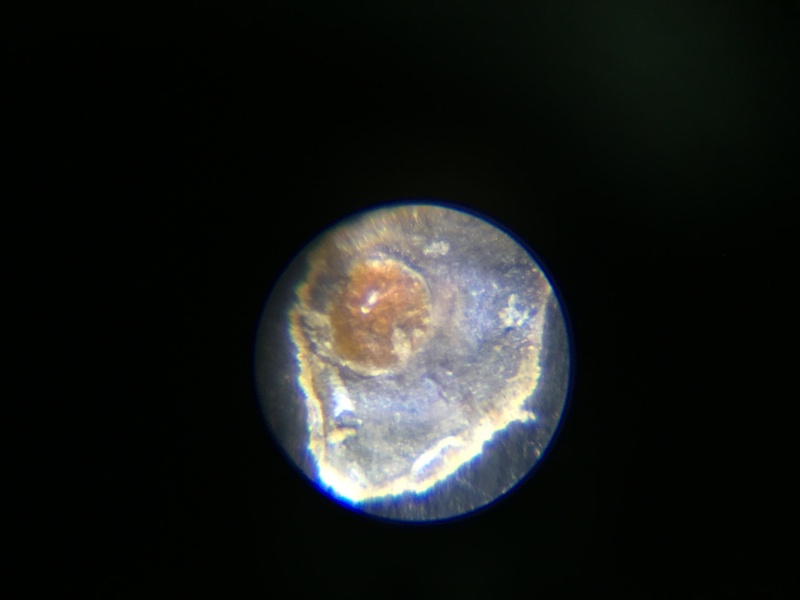 Scale shell
(
outside surface
)
Contents found within scale shell
(
insect itself or metabolic product left behind?
)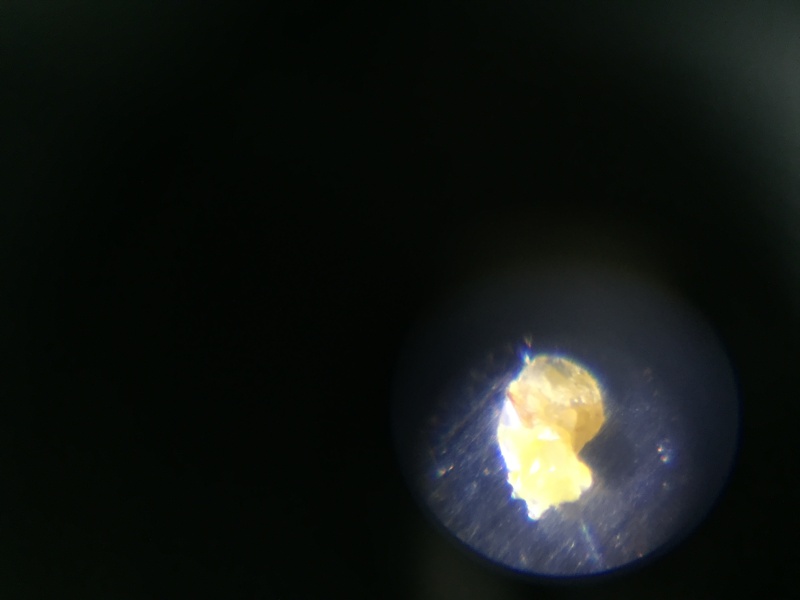 Thanks in advance to anyone willing to offer some insight or advice!

ZeBonsai Kers

Member





I'm afraid that USDA budget cuts keep Nina too busy to event tend her own trees, let alone visit the IBC. Many "Thanks" to the numbwits in the U.S. Congress!!!!

Anyway, I see her once every two years or so when she comes this way to a conference, but then she goes back to bury herself in her lab work.

From my MUCH more limited (and amateur) perspective, none of that leaf damage you picture appears to be relate to the stink bug. They usually leave small round (puncture) holes ringed in brown. Those leaves appear to be chewed -- as in beetles, caterpillars, or slugs. BT sprayed around and on the trees will take care of the beetles (some) and caterpillars (all). Salt spread around your tables should hold back the slugs. A pyrethrin spray should do the rest in. Don't do that all in one day -- and no salt IN the pots.

Adult scale are difficult, but if hand squishing doesn't do the job, a systemic probably will -- in time.

JimLewis

Member





Jim thank you so much for your response, I really appreciate the insight! Though you deem your experience limited/amateur, relative to mine I would imagine you are expert (I only began practicing bonsai February 14, 2011). I do have a few follow up questions though if you have the time to answer and don't mind entertaining me.

I have a few lady beetles that I try to keep on my trees as a natural defense against smaller pests (not working too well at the moment), do you know if BT would harm them? I am reading mixed responses regarding BT's effect on lady beetles, and though they seem to be on strike right now I would hate to harm them.

Also, do you have a personal systemic that you recommend for Hornbeams/deciduous trees? Last year I lost a Fukien Tea to pests/systemic insecticides/inexperience, all three of which were probably in excess of its tolerance level, and now I am wary of applying systemics to my trees (especially this one that I am particularly fond of).

I hate to hear that Nina is kept so busy by our failing political system/government, I hope she finds some downtime to tend to her trees and maybe offer an update on the Brown Marmorated Stink Bug situation. I would love to hear about their recent spread. Last fall was the first time I have ever seen them! Though I did just move (only 45 minutes away from my old residence), so perhaps my geographical relocation and not theirs is the reason behind that.

Thanks again!

ZeBonsai Kers

Member






Similar topics
---
Permissions in this forum:
You
cannot
reply to topics in this forum