I live in Southern Ontario, Canada. This year has been unusually rainy, humid and hot and several of my juniper bonsai trees are showing brown leaves, specially in the lower branches, some of which are all dead now. Specially the shimpaku junipers and San Jose junipers. I have had these trees for many years without a problem and all of them have a good drainage soil. Here are a few photos of the trees.
If it is a fungus please let me know if there is any natural fungicide that I can use. Here is Canada they do not sell funcides like Daconil or Mancozeb.
Any help is very appreciated.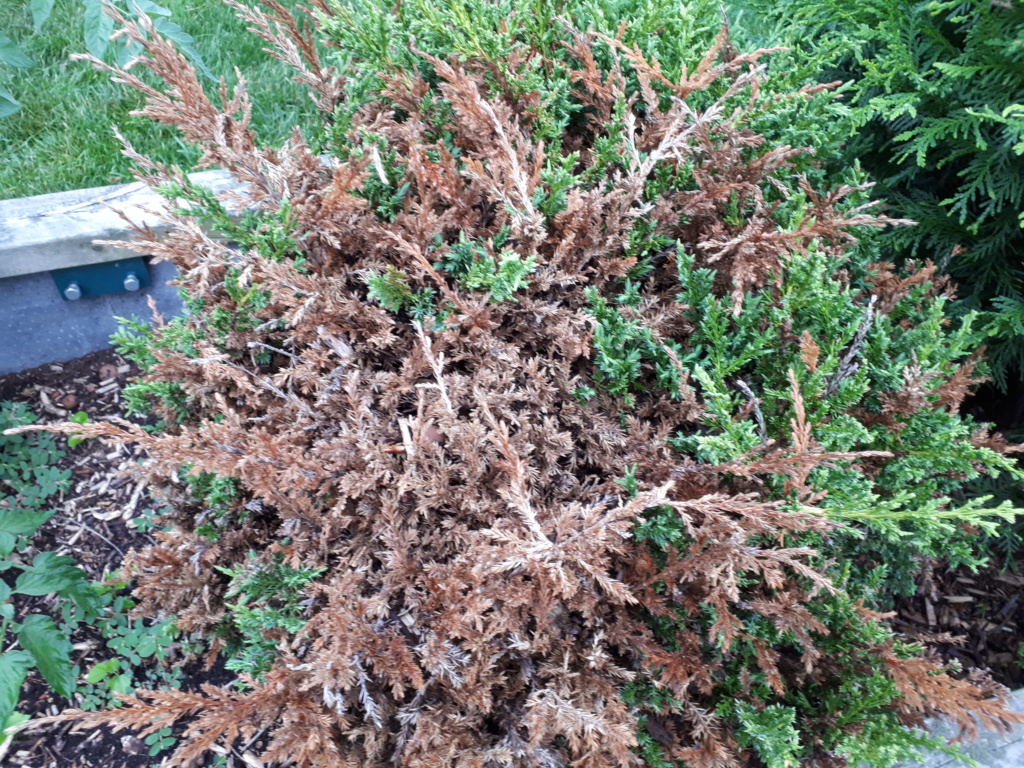 ivillaCanada

Member





Looks very serious
Here's a reply from one I trust;

First, I would cut out all dead and dying branches - right out, leaving tiny jins at best, and sterilizing the blades after each cut (Zerotol or alcohol and fire!). The two go-to fungicides that I use are Daconil and Mancozeb. (Neither helped with my trees!) I also use a product called Zerotol which is anti-bacterial as well as a fungicide. This should also be watered into the soil to combat pseudomonas.  It's only available in commercial quantities - like 2.5 gallons, so it's not cheap but well worth it.  (I soak used soil in Zerotol, sun dry it, then sift and bag it for re-use.)

Fungal problems are a pain.  

I know you said it not possible to obtain funcides like Daconil or Mancozeb where you are...but I found that Zerotol was helpful if you can get it.

As for a natural fungicide try corn water tea which is soaking whole ground corn meal in water over night and spraying it on the tree. Put the corn meal in panty hose bag and drop it in the water so you don't have to strain it out later.

Good luck!
Thanks very much Ironman and David for your replies. I will read try to get the Zerotol and follow the advise and will let you know how it goes. I just hate to see many years of work gone down the drain......

ivillaCanada

Member





I used several fungicides and tried several approaches; spray once a week for several weeks, spray every day for three days switching to other fungicides the next week, etc... Make sure to spray entire tree including branches, truck and soil surface.
Also, I cut back or off offending foliage and then jined the branches. I noticed that branches were already damaged on off-color foliage so I jined them and hit them with lime-sulfur...
Hello,

We recently had a visiting expert in the club and presented the most efficient treatment to fight this fungus. It consists of alternating three fungicides with commercial names Mancozeb, Ciproconazole and Tebuconazole treating every 15 days in the order mentioned. Good luck with your trees.
Thanks, davids...

I have been using Cleary 3336F and ZeroTol 2.0 for some time - maybe 8 weeks. The problem lingers but I think I am making headway.
I've used Mancozeb but with little or no helpful results. I'll look for Ciproconazole and Tebuconazole and see what my options are for treatment.

The rough tips, red and brown, seems to be limited now.

I have a few other issues which need to be addressed at the next re-potting. There's still some original field soil within the root ball so I know the tree is holding too much water. Here in Texas, South Texas, it's 100F in the shade and most trees are stressed as you might imagine. I water three time every day as the heat sucks the moisture out'a leaves and substrate.
Update;

A month ago I sent a sample with Juniper dieback to the Texas Plant Disease Diagnostic Laboratory in College Station, Texas and what they found surprised me;

'Berckmann's Blight' (Seimatosporium berckmanssii), Juniper scale and Mealybugs. THREE issues!
I have not noticed the Juniper scale or mealybugs. (I did treat the tree with Neem oil last winter/spring.)

Recommendations;
Berckmann's Blight - Sanitation pruning, copper fungicide
Juniper Scale - Sanitation pruning, oil spray and/or insecticides
Mealybugs - Water spray/insecticides

Similar topics
---
Permissions in this forum:
You
cannot
reply to topics in this forum