This post is by request.
The root hooks that traders usually offer simply are not up to the job when collecting yamadori, here is my 'Perfect' root hook. made from the toughest steel you can lay your hands on and bend, the minimum size of rod must be .5cm... Ideally .8cm I paint the handles of my hooks in a bright colour (usually pink) this is because I have 'lost' quite a few on the mountains when collecting. If you have access to powder coating, choose a colour.. NOT Black, white, grey or brown (kinda makes sense)
Last edited by Tony on Sun Dec 06, 2009 10:07 am; edited 1 time in total
Looks like a king sized hoof pick. I have one (a normal sized hoof pick) from my horse shoeing days in my bonsai kit. They work great, I would expect one that size to be a workhorse and fairly easy to make.

Jay Gaydosh

Member






wabashene

Member





I went to Home Depot and bought a wooden handled 3 tong garden rake about 12" long. Took the Dremal and ground off where the 2 outside tongs had been tack welded took all of 30 seconds. Now I have a wooden handled root rake for less then 3 dollars. Quick and easy bending that without a torch is gonna be tough for the average person.
I use an old brass hoof pick, too.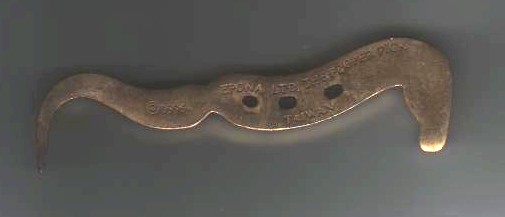 JimLewis

Member





I would guess that hoof pick of yours, Jim, is an antique. I've only seen ones like that in a museum. Nice find!

Jay Gaydosh

Member





Dunno about that, but we've had it a long time. I married into horses 50 years ago and they've been in our pasture ever since. Can't tell you how many varieties of hoof picks we've gone through in that time.

JimLewis

Member





Those tools look like they would work just fine but I've found that a small crow bar along with my D handled speed spade works just fine.
G

gman

Member






Similar topics
---
Permissions in this forum:
You
cannot
reply to topics in this forum