Hello. I'm very new to this forum, and i thought instead of wrting an introduction post, I might as well do it here and ask a question in one go.
I've been dabbling in bonsai for about ten years now, but without much free time on my hands, it has not been very rewarding so far. I've signed up for an account, to try to take it up a notch, learn from others, ask questions....
I like to work with cheap materials, found materials, native trees and store bought trees because Im very much still a novice.
I've recently lost an acer palmatum katsura that was developing nicely, one of the only real bonsai that I developed myself. After lifting it from the first pot, I was impressed with the previously covered nebari and the dozens of roots flaring out very evenly. It died due to grubs and/or poor timing of repotting. I'm not one for rash experiments, but you have to learn somehow?
you can clearly see the bugs here.
should i have kept the soil, and treated with nematodes?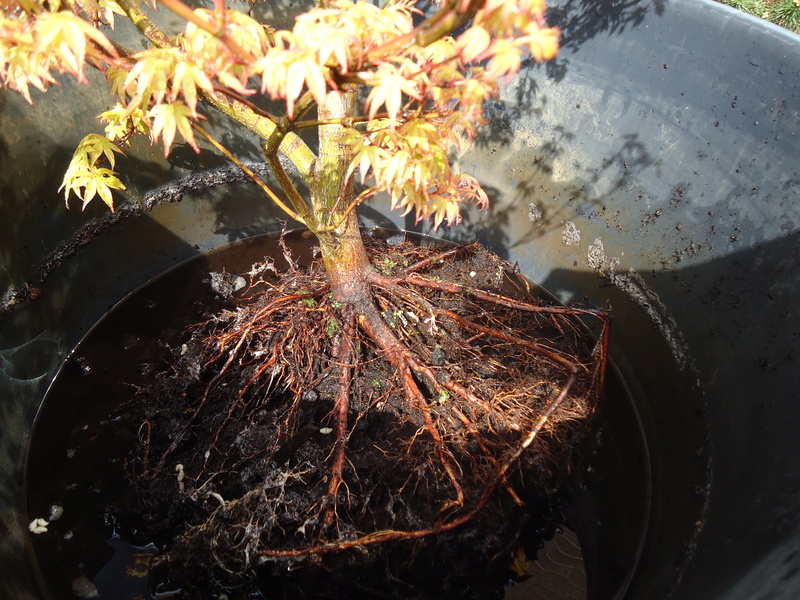 I think in any case it's best to learn on cheap materials like birch or garden centre bushes, but even those can turn out nice and it's never fun to lose a tree.
Anyway, Im wondering about a pine I lifted from my garden when it was just a sprout. I do feel like it could be styled into a bonsai, but since this is a project I started just before my mom got sick, I'd love to see it become healthier and develop slowly more than rush it into a bonsai, and have another tree lost. I've become a bit apprehensive about intervening after the momiji died.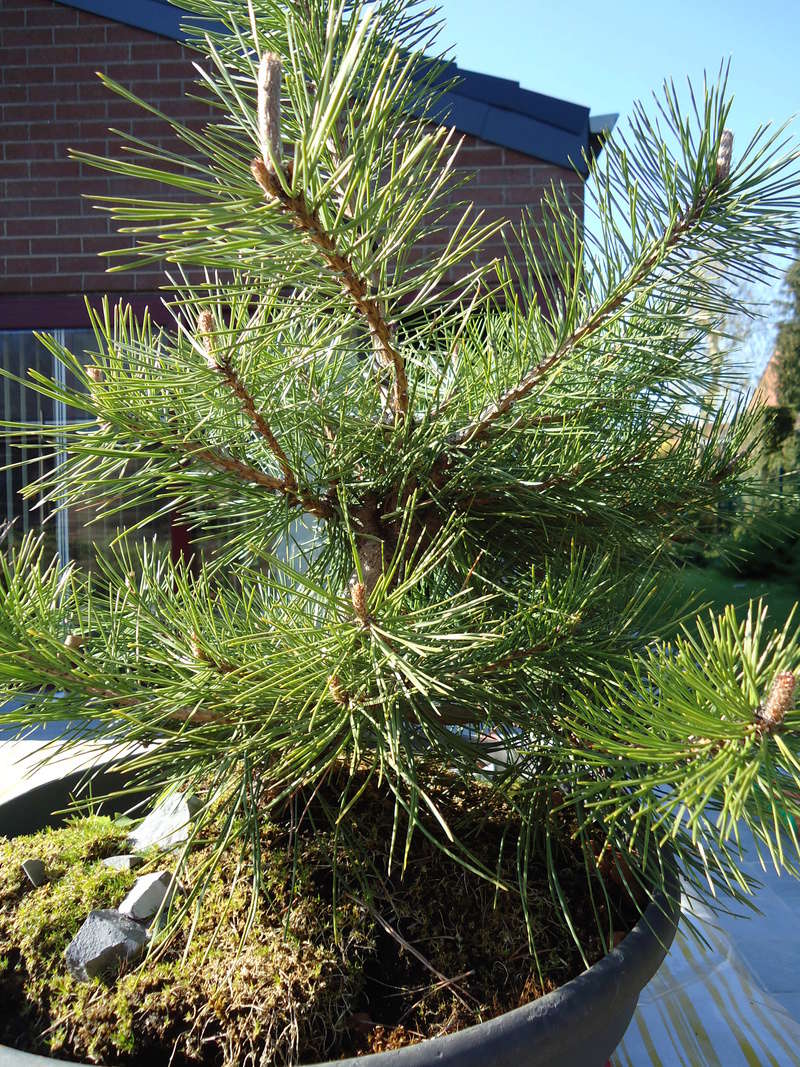 At first look I would say it is a Ponderosa. Ofcourse Ryan Neill has useful info, and counterintuitive tips like never candleprune a ponderosa... Lately I'm wondering if it could not be a common Scots Pine (sylvester pine). Needless (ha!) to say I don't know much about pines.
Knowing the species is important to me, advice on pines sometimes lumps Pines all together, but I hear that care and timing changes quite a bit from (sub)species to (sub)species. Im at a loss specifically because I did prune (the leader no less). I felt the internodes would make an unharmonic tree in the long run so I took the top off and it came back nicely. So this would make it not a ponderosa? :-)
Can anyone help determine the tree?
Based upon your location and the picture I am guessing Pinus nigra - Austrian Black Pine. Knowing the needle length would also help.

For the record, I have found that a strong P. nigra can be treated very much like Japanese Black Pine - P. thunbergii.

Another option is Scots Pine - P. sylvestris which is my personal favorite.
Last edited by Marty Weiser on Sun Sep 17, 2017 3:26 am; edited 1 time in total (Reason for editing : Addition)
I second what Marty wrote: probably an Austrian black pine, because the needles seem rather long, although it could be a Scots pine since it's difficult to estimate the scale of the tree.

I'd say Black Pine...

AlainK

Member





Maple problem could be due to poor soil and very well be bad timing on repot but you don't say when it was repotted. It's a shame cool little Katsura with those pretty leaves.

Stick to spring repotting optimally just before it breaks bud.

Bonsai should be in a coarse soil (there are many threads in the forum about bonsai substrate). This goes double for the pine and conifers in general.

Good luck, keep at it.

Similar topics
---
Permissions in this forum:
You
cannot
reply to topics in this forum