Here`s the pic..
Hello Hundred21,  
Given your posted location, Malta, I am somewhat doubting my ideas as to your tree's identification, but I can't shake the familiarity of your photo.  It looks very much like Rhus integrifolia, commonly known as Lemonade Berry or Sourberry.   It is native to coastal areas of southern California and is commonly used as an ornamental plant in the region.  Malta and southern California have similar climates so perhaps it is also being used as an ornamental in your area.  
As to suitability for bonsai culture, I do not know of any examples but the Santa Barbara Botanical Garden does include it in its list of California native species recommended for use as bonsai.
I hope this is helpful!
David B.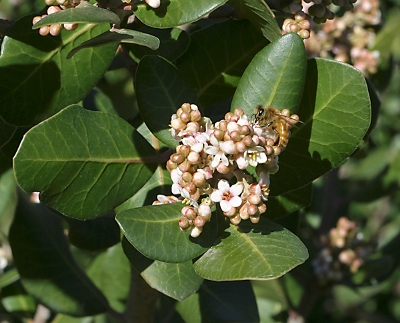 Thank you David B for your input and that looks similar but I`ve now had confirmation that it`s  Rhamnus Alerernus or commonly known as Mediterranean buckthorn. That fits with my climate and might be worth a play with...Cheers..
I'm delighted both to know that you have found the identity of your tree and that I have learned it also. I am a little ashamed that I did not think of Rhamnus, but alas, that which is familiar often intrudes the mind. Please keep us informed about your progress with this Buckthorn!

Yours,
David B.
Will do David B, as it is I set an air-layer a couple of weeks ago and am confident it will be successful, will show the results when it is done....Cheers...

---
Permissions in this forum:
You
cannot
reply to topics in this forum