As previously posted under announcements, 4 members of the Milwaukee chapter of the Arbor Arts Collective participated in "Art Beat in the Heat" music and art show this past Saturday and so I thought I would share some pictures.
Please keep in mind that this was NOT a bonsai show and so the "rules of display" were thrown out the window in order to give the public something more than just a tree and an accent (x4), and also to allow us to have a bit of fun and creative freedom.
The 4 participating members (steve c., brian s., leo s. and myself) shared 2 10'x10' spaces for our displays and our sales table… considering that this was not a bonsai show and that folks were not showing up expecting to purchase plants, we did surprising well in sales, and I feel we got many people excited about bonsai (and related plantings) and showed that it is not as inaccessible or "stodgy" as some may have previously felt…
and despite the off-&-on rain and wind, our booths had a very steady flow of the curious along with those already familiar with this ancient art being put into a more free form setting.
steve and leos overview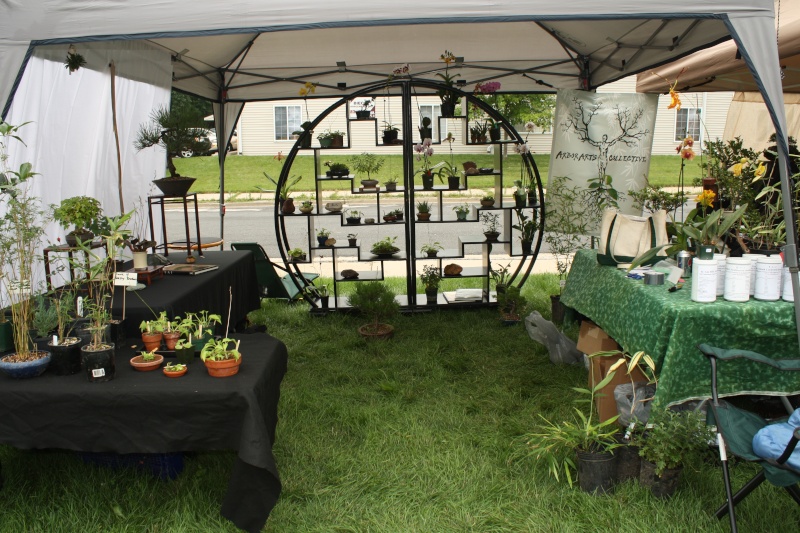 the beautiful centerpiece of steve and leos display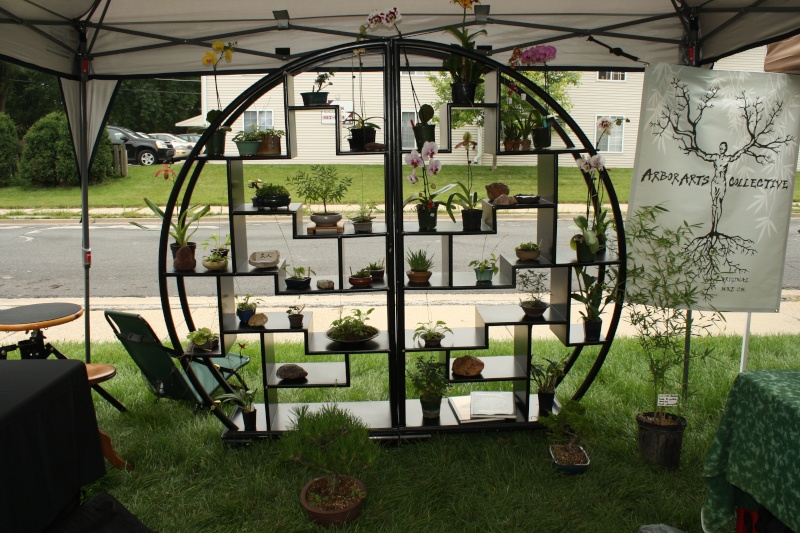 steves display
some detail of steves
brians display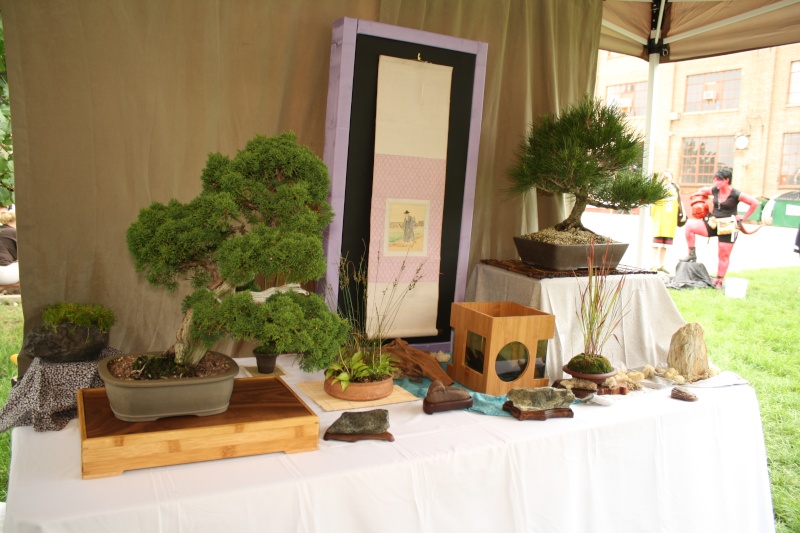 some details of brians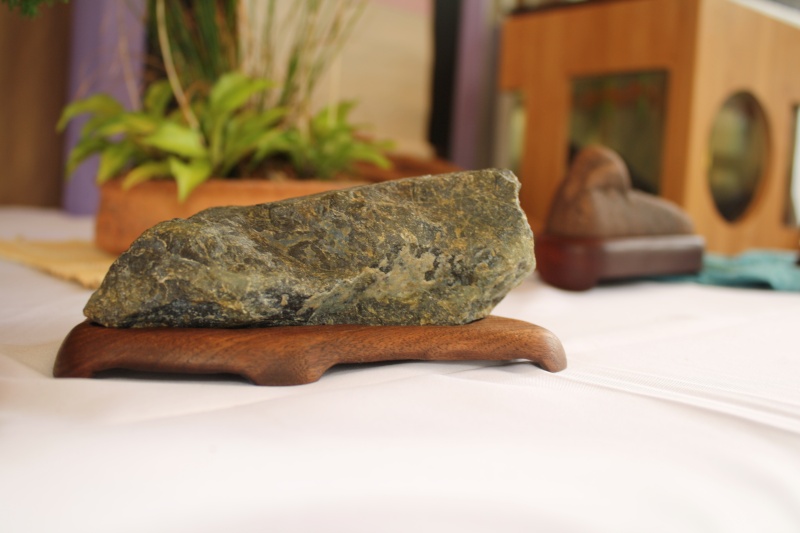 the beta fish was a stunning accent (but hard to photograph)
(sorry brian - i thought i had some detail pics of your trees)
and my display (maybe a bit crowded)
and some details of mine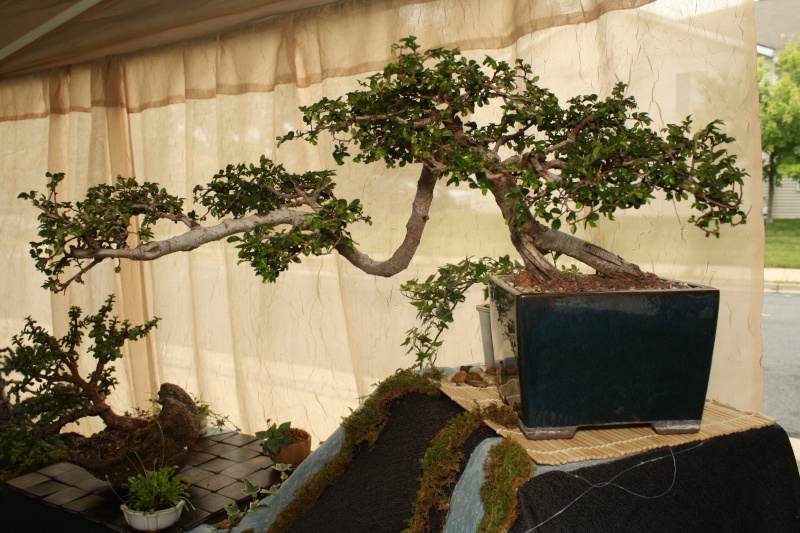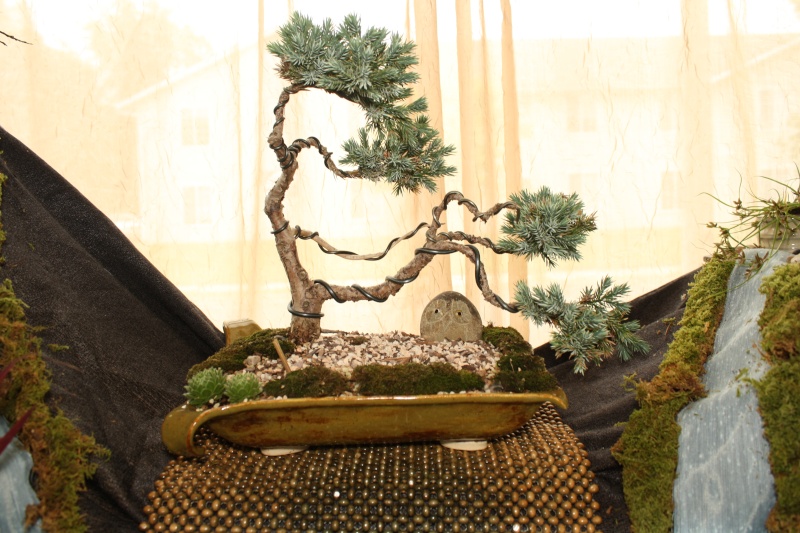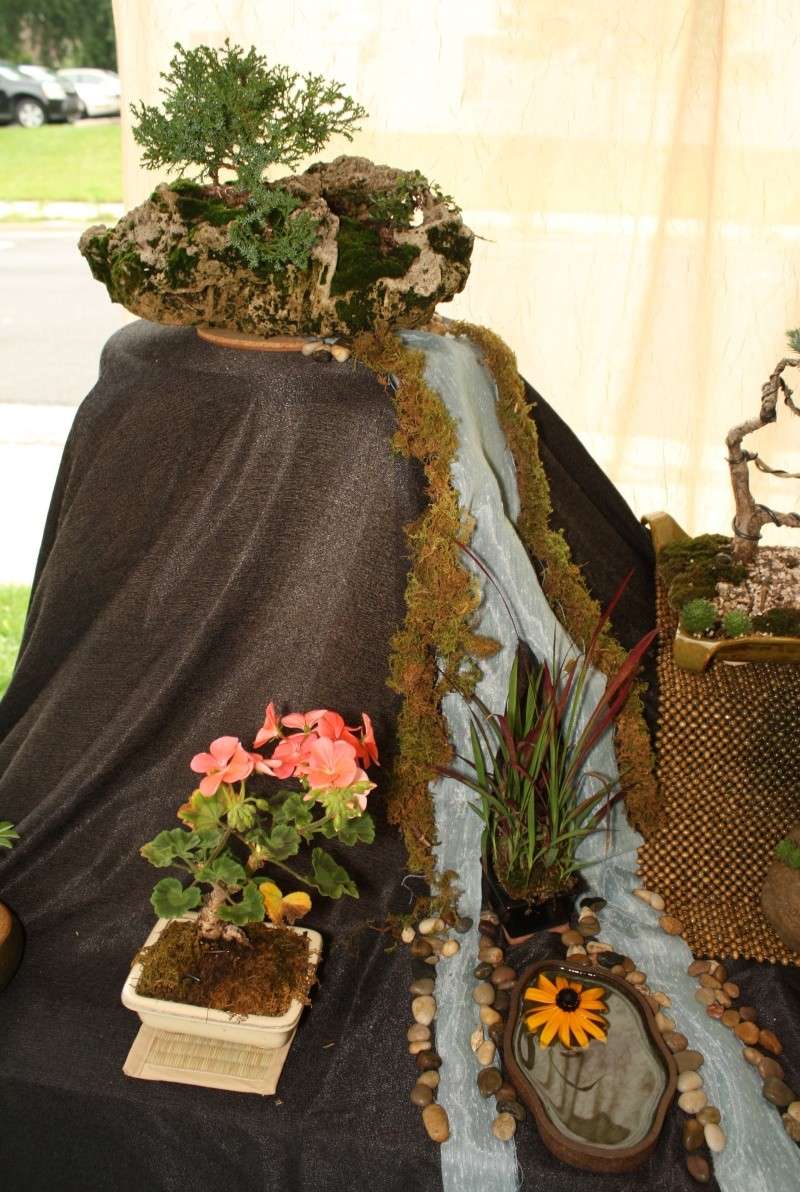 some of us brought something to work on
steve
i & i being supervised by the mad horticulturist
the 4 of us (sorry steve, we should have had that passerby take 2)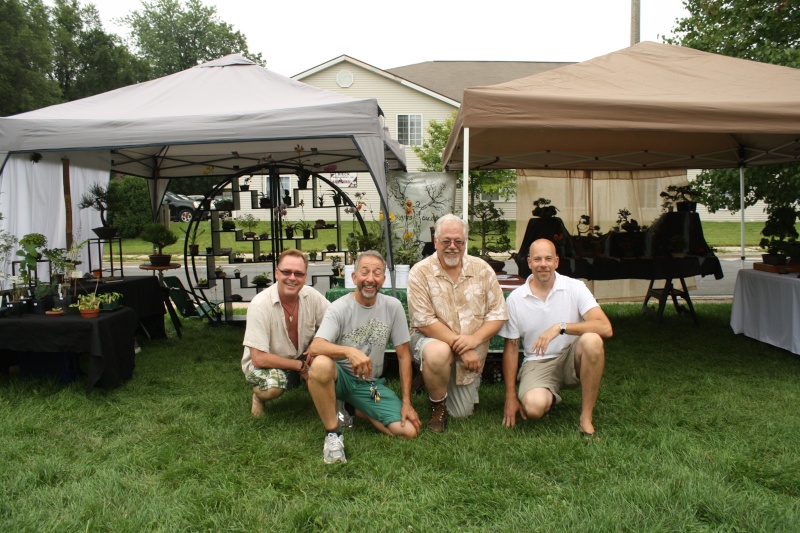 and now for something completely different (some of the goings on going on around us)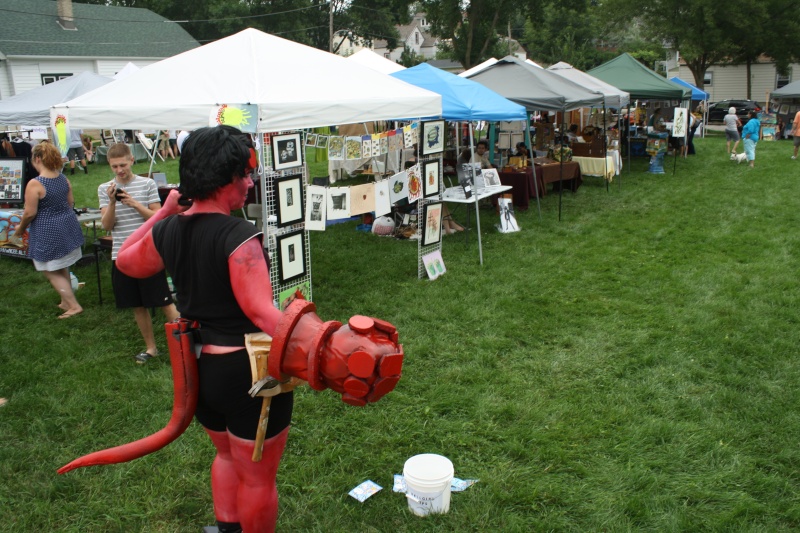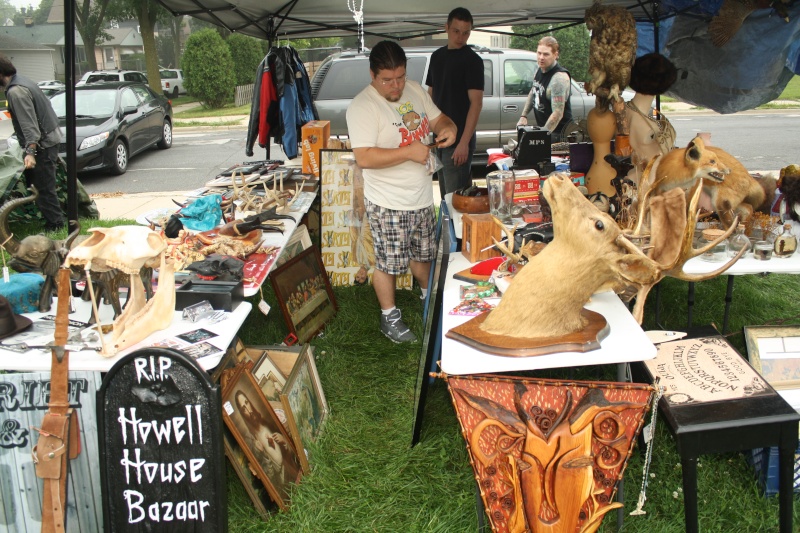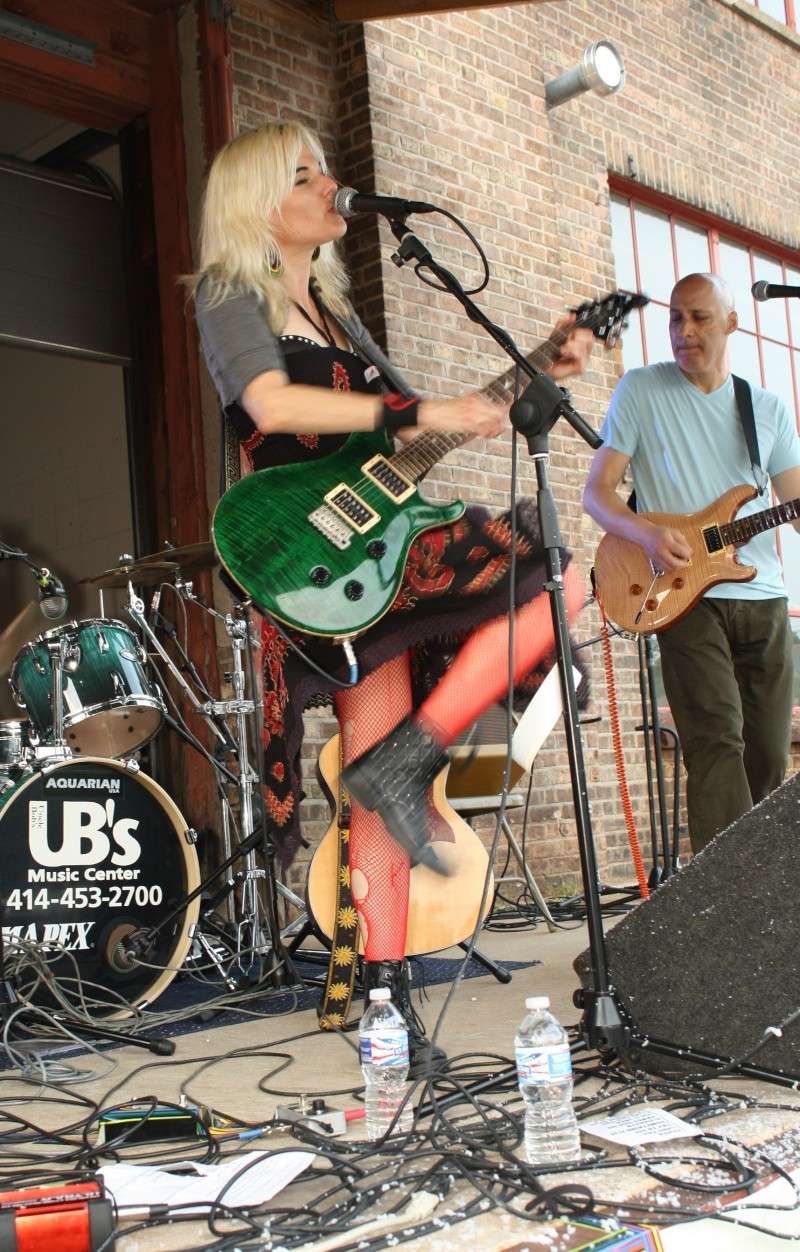 all in all, this show was a blast and gave us some insight on opening up this little thing of ours to the uninitiated in a fun, non-intimidating fashion.
now, i know some of you guys took some pics too, so bust your forum cherry and post 'em up !!!
that means you brian and steve  
(the only thing left of leo's cherry is the pit !  
)
_________________
AAC Original Milwaukee Wi. Chapter - North America
aka beer city snake
http://wiscobonsai.com/

Kevin S - Wisco Bonsai

Member





Sjoe guys what an explosion of artistic abilities, I think you covered all the arts, hihhihihihi.
Looks like you had a lot of fun, and interesting to see all the different displays.
The taxidermy is a bit scary
Kevin you must tell us who is in the photo , I gather its you on the left then Steve and then?
The fish accent is very unique, hell everything is very unique! Mazeltov guys!
Love and light

Andre Beaurain

Member





Andre Beaurain wrote: Mazeltov guys!
mazeltov ???
isnt that a cocktail that flames and then goes boom ?
thanks for the comment andre... i think next time will be more polished... at least on my end, where i think the old adage "less is more" applies as i can see i was trying too hard to "break the ties that bind"... and by that i mean even 2-3 less plants would open it up a tad bit.
regarding the photo (l to r)
kevin s. (minister of misinformation)
steve c. (the re-a-ranger)
leo s. (the mad horticulturist)
brian s. (da chopper)
we have 8 (+/-) milwaukee members, so maybe next time more will participate, but i think some of them have a hard time breaking the bubble of traditional display.
the belly dancers ?
didnt catch their names
first band pictured "the invaders" (brew town ska band)
second band: "annie b. and the complication" (rock)
and yeah that oddities-and-endities-taxi-occulti-dermist had some super rad stuff...
love and light back atcha across the great divide
_________________
AAC Original Milwaukee Wi. Chapter - North America
aka beer city snake
http://wiscobonsai.com/

Kevin S - Wisco Bonsai

Member





Of the 4 some - I'm the fat guy in the brown Hawaiian shirt.
It was a fun event, it felt a little like a flash back to somewhere in my youth, but to a time and place I never had actually been. Definitely not the "with names that sound like old used bricks with chunks of mortar, blue collar, beer drinking machinist, foundry worker, dock worker Milwaukee" crowd. Though the beer drinking and butcher shop made bratts and Vienna beef dogs were there in abundance. Very relaxed crowd, majority of them lived in the neighborhood. The area has a large number of buildings from the 1920s or earlier, with many of the old warehouses and factories re-purposed to artist's studios, loft apartments and small start up business spaces. Not the usual segment of Milwaukee.
This is Brian S's display (da Chopper) a bad shot that was intended to focus on the orchid in the foreground, but was the best shot I took of Brian's display. For a quick "tent show" display I really like what Brian did. It was not intended to be traditional, or formal, I like how it does pull your eye in. See Kevin's photos for better shots of this and its elements.
Steve had the most developed of the "real bonsai" there. Better photos in Kevin's post. His ponderosa pine has been in training for most of a decade, and has been exhibited in several shows including the Midwest Bonsai Society Show at the Chicago Botanic Garden back in 2011 or 2012. This year is one of this tree's "under construction" years, but it till looks very nice. My favorite of the Steve's tree's. If it ever goes missing, I'm sure he will check my yard first.  
a shot of a Fuchsia I put in Steve's display. Everything I brought I intended to sell, if anyone was interested. Unfortunately, when I made the fuchsia several years ago I wasn't thinking and put it in a Sara Rayner pot, so I had to price the fuchsia to include the cost of the Sara Rayner pot. For the audience at Art Beat in the Heat, it did not sell. Which is fine by me. I like this little kusamono or shohin, depending on how you view it. Fuchsia in general form woody stems after a couple years, and like rosemary or sage can be trained to tree forms. You have to let them grow out to get flowers. This is maybe 4 years from a small cutting. I'm thinking about the next pot - what style and color would you go with to compliment the flower colors and basic shape of this tree? When I originally planted this, I was thinking a weeping or semi-cascade, but it has ended up more upright than I was planning. It could weep more, just a matter of growing out and wire. My wire job is pretty clumsy, not my best work.

Leo Schordje

Member





leo - with a little different framing/cropping, that shot of the orchid would be really nice with that zero depth of field !
_________________
AAC Original Milwaukee Wi. Chapter - North America
aka beer city snake
http://wiscobonsai.com/

Kevin S - Wisco Bonsai

Member





...and maybe a little lower... but you are right, the depth of field doesnt work with this composition. hi hi hi

Andre Beaurain

Member






---
Permissions in this forum:
You
cannot
reply to topics in this forum