A few weeks ago while trimming my Koto Hime Japanese maple for my 50th Anniversary Exhibit I noticed an unusual branch on the top of the bonsai. Rather than having a typical round shape, the branch was flattened.
Botanically this unusual and rare formation is called "Fascination," horticulturally it is referred to as "Crested" or "cristata." Sometimes this formation is stable and becomes a valuable new cultivar, like the Japanese Fan Tail Willow, coveted by Ikebana arrangers. Japanese Cryptomeria has a cultivar named 'Cristata' which is popular with dwarf conifer collectors. There is also a crested Celosia, an annual, often planted in gardens as well.
A fasciated woody plant is rare. In the past I've noticed this formation on my coleus and Euonymus bonsai. A few years ago another of my Koto Hime Japanese maples sported a fasciated branch. I watched and studied the branch and when the time was right, tried to root it. It did not root unfortunately, perhaps I should have air layered it. A couple of years ago the same maple grew another flattened branch and I just allowed it to grow. Although the formation was unique, eventually the rounded branches returned.
Perhaps if the flattened branch section was interesting and had a good form it could be developed into an unusual branch. I'm just going to watch the sport develop and see what happens. Unfortunately, the flattened branch is on the apex of one of my bonsai which I'm displaying next weekend in my 50th Anniversary Exhibit. It looks like a top knot, but I'm going to leave it and put a small sign explaining the new sport.
Also in the 50th Anniversary Exhibit I'm showing my Dwarf Alberta Spruce which has a witch's broom in the upper section. Again, I'm letting it develop and will put a sign explaining the sport.
By the way, another Koto Hime Japanese maple specimen is also growing a fasciated branch as well.
Bill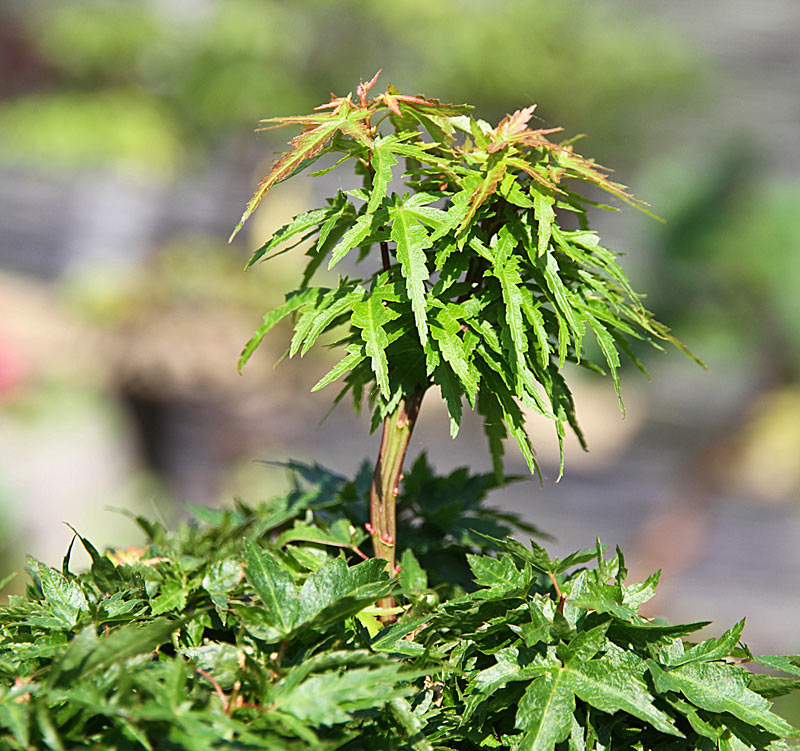 Front view showing flattened branch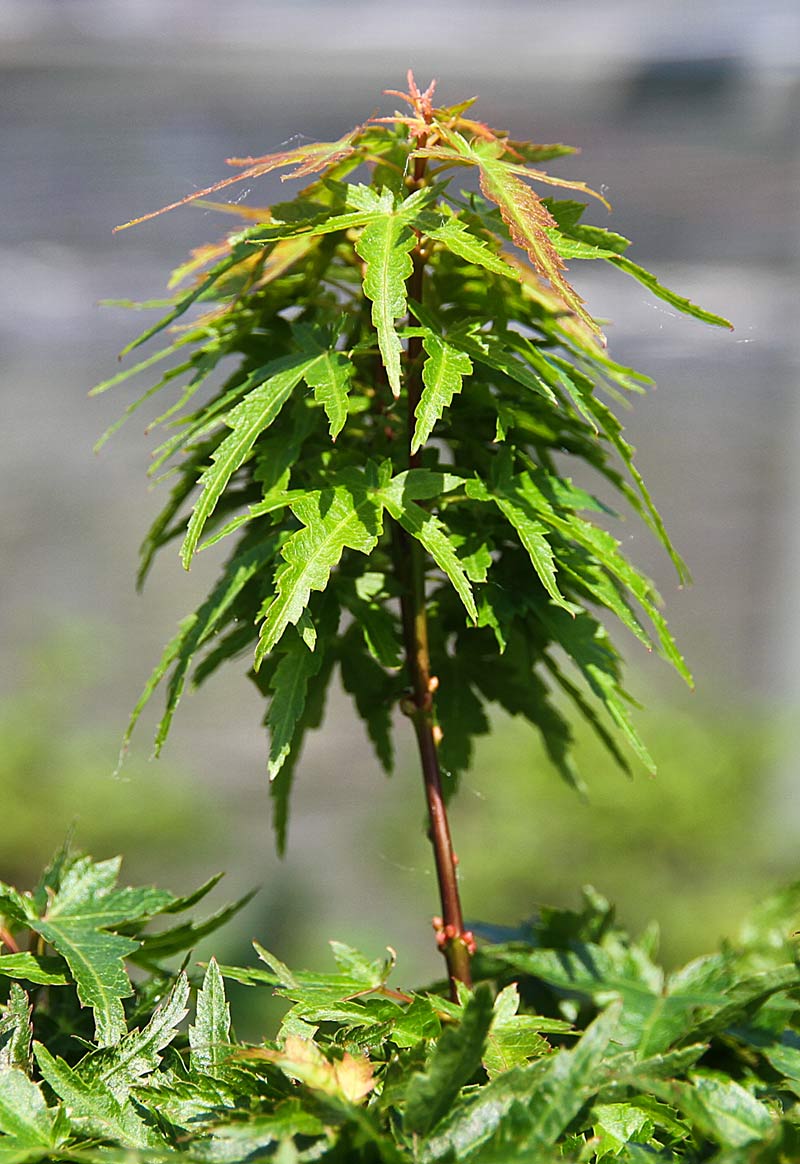 Side view showing thin view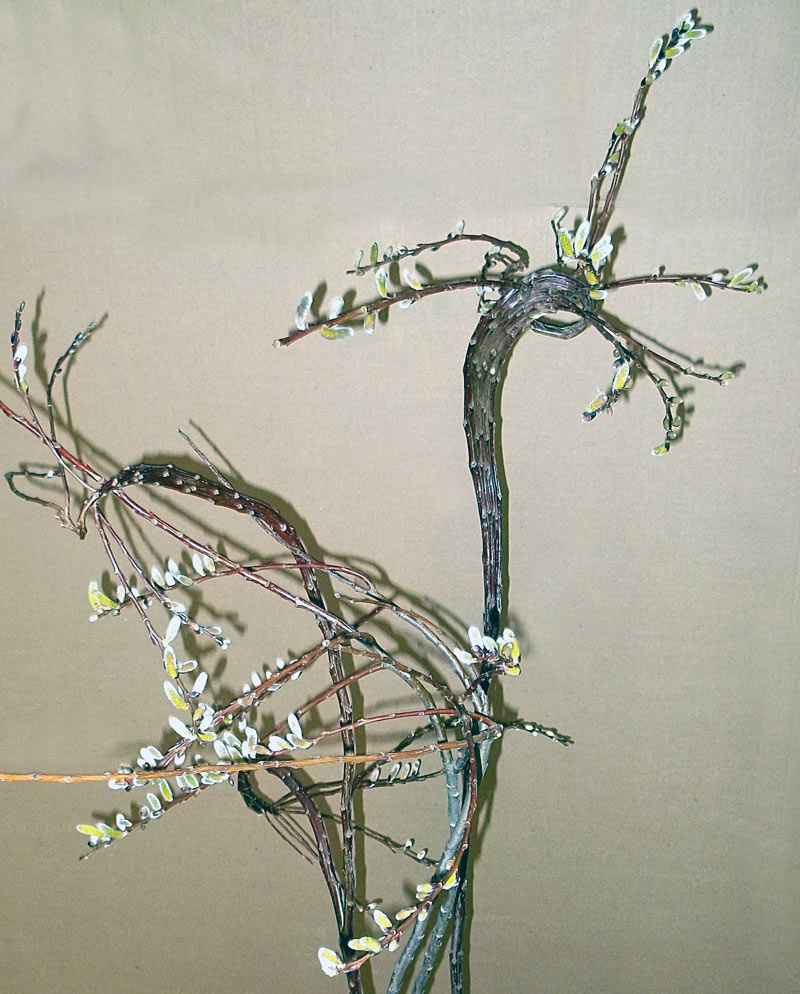 Japanese Fan Tail Willow commonly grows fasciated or flattened branches and is often used for flower arranging

William N. Valavanis

Member





Hot Dang Bill. That would be really cool if you found a new sport on your maple.

Just out of curiosity how long would you leave the airlayer on a dwarf maple?

Have a great weekend!!!
Sam

PS - I'm very jealous that Ken Hallatt (among many others) is coming to visit you at the Colloquium. I wish I could have made it.

Sam Ogranaja

Member





Sam,
Japanese maples, especially the dwarf cultivars tend to root quite quickly. An air layer done right now could probably be removed in mid-July, or about a month and a half. The timing is quicker earlier in the season.


William N. Valavanis

Member






Sam Ogranaja

Member






You may have just stumbled upon the Japanese maple version of those crested crown-of-thorn things they sell at Lowes and Home Depot. I'm pretty sure we have the Thais to thank for those, we'll pin this one on you.

Kidding aside, would you be safer trying to graft it, along with airlayering? Does it look like it will have the typical kiyo growth?

Russell Coker

Member





Very interesting Bill, I have the same development on one of my wild olives.
I will post an image shortly.

Justin Hervey

Member





it is behaving perfectly Bill - even showing the best view of the flat section from the front.

do you think our pruning and bonsai techniques increase the chance of changed growth habits within a species? or is it that unusual growth patterns just get seen easier on a bonsai

cheers marcus

marcus watts

Member





Environmental factors are unlikely to cause this kind of genetic change. It's just that on a bonsai we are more likely to notice it. Koto Hime is a rather extreme cultivar, so it may be genetically unstable to begin with.
Iris

bonsaisr

Member





Adding an explanation of why the branch has been left intact is brilliant and will only add further interest to the display. The horticulturalist living in every bonsai enthusiast will be pleased.

-Jay

drgonzo

Member






Justin Hervey

Member





The basic mechanism of fasciation is that the meristem, which is the plant's primordial growing tip, changes from a point to a line. If the meristem becomes totally disorganized, it is considered monstrose. Happens occasionally with succulents.
Iris

bonsaisr

Member






---
Permissions in this forum:
You
cannot
reply to topics in this forum