Hi everyone, i couldnt resist but buy a lawson cypress, chamaecyparis lawsoniana, being sold as a christmas tree. I know it belongs outdoors, but since it was sold as an indoor tree i do not want to just put it out in the cold now, as it would most likely kill it dead. What care should i give it to help get it through a winter indoors? I've been misting it as frequently as possible aiming for twice a day but usually one. Also it this cypress similar to hinoki as so far as having to make sure the soil never dries out completely?
Ah! The good old Port-Orford-Cedar! A great tree of the forest, but as bonsai stock, well, I can't recall ever seeeing any. It does well in container, very easy to grow, but certainly not an indoor tree. You know it, so go with what you know regardless what the tree was sold as. Keep it outdoors at all times and it may have a chance.

These are not like Hinoki. These are hardy and drought resistent. The ones I've seen sold in the xmas market are the dwarf varieties in little foil wrapped pots. Right nexrt to the Dwarf Aberta Spruce sold as living xmas trees. Check the soil as these are often potted in mostly styrofoam to keep the shipping weight down. They're not expected to live beyond the season. Rick

RKatzin

Member





Thanks Rick, should i wait until spring to put it outside or just put it out now as we are having a very mild winter. Also i did up size the pot. Didn't notice any styrofoam, but i also didn't disturb the roots just put it in some free draining soil. I really hope it survives, i've seen some growing in a park in my area and they are very nice trees
I would get it out of the house now, under protection till it acclimates. Is this a dwarf or a standard variety? Would you post a pic to see what you've got?

I'm very fond of this tree, going way back. Pure stands in wilderness settings are simply breathtaking. Literally, the cedar aroma is so intense! I've been in small cabins built entirely from POC. It's almost nauseating at first, the aroma is so powerful. Japan buys almost all the POC harvested in the US, primarily from Pacific Northwest.

I am working a couple of trees, for my own pleasure. One I've had almost ten years is beginning to show potential. Being an unpopular tree bonsai-wise, I've had to work pretty much blind. I've found them to be very similar to your arborvitae (not overly popular in itself) in leaf and growth habit. You can trim and prune the same as a Thuja. They have the same weepy look with alot of downward growing foliage. I'm not at the point of developing ramification so I can't say whether they will ever produce thick foliage clouds. I don't think so and I do not intend to go that way. I want my tree to look as much like the trees I see in the forest and they don't grow like that.

It's that near-view, far-view perception. The thick foliage clouds only appear when viewing trees from a great distance. The closer you get to the tree the more dependant branches and twigs you will see. These trees look like that even from a distance, real weepy with alot of branches swaying in the breeze. That's the look I'm going for with this tree.

It's noteworthy to mention I think, that I have fooled around with a few of the hybrid dwarf varieties, all with poor success. They look tempting for certain, but they're nothing like the original. Very sensitive to root work and branch prunning. Very slow growing compared to the standard.

I've been studying up on grafting and had a thought, as I am want to do on occassion. Being in the same species, could Hinoki foliage be grafted onto a POC trunk? Something to ponder. Rick



RKatzin

Member





This is the tree. Not sure if it is dwarf or not, i would prefer it not to be. It still has all juvenile foliage. I fear that i may have left it too dry for too long as it is no longer luscious to the touch its a bit crispy i fear to say, sometimes when i touch it some parts of foliage fall off. Hope it can be revived.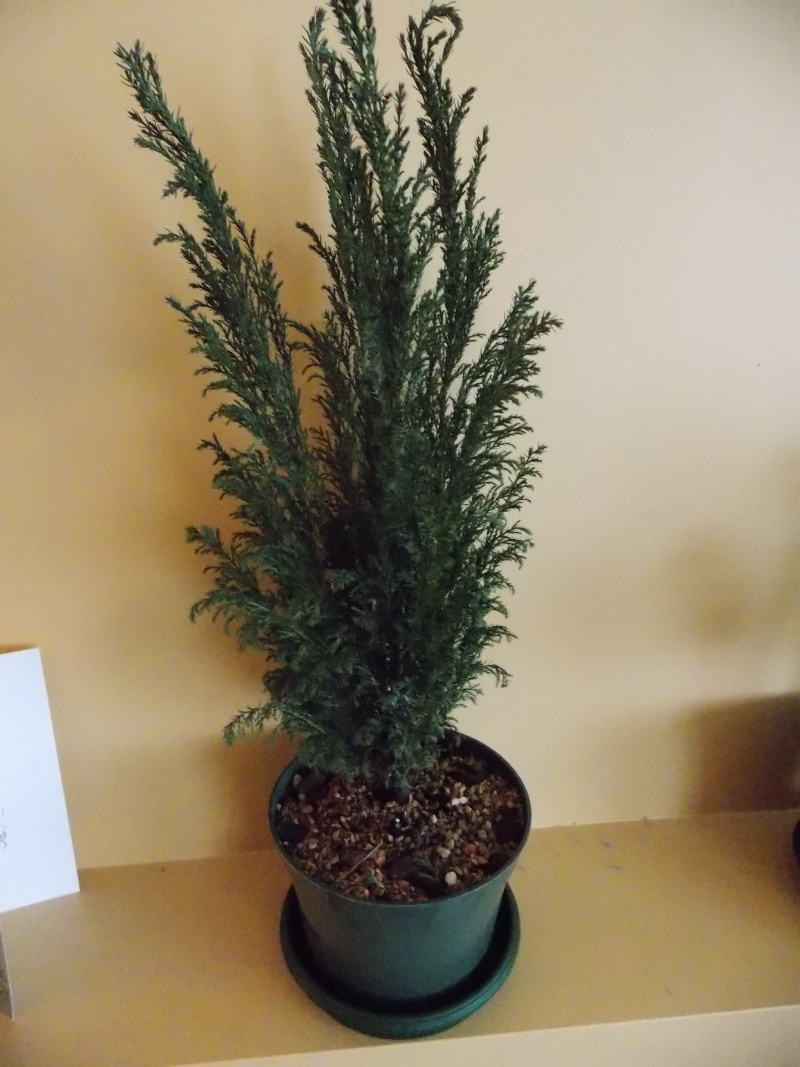 Yes, that is one of the hybrid dwarfs. That is the foliage.
This is a standard Lawsons. This tree has been planted in the garden shortly after this pic was taken. It's the only way to fatten that skinny trunk.
If there's any live foliage, look deep between the stems, you might save it. It will make a nice ornamental if it survives. Find a nice place in the yard, give it a good planting and say a prayer over it. Hope it gets buried in the snow for the winter and see what you have come spring. Best of luck, Rick

RKatzin

Member





Thanks Rick, i will plant it asap. Sadly our snow comes and goes on a weekly basis. Hope it makes it out the other end!!

---
Permissions in this forum:
You
cannot
reply to topics in this forum