+12
ironhorse
Rob Addonizio
Khaimraj Seepersad
John Quinn
marcus watts
Dale Cochoy
JudyB
cbobgo
Russell Coker
rps
JimLewis
bonsaipotter
16 posters
Page 2 of 2 •
1, 2

Great timing, Lovely pots Happy! I am seriously considering taking a winter ceramics course and seeing how much damage I can do lol Thanks for sharing here and on your blog!
Chris

Fore

Member





I just read through this thread. Your pots are lovely!

Todd Ellis

Member





And thank you both for the feedback. I can only fully recommend a ceramics course, you'll have a lot of fun.
On my blog I've posted about a couple of pots I've had for many years. Can anyone help with identification - here are the chops. I'm pretty sure the second one is Tokoname but can't find it on any of the published sources.


Thanks,
Happy Potter
http://bonsaipotterycoy.blogspot.com.au
Tried my hand today, for a first pot of 2013, at a mock rock pot.

This first picture is as finished in nice wet clay. It will have an arch and be supported on both ends only. After firing it should finish up at a little over 300mm long. I'm thinking of just applying a stain to get mostly in the cracks and crevices and otherwise rely on the buff colour of the mature clay. Being stoneware it will be nice and impervious to water.
The second picture is a photoshop montage of what a finished result might look like.

Happy Potter
I've ventured into smaller pots recently and produced a number of shohin sized ones from 175 toi 185 long and 45 to 50 high. It is surprising how much time a small pot still takes both in the making and in the glazing and into and out of kilns etc. But quite rewarding and nice to turn out a variety of shapes with less complexity than the larger pots.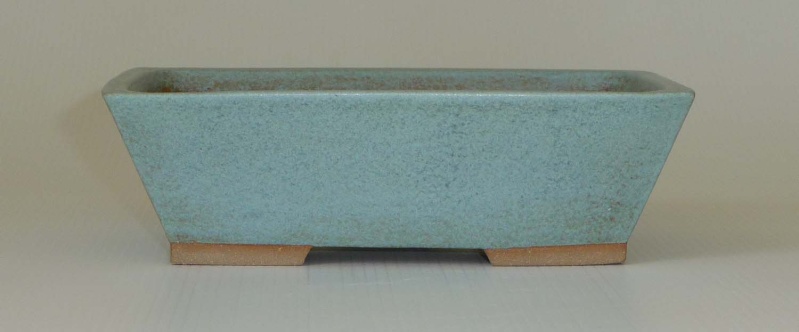 Happy Potter

Russell Coker

Member





Interesting recnt commission to create a rock slab pot. The climate here in Australia suggested it needed a concave space to hold a bit more soil and moisture so this was the result. Ended up at 555 x 360 x 45 mm, stoneware coloured with underglaze fired to cone 6. Should look good with a tree about 600mm high.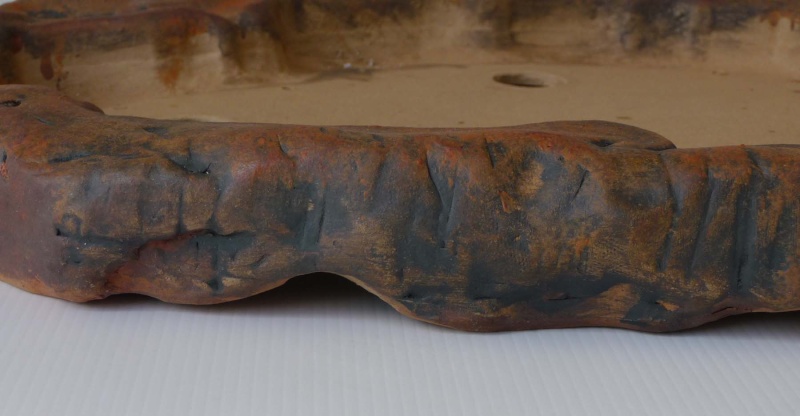 Page 2 of 2 •
1, 2

---
Permissions in this forum:
You
cannot
reply to topics in this forum