Hello all, my brother's neighbor past away recently and he was helping clear some of the brush in her property and found this collection of natural round stones lining the flower beds. I have no idea what type of stone they are or how she came to collect so many. They have some red, granite/sandstone looking areas and some denser layers as well. This one is about 8 in high and 10in around.
Like I said she has a few and I am hoping get over there are negotiate for a few more. Let me know what you all think.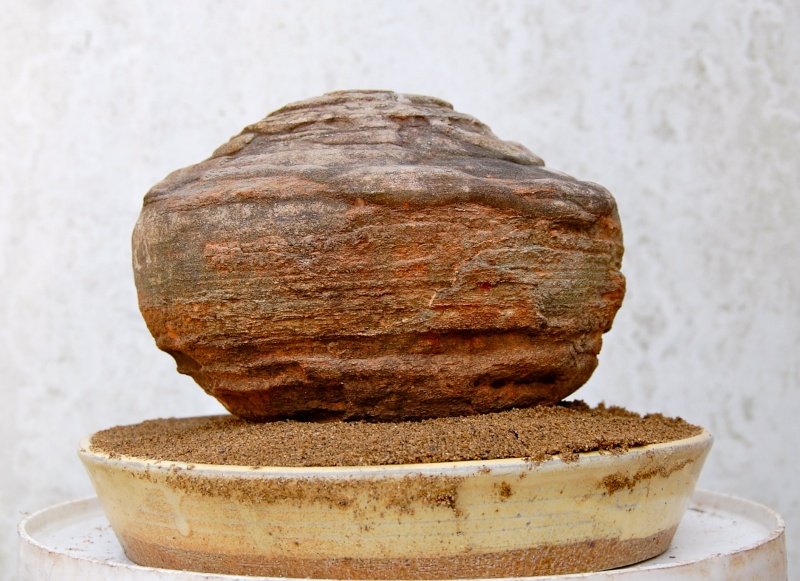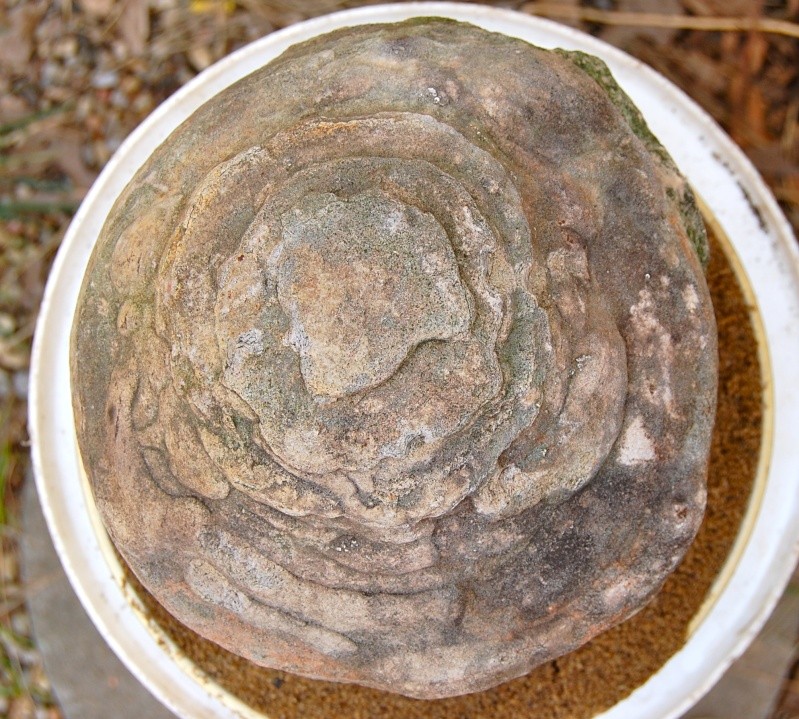 Jim Doiron

Member





Hi Jim,
Without being able to hold the stones it would be difficult to determine their makeup ... but ...this is just a guess, the stones could be concretions. Concretions are found all over the world and most are spherical. As the rock is formed around an object it sometimes has less weight than solid rock. I googled concretions and these might interest you:
http://www.desertusa.com/mag98/oct/papr/geo_conc.html
I've collected concretions from Lake Superior in Northern Wisconsin and found the rounds but also many odd shapes. Because the rock is water-washed it is smooth and hard. I imagine places like the desert would have stones that are wind-worn which could account for the rough surface. I wouldn't encourage you to do this but we broke open several small concretions and most were hollow which probably means the clay/mineral formed around something which decayed.
Interesting find no matter what it is!!
Norma

Norma

Member





Thank you so much for the information. Now that I know what it is called I have been searching around the web and some of the images are impressive. Thanks again.

Jim Doiron

Member





With regards to Norma's suggestions, my thoughts are that they look very much like desert-wind creations. Perhaps small sandstone boulders which have been weathered away over many years.

Whatever they are, I like 'em!

Harleyrider

Member





Hmm, not concretions as those are formed in concentric layers (like an onion) and not stratified or horizontally layered like these are. These are likely to be sedimentary layered rocks from a lake or sea bed or metamorphic (heat changed) if harder. They look much like a fine grained sandstone to me. So the suggestion of ventrifact or wind formed is a distinct possibility.

_________________
"It is not the strongest of the species that survives, nor the most intelligent. It is the one that is the most adaptable to change." - Charles Darwin.

Kev Bailey

Admin





Thanks all, Kev, I think you may be right, they do have horizontal strata that go all the way through but then there are areas of harder stone like what you see in the labeled photo. It must be the point of two subsequent layers came together and then were carved (differently due to the different densities)by some external force, like you said. There is another stone that better shows the different stone types I will try and steal it from my brother to get a photograph.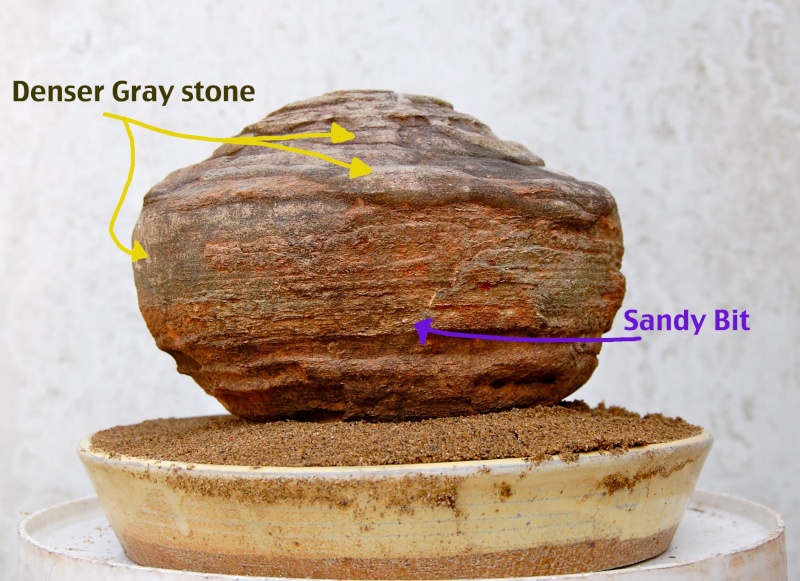 Jim Doiron

Member





Hi Jim... Thanks for sharing. Your photos suggest a couple of things to consider re' display. The distinct color difference between the top & bottom is very nice. I particularly like the warm red tone of the bottom which could suggest the rising warmth & color of dawn (which is also inherent in the kanji characters for dawn). If using that allusion, the stone might be up-ended. The layered off-white & gray other half recalls lower mountain mists one sees looking from one peak to another at dawn or the weathered aging of wave washing, which reveals geological layering or water (tide or flood-level) marks.

One of the discussions at Potomac Viewing Stone Group's last meeting was traditional suiban for stones. I proposed after looking at many texts that they consistently have feet. I was expecting to find exception to a Japanese stone enthusiast in Kobe who has published a great deal (in Japanese) on suiseki display aesthetics & writes extensively on balance in suiban feet. I have not been able to follow his many details, but it seems an obsession. Perhaps, I'll find a translator to clarify...

I have a 12" tray with sea-slug exterior glaze & exposed clay with some ash-glaze flashes across its bottom. It was drilled for drainage after it was fired-- perhaps, long after firing & by an owner using it subsequent to original (unpierced tray) use. I would like to use it for stone display because it has a very pleasing, weathered color which could enhance seasoned stones. When I received the tray, there was no sign that it ever had feet..., but a bonsai pot collector of considerable experience thought it once had feet which were subsequently ground-off. Perhaps without feet, it is better-suited for use with a grass planting or bonsai than for stone display.
Last edited by Chris Cochrane on Tue Aug 11, 2009 4:38 pm; edited 2 times in total (Reason for editing : correcting awful grammar)

Chris Cochrane

Member





Chris: I seems to me that feet would be more important for bonsai containers than for suiseki. The reasoning is that for bonsai feet on a pot have a function of elevating the bottom of the pot for proper drainage to occur. Non-living suiseki, of course, have no such need. So, the obsession with suiban or doban having feet would seem to have no significant basis in function, although the case might be made on the basis of aesthetics which has a much greater subjective element.
On the other hand, it would seem to make a lot of sense to take care about the orientation or presentation of the feet when they occur on suiban or doban.

Alan Walker

Member





Hey all, thanks again for the comments.
Chris thanks for the info/thoughts on the suiban feet/without feet. I think I would like to see this one ultimately in a dai? I had it in the sand because it has a small bump on the bottom that makes it impossible to set straight. My feeling are that the feet are definitely an asset. The gap underneath the whole display gives a lightness to the composition and "elevates" it into it's own space, ever so slightly removed from our space . It's more subtle but not unlike a frame around a piece of art or perhaps the "fourth" wall in theater, I think.
I think this idea is especially important when we are dealing with objects that are a dense and weighty as rocks.
Below is the other stone I mentioned. It is mostly the denser gray stone with a few areas of the sandstone.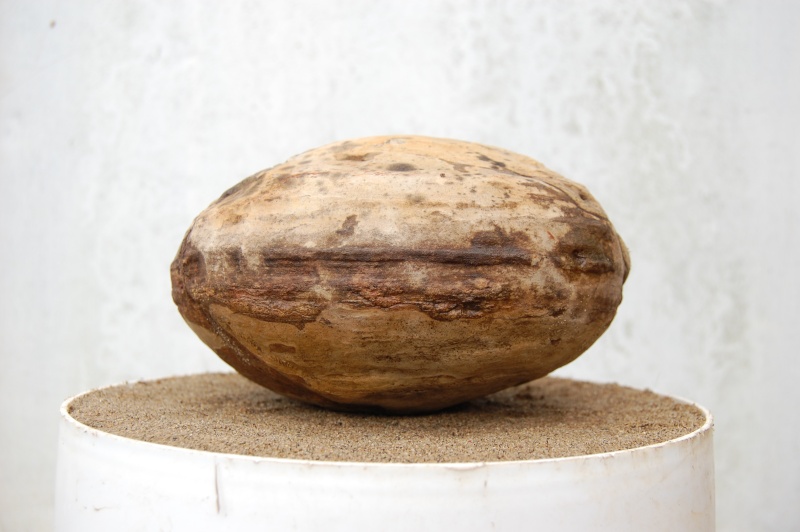 Jim Doiron

Member






---
Permissions in this forum:
You
cannot
reply to topics in this forum