This is my tall Japanese larch forest (Larix kaempferi) that was planted from 2-3 year old seedlings in March 2005. Unfortunately it looks like I don't have any pictures between 2005 and 2011 when it went from the grow box into the bonsai pot. It is just shy of 1 meter tall.
As planted
As trimmed - look a lot more like a forest than a batch of seedlings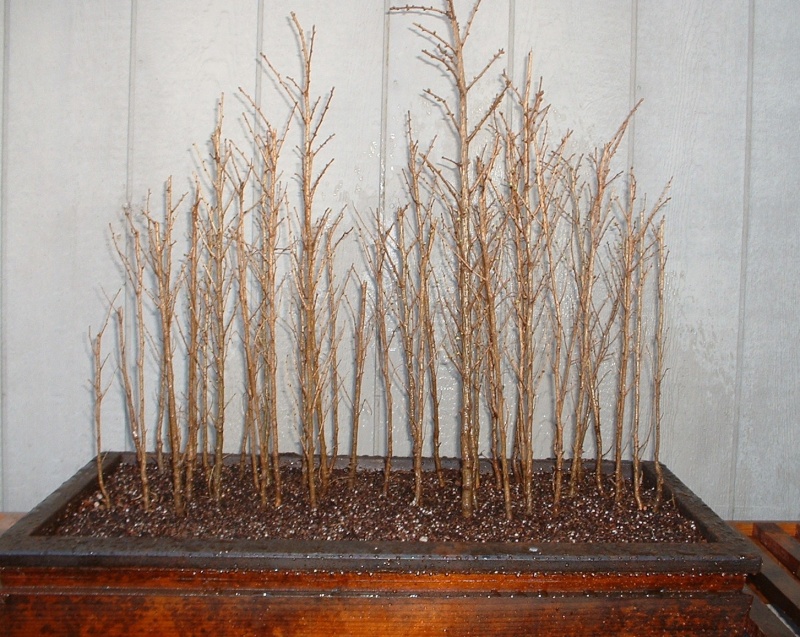 As shown in the Inland Empire Bonsai Society (Spokane) Show in July 2011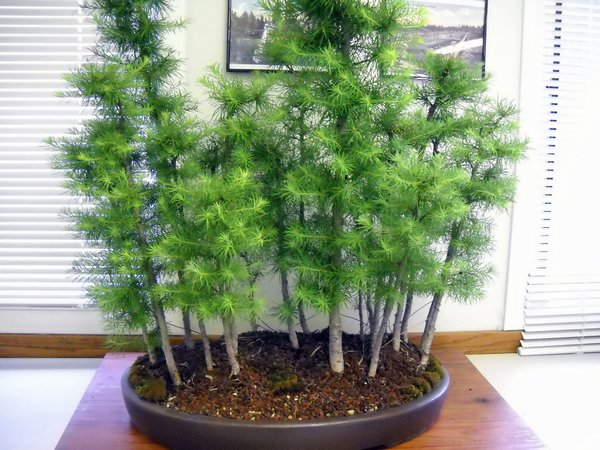 After trimming in June 2012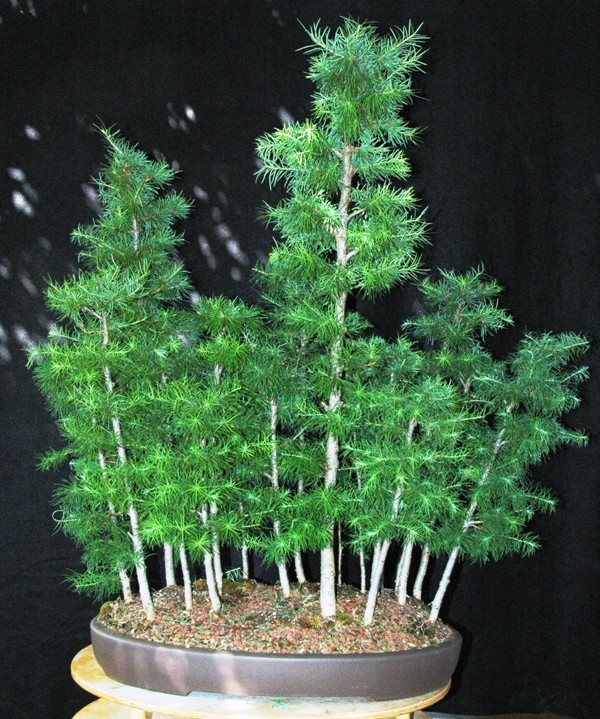 Right side view after trimming June 2012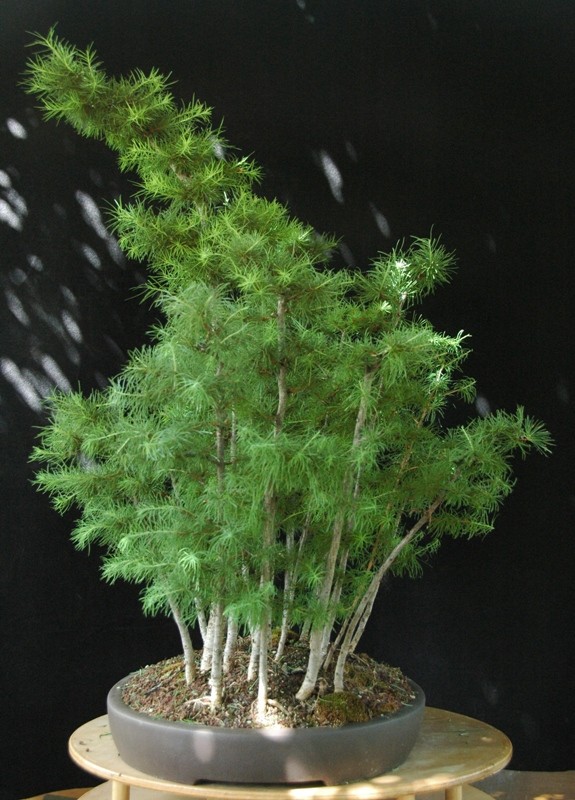 I plan to bring the apex of secondary trunk a bit more forward and also thin the entire forest out a bit more so that it is ready to show at the Pacific Northwest Bonsai Clubs Association Convention in Spokane during Sept. 2003. All comments and suggestions for improvement welcome. Cleaning up the trimmed needles is on my list.
Last edited by Marty Weiser on Thu Jun 28, 2012 2:59 am; edited 1 time in total (Reason for editing : Added info.)
hi,
thats really nice from a handfull of ordinary seedlings.
just my personal impression of the group as a total image....the main tree is too tall for its thickness, and in its relation to the other trees in the group. Obviously the group is very young still, so there is no feeling of maturity yet, either in the bark or the branches as they have the vigour of youth rather than a build up of convincing short ramification. this young image is increased further with so many green lower branches too - it would look so much older with jins, stubs, spaces etc in the lower sections as these branches would have died off long ago as the trees got so tall.
I think rushing the composition into exhibitions could be reconsidered - it is in a mica pot by the look ? so needs a proper pot to do all your hard work justice, and about 5 or 6 (or 10+
) years of work to continue the aging process.
certainly a group with a great future, i'd just keep it out of exhibition until you can show a more complete mature image, but it depends what other trees go the the shows i guess.
cheers, the progression is excelent.....start pot hunting
(or build a slab now and let it age for 5 or 6 years outside too)
marcus

marcus watts

Member





Personally, I'd be looking at wiring the branches downwards - that will enhance the image of maturity. Lots of wiring do there though!


Tom

Member





If they were mine i would grow them open ground for a few years , reduce them and work on trunk development . Watch the wiring, vaseline on the pruning wounds and covered with tinfoil fast healing like birches and beech. Great stuff.

Similar topics
---
Permissions in this forum:
You
cannot
reply to topics in this forum