I am interested in training and growing an olive plant as an indoor bonsai. I haven't decided on a variety but I see "little ollie" mentioned everywhere. Is this a good variety for growing indoors or is there a better choice? Will it bloom? If so, would I need more than one plant for it to produce fruit? Thanks for any info. on these issues.
Hi Barry,

Please put some indication of where you are in your profile. Advice can be far better tailored if we have a rough indication.

They do very well here in North Wales in my unheated glasshouse. They can cope with frost as long as their roots aren't too wet. I have two large olives, grown from seed, growing outdoors against a S facing wall. They are flowering and fruiting after ten years growing. I think they are self fertile.

Little Ollie doesn't flower or fruit. I bought a small one only two years ago. Though it appears to be grafted, I can tell you that they are very easy to strike cuttings from and grow quite vigorously.

Kev Bailey

Admin





Thenk you for your reply Mr. Bailey. I have updated my profile. I live in New Jersey, USA. I live in a townhouse and I have limited room to grow bonsai. That is why my collection consists of just one tree (Punica granatum nana - 33 years old) and I give a lot of thought to the next tree that I add. Regarding the olive, maybe I should restrict my looking to O. europaea (not "Little Ollie") if it is one that may flower one day and can survive indoors? Any other suggestions for a flowering tree that does well indoors other than Serissa?
Except that Satsuki do poorly indoors.

JimLewis

Member





I misread your post. I did not see the indoors part. Satsuki do not do well indoors, do you have a porch.
The correct name is Olea europaea 'Montra.' It was originally from Monrovia Nurseries. It will not bloom or set fruit. You can give it similar conditions to the Pomegranate, but it needs more sun for the summer.
Mine is 27 years old, seven years in training. The container is Featherock (pumice). It spends the summer outdoors in full sun, gets a rest in the fall like pomegranate, & spends the winter under fluorescent lights. Picture is from last year. This year it is much bushier.
Iris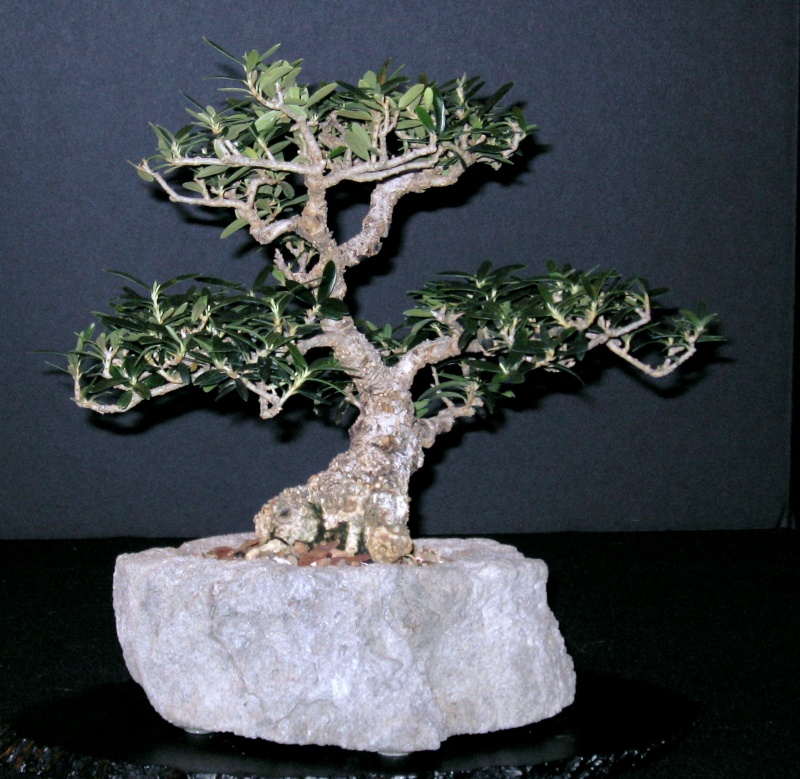 bonsaisr

Member





Gee, I did it right.
Iris

bonsaisr

Member






Similar topics
---
Permissions in this forum:
You
cannot
reply to topics in this forum