Hello,
I am at the beginning in bonsai art ( from 2 years )
I have an acer deshojo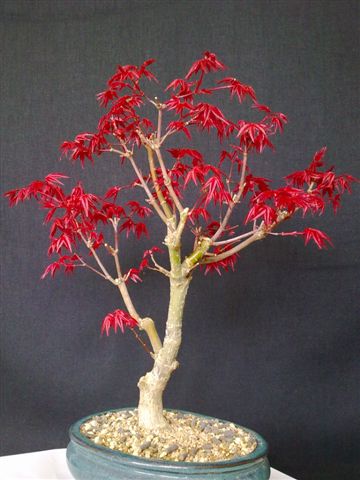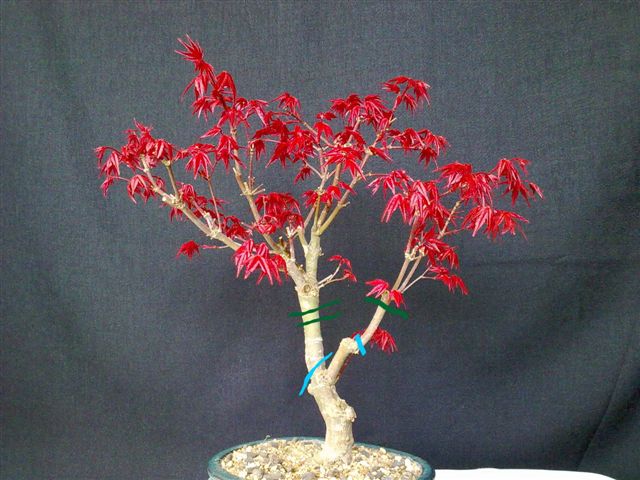 an plan to air layer in place marked with 2 green lines this June
and next year in place marked with 1 green line
to make a shohin ( and 2 more trees )
is that a good idea to go this way ?
please advice,
Kris , Poland
hi,
traditionally many deshojos and other bright red acers are grafted to stronger palmatum roots as they can be a weak tree when trying to grow on their own roots. To make a good bonsai the tree needs much strength and vigor to produce many buds and to support many fine twigs and leaves without constant and annoying twig die back every winter. If your tree is grafted I would think twice about putting lots of time and effort into grafting 2 more trees, if it is on its own roots already and you are happy with the way it behaves as a bonsai then go for it

.
I always think one thing before layering anything............am i ruining one potentially nice tree to make two or more average ones?, and then do i want a bunch of small trees everywhere just for the sake of it.
cheers Marcus

marcus watts

Member





Can you give us an idea of what size the tree is currently?



_________________
"Espouse elucidation"
_____________________________________

my website

fiona

Member





i thought about air layering just to have possible (additional) trees , but mainly i intend to work on bottom part of the tree like here

but the question is if the tree will back bud when i chop 2 main branches....
the tree is about 30 cm high
thank you for advices
boy do I love this deshojos cultivar! Very nice lower trunk Krisp!

Fore

Member





---
Permissions in this forum:
You
cannot
reply to topics in this forum