I got this maple and I do not know how to grow it. Should I cut off one stem so it uses all its energy in one stem? How do I make it grow strong and healthy? I repotted it and I do not know how many hours of sun it should get, how moist the soil should be. I need as much help as I possibly can. It is graphed.
It has buds.
Here is the rest of my collection, any advise will be well appreciated
3 year old Rocky Mountain Bristlecone Pine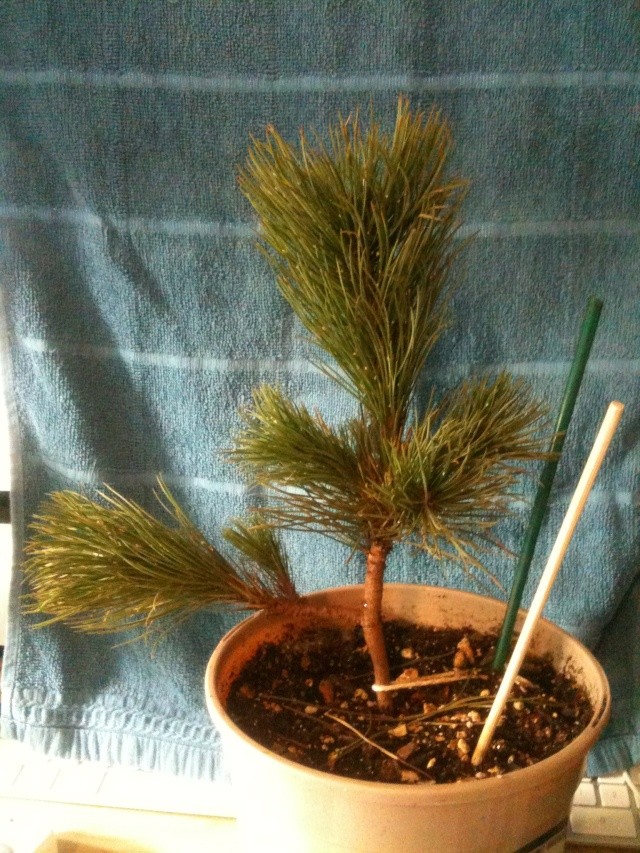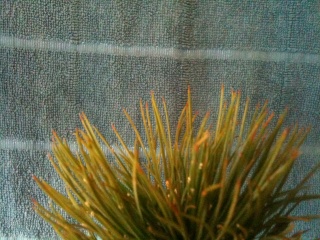 Is the yellow tips normal on a pine?
un-none age Silver Leaf Maple native to WI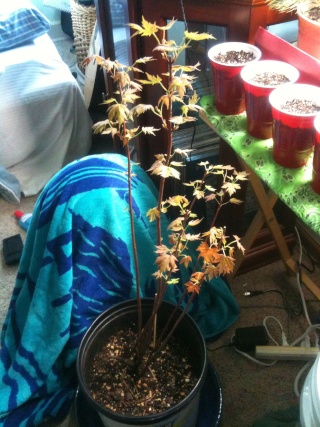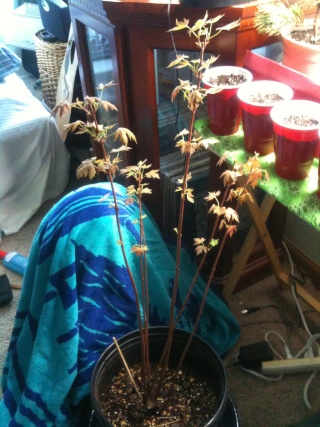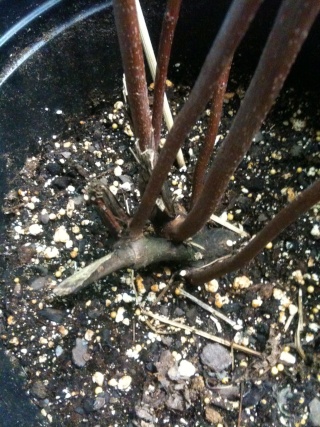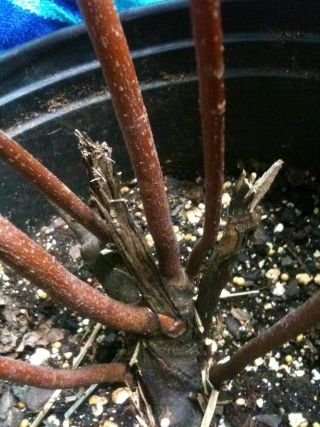 Staying tips anyone? and what should I cut off?
And Finally My 3 year old Green Mound Juniper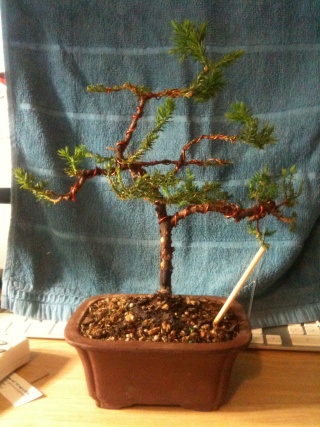 Thank you all
P.S sorry for the crapy pictures, up here in WI it is too cold right now for them to be outside, but when it warms up I will have them all outside.
Do you have ground to plant them in?

Orion

Member





If you want to keep them in pots rather than in the ground this is what I would do.
- I would wire the right branch down to about 30 degrees above horizontal and let the 'beni tsukasa' grow wild all year. Cut the top of the root stock back a little further and seal it once the graft is growing really strongly.
- Remove all but about 20 sets of needles from each of the tufts of needles on the bristlecone pine and pinch the stronger candles back by about 1/2 when they start to make the transition from candle to needles. This type of pine is challenging and I gave a very simplified first pass to start to get some backbudding. Do some reading on how to tree white pines and then experiment to find what works for you.
- The silver maple could form an interesting clump style. Once it grows a bit more this year, cut the stems back to various heights ranging from about 2" to 6" tall (assuming they are currently pencil size). This will force back budding. The tallest stem will become your main tree with the smaller ones to the outside. Score the bottom of the main stem and pile some of your soil mix up along it to try to get some roots. When you repot next year, plant the current main stem so it is at the soil surface.
- Let the juniper grow. Pinch back anything that is more than about 3" long, but it really needs to fatten up a fair bit before it is styled.
Hi Marty
This tree could be a " clumpstyle", I have drawn a poor arrow to show what could be a nice front.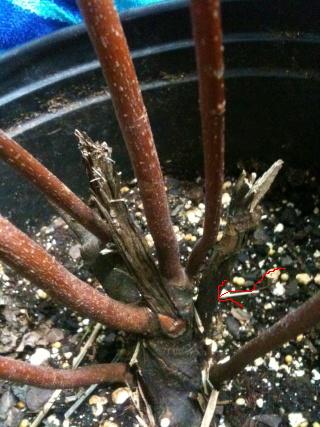 Right now...If the tree is potbound, repot it in slightly bigger pot, but not that far dawn as it is now, but like it was in a bonsaipot...Take a good look at the new angle, it looks like it has be changed a bit....add more soil to the surface, to keep the stump of the old trunk under soillevel, it may send out new roots by it selves...this will make your tree look better instant, and if you mark the front, do you have something to look at straight away, and give you inspiration for the future. Maybe you can show us photos later this year.
Kind regards Yvonne
Thank you guys so much for your help, you have done way more then I have ever expected!!! For the silver leaf Maple, should I cut off the old dead stems on the trunk and over the entire trunk with soil. Do I score the big stem Above the old trunk or score the entire old trunk and cover it in soil? If you say to do it to the stem above the old trunk, should I do it to all the stems?
Now you said to make a candle I should pull all the needles except 20 sets. What do you mean by sets? Should I do this to the entire tree even the main stem? And leave 20 at the very top?
I will definitely keep y'all updated with new pics!! Do I add onto this post to keep you guys updated?
Hi

Dont cover the steams, it is only in the one side you find a problem with the soillevel....just alter the angle when repotting.

Kind regards Yvonne
I hope I did not just kill this branch but is this what you mean by candling?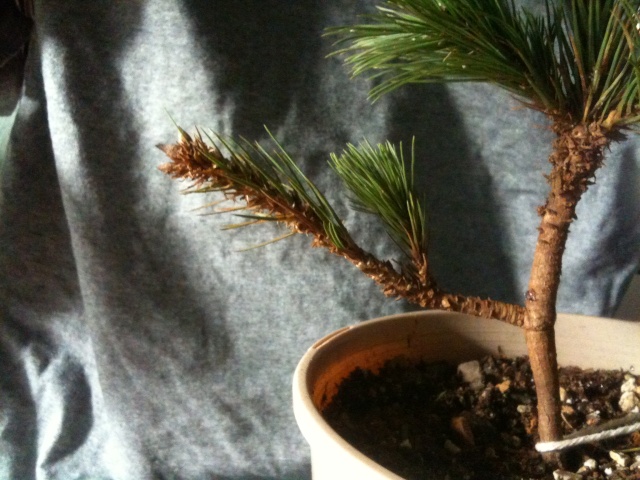 the pine is way too young/small for any kind of candle or needle pruning. It needs every needle it has to produce more energy to grow larger. It is many years away from needing to have candle pruning.

- bob


cbobgo

Member





Bob, thank you for telling me. Did I kill this branch? Is it normal for the tips of the older needles to turn brown?

---
Permissions in this forum:
You
cannot
reply to topics in this forum