Here's a very long-term project for me. I found it while on a hike through some woods in 09. It was growing on top of rocks in full sun. When I pushed on it, the juniper wouldn't budge at all. The base is what motivated me to try and see if I could grow feeder roots close to the trunk and harvest it in a few years. Under the soil close to the trunk, I found some broken rock. I removed the rock and replaced this with a free-draining soil mixture and some sphagnum moss. I also threw in some triple superphosphate to encourage root growth. I went back and watered a few times that year. Then, I forgot about it. Last Sunday, I went back with a friend and some tools for lifting the tree. I wasn't sure if the tree could be lifted safely. I took my time inspecting it to be sure. We had cut all the anchoring roots and lifted the tree in just under two hours. We used saws, branch loppers, root hooks and long pry bars. No shovels were used at all! We went away with the juniper having a thick root mat close to the trunk. The trunk is 12 inches across. The box is 3ft x3ft and 8 in deep.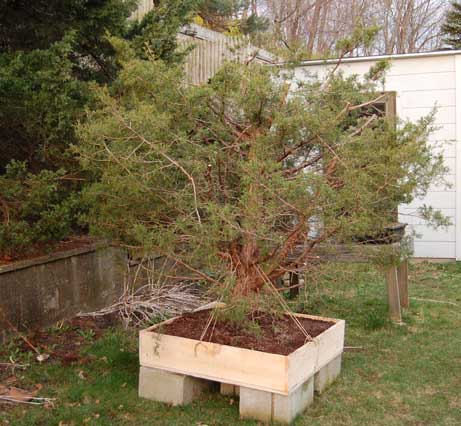 peter keane

Member





Very impressive for a J. virginiana. Good luck with it. I look forward to progression pics.
_________________
Jim Lewis - lewisjk@windstream.net - Western NC - People, when Columbus discovered this country, it was plumb full of nuts and berries. And I'm right here to tell you the berries are just about all gone. Uncle Dave Macon, old-time country musician

JimLewis

Member





the third photo evokes an image of an ancient tree with a 5 foot wide trunk. Really nice material.

lordy

Member





I did the same with a big one seed juniper in '08. The one seed and the redcedar have similar growth habits and can hybridize where their range overlaps. I dug mine on a rocky bluff in Arizona. I only had two roots smaller than a pencil and no fine feeder roots. I cut all the roots clean and applied rooting powder. It was planted in a good coarse mix in a ten gallon tote. I set up foggers on a timer set to emit every two hours for five minutes. I let that run from March until I saw growth in October. The biggest problem I've found with these and redcedars is their nature to only grow up. Almost all the branches have to be wired. Good luck.

-Preston

prestontolbert

Member






---
Permissions in this forum:
You
cannot
reply to topics in this forum