Hello, everybody! I just wanted to share some hair cut pictures of one of my trees. I picked this tree up last year, and it was repotted last spring into this pot. The tree was allowed to grow unchecked as I was studying for work related exams all growing season last year. I was quite surprised as it grew quite a bit given the nature of boxwoods. Anyways, my teacher and I went through and thinned out the tree trying to focus on pad development and future foliage expansion. I am posting some before and after pictures below. I wish I would have put something in the pics to give the tree some scale, but the trunk is decently big for a boxwood. Given the size of the trunk, I do envision a much larger foliage silhouette. Anyways, just thought I would share with the forum. Though the tree is in development and has a ways to go, I am open to any comments or thoughts. I do potentially picture the tree in a rectangular white/cream pot in the future, but I don't mind the current pot it is in for now as it is in development. When I look at this tree, it reminds me very much a very large southern U.S. tree (like some of our larger southern oaks. I just picture it with some grey moss hanging off the leaves in my mind). Anyways, enough of me hollering. I do apologize for the quality of these photos as it was a last minute decision to use my phone. Hope you enjoy them.
Before pictures:
Front


Back


After Pictures:
Front

Back

Last one for good luck


Last edited by AdamDunham on Sun Mar 25, 2012 5:35 am; edited 2 times in total

AdamDunham

Member





That is nice development for a year! Keep up the good work!
John
Looking good, Adam.
As a suggestion, instead of posting the thumbnail image which links to a larger image in a separate window, post the full sized image here. The forum will resize it automatically. The second option in the image upload window will allow you to select 'Image' instead of 'Thumbnail'.
e.g.: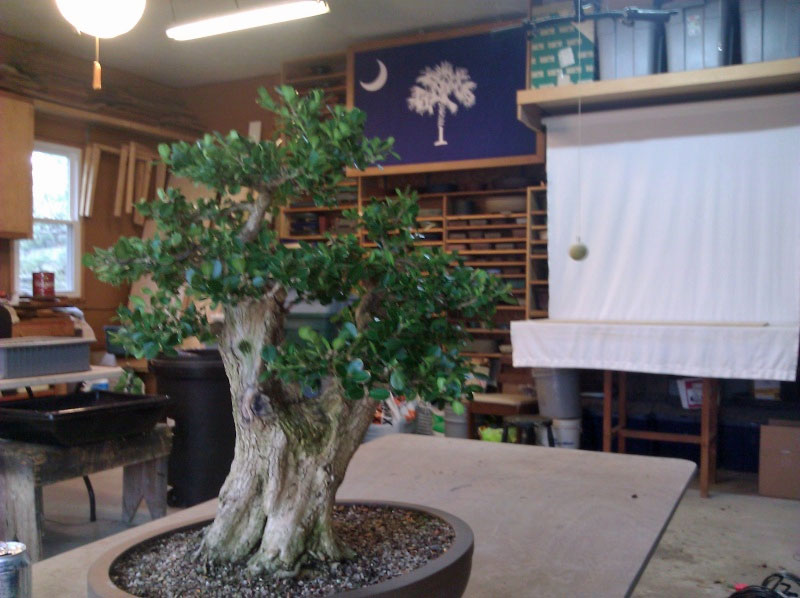 _________________
"Eschew obfuscation"

John Quinn

Member





Thank you very much for the nice comments and help, John and John lol. John Q, I did see the different image selections and was previewing the different image types before submitting the thread. I was trying to be mindful of thread size as far as pictures, but I will make sure to be more selective in the future. Thank you again for the nice comments.

AdamDunham

Member





Nice tree!
That must have some years on it.
I like the front best on the last two photos with the smaller trunk leaning right.
I also like the taller apex leaning right over the smaller trunk. I'd keep that theme going and have both go right 45 deg and parallel each other. Just my thoughts.

Adam,, Your boxwood looks great,I love the trunk.. was it a big bush you cut back ?? the size of the trunk makes me think it must be old. agood job take care john
Thank you very much for both of the very kind comments, Iant and John

. John, I can't unfortunately give an approximate age, but when I got the tree I was told it acquired from a gentleman in CA. Obviously, the tree spent some time in the ground and was hacked back. Iant, when I first got this tree I had the same idea as your front, and struggled with the idea. However, after looking at it for a while and asking various opinions, it seems to be unanimous that everyone agreed that the front was with the lower trunk facing left. The tree was tilted just slightly in the pot to accentuate this. However, I am always open to new ideas and that is a direction to consider. Thank you for that. Given the trunk size, I do see the tree having a large rounded foilage shape.

AdamDunham

Member






---
Permissions in this forum:
You
cannot
reply to topics in this forum