I was browsing pots on eBay and came across an interesting pot made by Shibakatsu (see below link). The thing that suggest this may be a copy of Ikkou style is his signature blue band of glaze in the bottom (mostly on green glazed pots). What's more interesting (atleast to me) is that I actually own an Ikkou pot with the exact same shape and glaze.
http://www.ebay.com/itm/Bonsai-pot-Shibakatsu-from-established-bonsai-garden-/290687858573?pt=Planters_Pots&hash=item43ae58b78d
And here is my pot: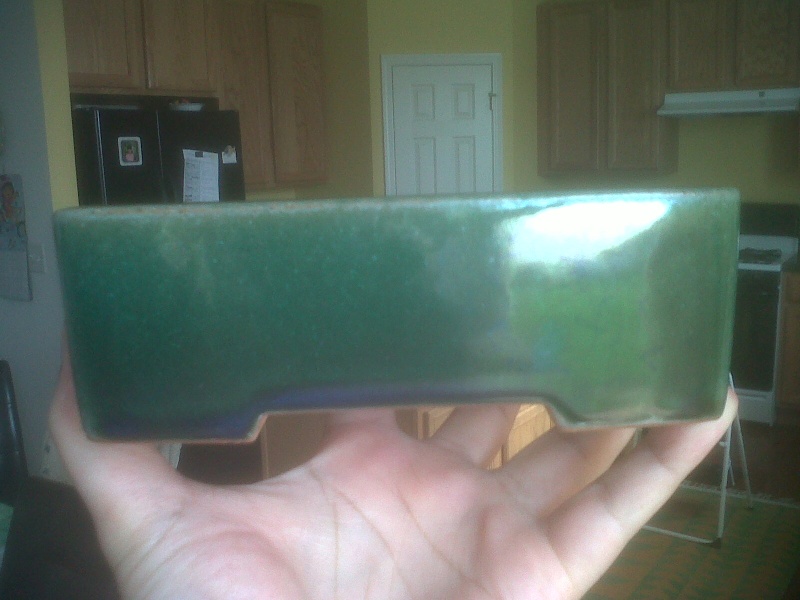 I thought it was interesting to share.
- S
What makes me believe more that it is a copy is because the green glaze with the same shade that Shibakatsu uses does not normally have the the distinctive Ikkou blue band in the bottom (see the below link).

http://www.ebay.com/itm/Bonsai-pot-Shibakatsu-from-established-bonsai-garden-/290687866547?pt=Planters_Pots&hash=item43ae58d6b3

- S
This color green is made by overlaying one color on top of a blue color. Glazes are essentially glass, so when you overlay one glaze On top of a blue(I guess this fires to a light yellowish?), you get green! Gladlock! It's sealed! This is not an uncommon technique, its just one Ikkou uses often and to great effect. Shibata Shouichi is nearly as good a potter in his own right as Ikkou, the difference in price is really in the numbers. Ikkou doesn't produce near the quantity or styles as Shibakatsu, so they're more expensive because there are less.
I do not think this is a copy, just a technique in common...perhaps even shared recipes(however unlikely) since they're right down the street from each other! I've seen the same technique used by many many potters, but it's one of Ikkous signature styles.
Ryan
http://japanesebonsaipots.net/
I didn't mean 'copy' as a disrespect to the potter. However, I meant 'copy' of technique and style... sorry if my statement came out the wrong way. In bonsai pottery, I am aware that a lot of artists 'copy' technique and style of well-known masters like Tofukuji in a way to pay homage to him. In fact I have noticed that those copies are often very highly priced.

I think Shibata Shouichi's works have great quality. In addition to reasonable price, his pots are easily accessible. For some reason I like his white glaze to the other colors he uses.

- S
---
Permissions in this forum:
You
cannot
reply to topics in this forum