I began my toyo nishiki early in the winter of 2001 by making a division of a twin trunk sucker that had appeared in 2000 on a parent toyo nishiki. Since then, it has been through several iterations, arriving at the form you see in this picture. Getting it to flower has taken a lot of time and patience, and getting shaped in the manner you see has been a real learning experience. To find out about my adventures with this flowering quince, click on this link:
http://dl.dropbox.com/u/24827596/Development%20of%20a%20Sinuous%20Style%20Toyo%20Nishiki%20.pdf
Please enjoy my tree.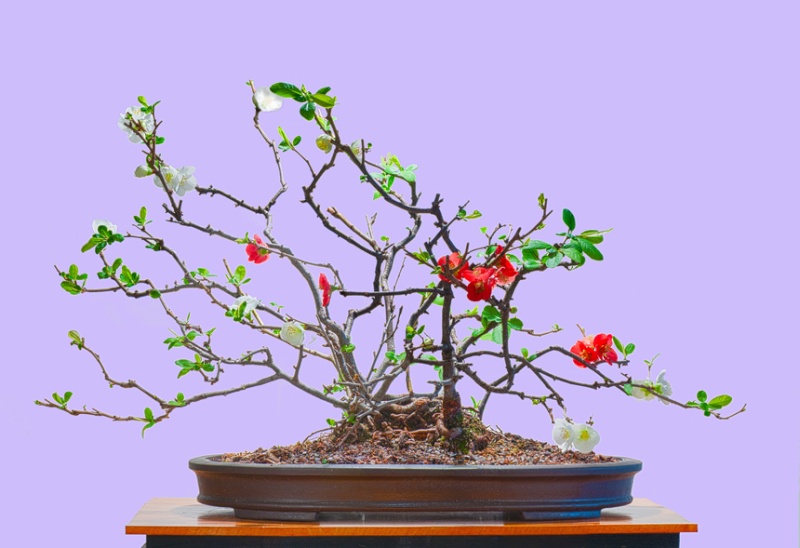 Hi fredtruck
Nice quince. This one i think two quince in one pot! / Red texas with Jet trail "white" I'm i right? maybe wrong
Toyo_Nishiki is two tone pink/ and white.
Thank you for your post.
Best Regards
Young
Thanks for your response. Since I'm not completely sure I understand your post, please bear with me. The Toyo Nishiki is a distinct cultivar of flowering quince. Brent Walston, who runs a bonsai nursery, says this about toyo nishiki:

Unusual form with pink and also white flowers on the same branch. This cultivar is a chimera and will sometimes throw a branch of red flowers only; a most exciting development when it happens. The photo shows a stem of pink and white flowers with a stem of red flowers. Much more rarely a cluster of flowers will be all three colors together. Some years the individual petals will be striped white, pink and red. The fruits can be quite large as shown by the lower photo. A very vigorous upright tall type to 6 or 7 feet with wicked thorns. Bonsai with all three colors are usually the result of grafted plants, where a branch of red only flowers is grafted in the desired location.

If you look very closely at the white flowers on my tree, you'll see they are often dappled with a very pale pink. I ground layered the red into the sinuous-style framework, as Brent mentioned in his description of these plants, so I could get the white, white/pink, and red flowers on the same tree. Otherwise, one usually has to wait 50 years or more for the red flowers to appear.

So, in conclusion, my bonsai is all toyo nishiki, with the red ground layered in.
Hi fredtruck.
I'm going to PM to you by the way /check it the google pics too/ may be I'm wrong /
I have been over 10 year with the Quince bonsai I'm love Quince so much/ I got some quince bonsai/ and also kill some of them first 3 year now I'm good for that Again this is my asking idea only
Sample:
http://www.amazon.com/Toyo-Nishiki-Flowering-Quince-Plant-Outdoor/dp/B000PKKW5I
Thank you for imformation.
Best Regards
Young

---
Permissions in this forum:
You
cannot
reply to topics in this forum