Hi, I wanted to post up this arakawa in training and see if anyone had any suggestions on improvement. Im not sure how to improve the nebari as it is mostly on one side (not the best pictures of it), any advise? I've never tried a root graft but that may be a possibility or just leave it alone. What view should be the front?
Thanks for looking,
If it were mine I would try to find a few different fronts that i could live with, even if that meant hacking off enough to get rid of the major curve in the top, and make it less drastic. Then I would definitely throw it in the ground and let it go for a bit, only pruning to keep/develop some taper. You can always work on the nebari later and all the extra growth in the ground might help as well. Good Luck!

mojojava

Member





Hi Jilg-your tree has quite high, if not want to establish from the beginning you can only utilize what had by cutting short branches, the new branch buds to create thumbs as images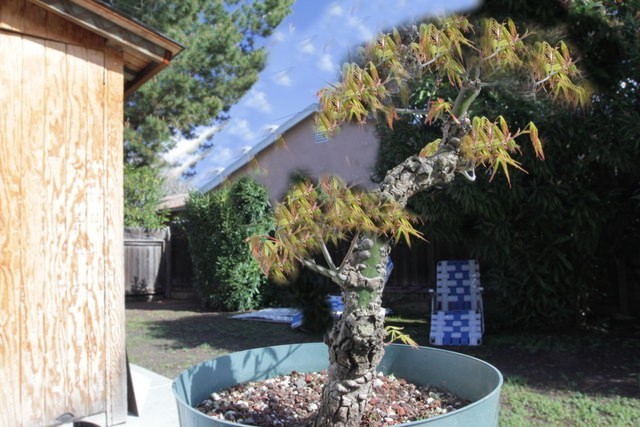 tap pi lu

Member





I favor photo 3 for the front. It shows the nicest trunk movement, workable branch placement, and possibly the nicest nebari view. I would leave the terribly straight first branch for a while to help energize the remaining foliage but plan to remove it later. If you are in an area of CA that is suitable for sustaining the maple in the ground, it makes sense to give it some time in Mother Earth to rejuvenate the foliage. Nice trunk and bark. Dont see that too much in maples.

lordy

Member





Hi Jgr,

Nice bark on the tree.

Can you let a few branches extend and then take cuttings from them (or air layers) you can use the cuttings to thread graft into the base to try to improve the nebari next spring. Alternatively you can try to ground layer the tree - should work well with a maple.

Rob Kempinski

Member






---
Permissions in this forum:
You
cannot
reply to topics in this forum