hello
i show you a palmatum
i make this in 8 years with a litte tree
a dance...

sorry for my frenglish

vev

Member






Jesse

Member





Has good movement. Like the pot too.


Rob Kempinski

Member





Salut Hervé, Hi Vev,
You know what I think...

This one does look good (celui-ci a l'air vraiment bien)
Being only an amateur with a very cheesy view of bonsai (étant un amateur avec une vision très ringarde du bonsaï), I would do that: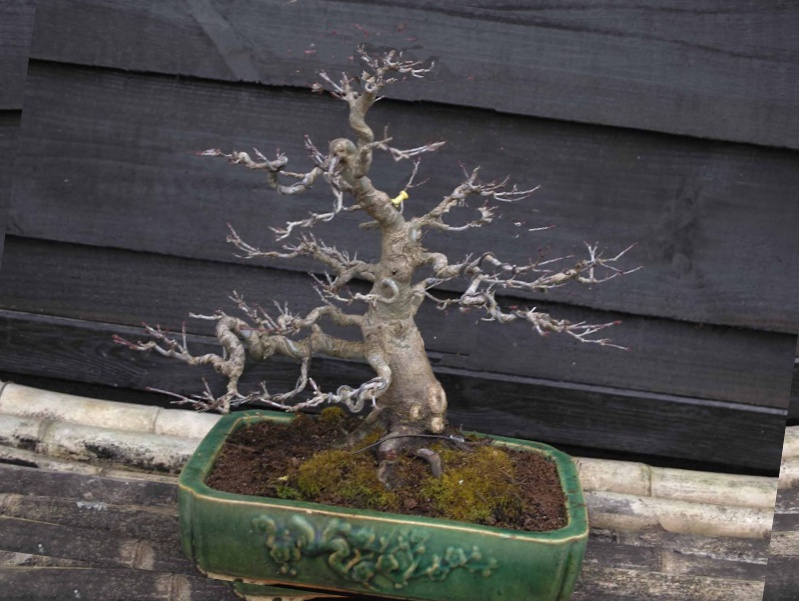 There is also on the first branch on the left, or the second as it seems to be on the back (il y a aussi sur la première branche à gauche, ou la seconde car elle paraît être à l'arrière), une cou_rbe excessive à mes yeux (an excessive ciurve to my eyes). D'autre part, cette branche arrière est la plus grosse (on the other hand, this one is the biggest branch and it's at the back).
So I'd cut it:
Of course, it's not as original as what you probably had in mind (bien sûr ce n'est pas aussi original que ce que tu acvais en tête), mais je pense qu'à un moment ou à un autre, tu risque d'être confronté à une contradiction (but i think that sooner or later, yu'll have to address a contradiction):
The basic structure being all in curves, how will you "finish" the design?
I mean, what makes a good bonsai is the internodes that get smaller and smaller: they have to have a logic. A mature deciduous is done by cutting and trimming, and particularlmy for Acres, this gives rather sharp angles, doesn't it?
And even if I don't always agree, I appreciate your work, and I think you should take my critique for what it's worth: Van Gogh never ever made a living from his art, do like Gauguin, live happily


AlainK

Member





I am barely a novice, but I like the changes alaink did. The lower left branch was very distracting to me, looks much better to me removed w/ the new viewing angle.
Either way the tree is very nice.
bonjour
pas de problème alain, je poste cet arbre pour avoir des avis et montrer ma démarche sur des formes différentes, j'ai une vision personnelle mais pas fermée sur l'autre,
je comprend ce que tu vois et veux couper, c'est justement ce qui fait la différence sur cet arbre, ce serait dommage parce que c'est justement ça qui m'intéresse.
je te montre un dessin avec encore une vision timide de son avenir, je pense que je vais accentuer ses différences pour faire quelque chose d'original.
amicalement
Hello
no problem alain, I post this tree to have opinions(notices) and show my approach(initiative) on different forms, I have a vision personal but not closed on the other one, I understands(includes) what you see and want to cut, it is exactly what what makes the difference on this tree, it would be it's a pity because it is exactly that which interests me. I show you a drawing with still a shy vision of its future, I think that I am going to stress his(her,its) differences to make something original.
Friendly


vev

Member






---
Permissions in this forum:
You
cannot
reply to topics in this forum