Last summer my baobab did extremely well with an unusually large amount of new growth plus a substantial thickening of the trunk and primary branches.
This year much to my surprise the tree has already begun to bud, a few months earlier than expected.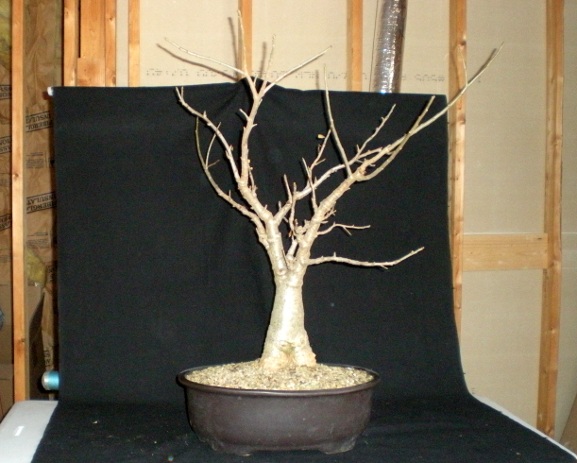 After some pruning and wiring the tree is now roughly 24 inches high.
Enjoy! Hank

Hank Miller

Member







Hank, I think it's really cool! How do you protect it during the winter? Do you withhold water to recreate a dry season dormancy? Please share how you grow and maintain it. What's the root system like? Will you ever be able to put it in a shallowish pot?

Sorry for all of the questions!

R

Russell Coker

Member





Hank,
Great work with the Baobab.
Jerry

Jerry Meislik

Member





Thanks for the comments. Baobabs are really interesting trees and in my opinion well suited to be grown as bonsai even in western New York. The most important thing about their cultivation is the following: when the final leaves have fallen in the fall they should not be watered until the buds appear in the spring. Dust the tree if you like but not a drop of water. If watered during the dormant season their roots will probably rot. Sometime last October I stopped watering mine and moved it up into one of our bedrooms. In fact you can actually remove the tree from its pot and soil and store on your mantle. In the spring small white dots appear on the branches and gradually turn green.. These are the new buds and as they thicken small amounts of water can given to the tree. If you have removed the tree from its pot it should be re-potted at this time, Under no circumstances should it be soaked. For a tree this size no more than 1/2 to a cup of water every 3-7 days. When the leaves appear the tree should be watered like any other bonsai tree.

Baobabs are sensitive to cold - much more so than for example figs. For this reason it is usually the last tree I move from my green house to my outside growing area in the spring and the first tree I bring into my green house in the fall.

If there are problems with the tree and the lower trunk feels spongy (probably due to over watering) the tree should immediately be cut off well above the spongy area to keep the rot from spreading. The base of the truncheon should be cauterized (or sealed) by placing it on a very hot electric hot plate and then left to dry out for a few days in a warm dry area. To root the truncheon it is best to place it in a large pot such that the cauterized area is in contact with the soil but not planted in the soil. It should be supported by bricks or guy wires. Anything to keep it from moving while the new roots form. It should again be watered very sparingly.

The roots of baobabs are a problem. Sometimes large rhizome like bulbs occur. These can be cut off but the remaining root end must be cauterized as described above.
Normal roots can be simply cut off. In any case my experience has been they prefer a larger deeper pot.

As I said in the beginning they really make wonderful bonsai - outdoor bonsai in the summer and maintenance free indoor bonsai in the winter. Hope this answers your questions. Hank


Hank Miller

Member





All 9 species of Baobabs are not true trees, well they are , but they are really the worlds larges SUCCULENTS!!! Hence they rot and turn into pulp very quickly when they die (after thousands of years!!)
Another very interesting fact .. The whole of Africa have only one species of Baobab, Adansonia ZA, Australia has only one, Madagascar have SEVEN different species!! Howz that?? The same phenomenen happens with Pachypodiums and Adeniums!! Madagascar is this treasure trove of very weird and wonderfull plants.

Andre Beaurain

Member






Hank Miller

Member






Jerry Meislik

Member





Dittos, Hank...looking very nice. Good work.
Tom

Tom Simonyi

Member






---
Permissions in this forum:
You
cannot
reply to topics in this forum