Greetings all!!!
I am relatively new to the world of bonsai but have been doing my research. I recently aquired an acer from a nursery and the best I can figure is that it is about 2-3 years old. It came in a 1 gallon container with adequate soil surprisingly. My questions involve the beginning steps for this Acer.
Currently the internode size is considerable, about 2-3 inches. How would I go about changing the size of them without cutting all of them back and thus more than likely killing my little tree. Secondly, I had planned on keeping it in the gallon container for about 5 or so years until I get the trunk that I want on it. Is this advisable? Also when it comes to pruining I was wondering what is too much and when should I just let it be?
Thanks for the patience you all show with us beginners. It's very much appreciated!!!
Brian W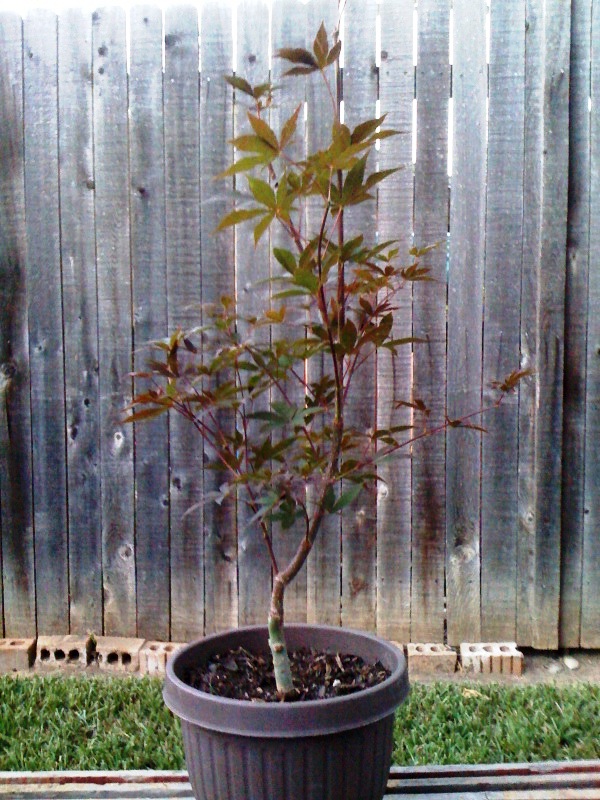 djbrianw

Member





Don't worry that cutting them back would kill your tree. Maples are pretty good about being cut back hard. You could cut all of the branches back and it would sprout new buds from the bark on the trunk. I don't advise you to do that yet though, because the more growth you leave on it, the faster it will thicken the trunk. You could leave it in the current pot, but if you give it a larger pot it will also help to thicken the trunk faster. I move mine up to larger pot on an annual basis. Finally feeding. This is also crucial for rapid growth. Fortnightly through the season while it has leaves on.

Once you have the trunk at the girth you want, it is time to start chopping. Decide on the trunk that you want to keep and remove all other growth ruthlessly. Or if you are anything like me air layer it all off for several new plants. Then and only then do you need to start worrying about internode length. It is controlled by regular early trimming of the newly opened buds. This is best done by carefully pinching out the central bud between the first pair of leaves. That does two things. It stops the node extending and causes the incipient buds at the base of the two leaves that you left to break. One shoot becomes two, then two become four and so on. All with short internodes.
Last edited by Kev Bailey on Thu Jun 25, 2009 8:14 pm; edited 2 times in total (Reason for editing : Typo)

_________________
"It is not the strongest of the species that survives, nor the most intelligent. It is the one that is the most adaptable to change." - Charles Darwin.

Kev Bailey

Admin





Thank you oh so much for the your reply Mr. Bailey. I reallly want this little sweetie to have a shot. And since I'm rather new to this I'm still overly concerned about screwing it all up on my trees and mass murdering them. Hahahahaha

djbrianw

Member






---
Permissions in this forum:
You
cannot
reply to topics in this forum