While doing a landscape job in the summer of 2007, the homeowner told me I could have this dwarf green Barberry that she wanted removed. I wasn't sure how it would transplant since it was early summer.
I actually split the plant into two clumps. I put them into coarse media and both pieces seemed to do well. (The other piece is featured in another thread)
This piece of Barberry I decided to develop as a windswept clump. I transplanted it in March 2010 from the square, wooden training box into a shallow rectangular training box until I can find a suitable pot. I'm leaning toward a shallow oval pot or slab.
2007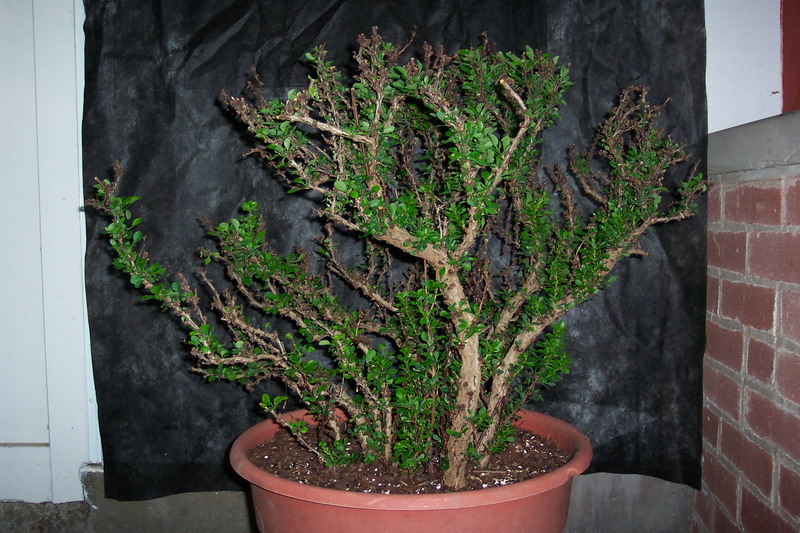 2008
after transplanting in 2010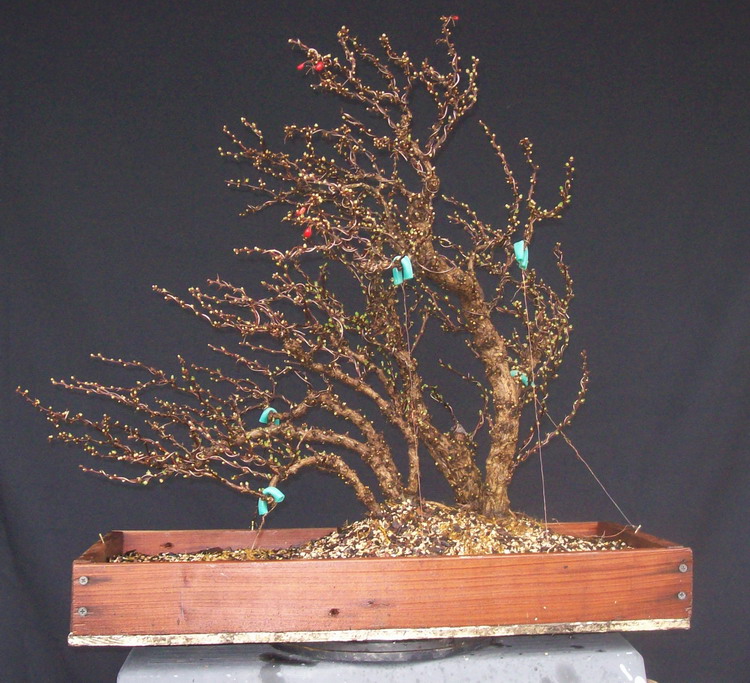 Last edited by ericrobinson on Wed Jan 18, 2012 3:39 am; edited 1 time in total

ericrobinson

Member





It is a green leaf Barberry and the growth is compact. Upon collection it was a two foot diameter globe.
UConn database lists two green cultivars, 'Kobold' and 'Sparkle'. After also consulting the Manual of Woody Landscape Plants by Michael Dirr, 'Kobold' seems to fit the description based on ample fruiting.
I've included a picture of my plant's fall color.
My secret for working on Barberry (and Junipers) is a pair of leather work gloves where I've cut the fingertips off the gloves just enough so I have the ability to grip with my fingers but it protects the remainder of my hands and fingers. There are still occasional wake-up calls from thorns but it is more tolerable overall.
Total time for wiring was approximately 2 hours with aluminum wire. Since it's a brittle species I worked carefully and only broke a few minor branches.
Last edited by ericrobinson on Wed Jun 12, 2013 1:43 am; edited 1 time in total (Reason for editing : changed cultivar name from 'Sparkle' to 'Kobold')

ericrobinson

Member





2010 I made a slab for this clump. The root zone was shallow and flat on the bottom so I lifted it out of its training box and was able to set it on the slab with no additional disturbance to the roots. It is growing strongly and did not require any further root trimming so I decided to set it on the slab this year even though I moved it from the deep grow box to the shallow one in March 2010.
I made "muck" to form the wall around the root pad out of clay from my yard, sphagnum moss and peat moss. The muck turned out great and was very pliable and sticky.
The slab is flat and the next level of material is the muck with moss planted on it.
Defintely needs trimming to refine the form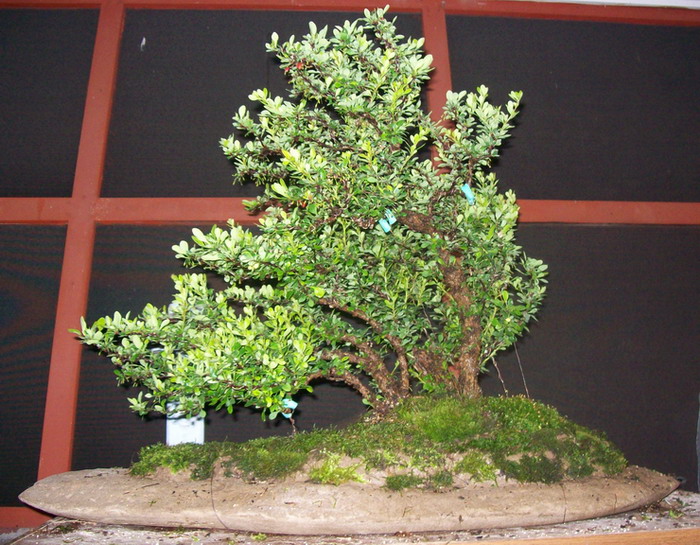 ericrobinson

Member






ericrobinson

Member






ericrobinson

Member





Very nice Eric. The late winter/early spring pictures are especially beautiful. I really like barberries, but they aren't very happy this far south. Glad to see you working with it, we don't see enough of them, imo.

R

Russell Coker

Member





Thanks, Russell!
They are rugged and nice to work with except they bite back as you know!

.

ericrobinson

Member






ericrobinson

Member






---
Permissions in this forum:
You
cannot
reply to topics in this forum