Been working on this one about 5 years now. Pot, stand and tree a bit over 6 inches.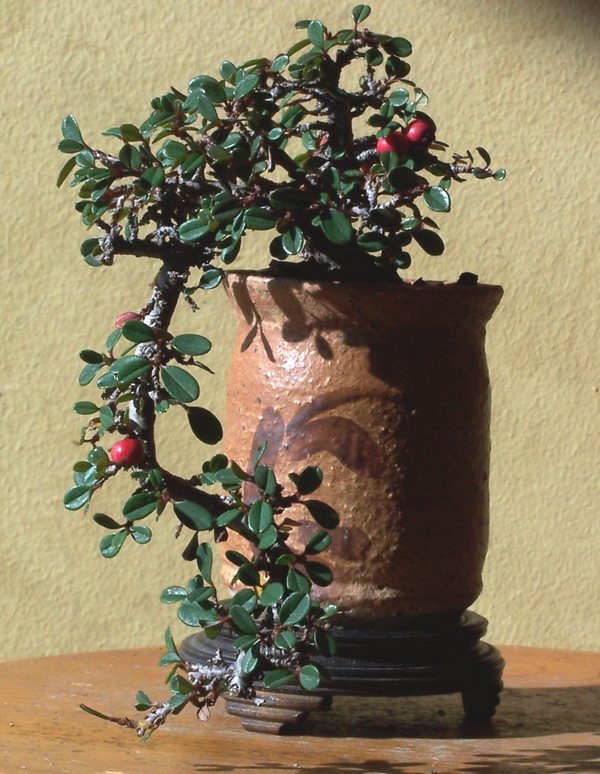 _________________
Jim Lewis - lewisjk@windstream.net - Western NC - People, when Columbus discovered this country, it was plumb full of nuts and berries. And I'm right here to tell you the berries are just about all gone. Uncle Dave Macon, old-time country musician

JimLewis

Member





JIM ,, Looking good !! those small trees are great.. take care john
I have a similar fondness

dick benbow

Member





Hi there
I got one, this is a gift from the US
before
and now...
rgds/Quí

PROTONWIRA

Member





I like it very much, esp. the pot

That's a cool branch bender, where'd ya get it if I may ask?

Fore

Member






Hi
I showed the tree
You like the pot
the branch bender
How 's the cotton... ?

Well. The bender is local made. I collected in the local bonsai club.
Rgds /Quí

PROTONWIRA

Member





Oh, sorry I wasn't clear, "I like it very much"...the 'it' was the cottoneaster. To be more specific, I liked both yours and Jim's quite a lot. Jims a beautiful cascade and great berries, Protonwira, yours has great trunk movement. I look forward to seeing yours when the pads fill out.


Fore

Member





---
Permissions in this forum:
You
cannot
reply to topics in this forum