I am no expert but I will give it a try.
Most of the trunk has no taper. You might want to do a trunk chop & put it in the ground. The upper part is nicely branched and tapered, so an air layer might be in order.
I'm concerned about that lump in the middle. A different view might be better. My experience is that large pruning cuts in tridents heal very slowly, but you are much farther south.
I don't see any nebari.
If you are going to keep the whole tree together, you need branches on the lower trunk. You can shorten the upper branches to encourage back budding or make some thread grafts in the spring. Maples thread graft very easily.
That first branch on the right has to go. It is too thick and is coming out of an inside curve.
Iris
Last edited by bonsaisr on Wed Dec 28, 2011 4:24 pm; edited 1 time in total (Reason for editing : Additional information)

bonsaisr

Member





I would layer 1/3 the way up the trunk from root level to first branch. That seems like it would help the taper a little if you were to keep the branches similar. When I layered my trident maple I ground-layered it mounding soil around the layering site. A large callus bulge occurred at the cut, which I'm hoping will lead to good radial root spread.

Study up on layering and grafting (even thread grafting) if you haven't already to help find ideas.
Here are some better pics. What is currently the front I would like to make the back. The issue is that the apex is leaning away. There is some nebari looking at it from the back. I have thought about lowering the apex, maybe even chopping some off the top and working with what develops. The issue as we are all familiar with is there might not be any thing to work with. Thanks for the input so far and I look forward to further ideas.
Joe K. in Mobile, AL
Current front: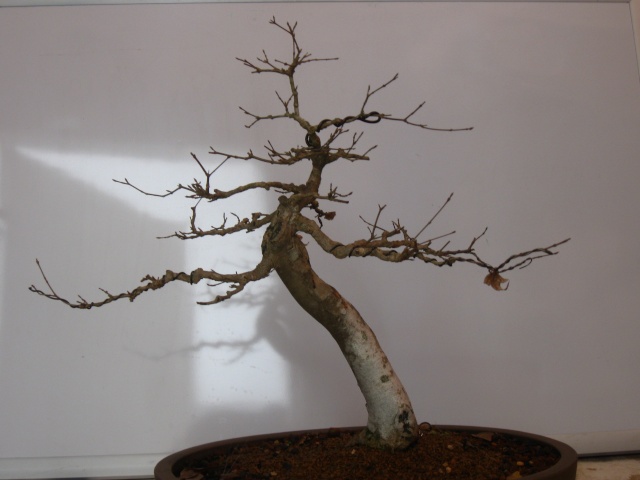 Current back: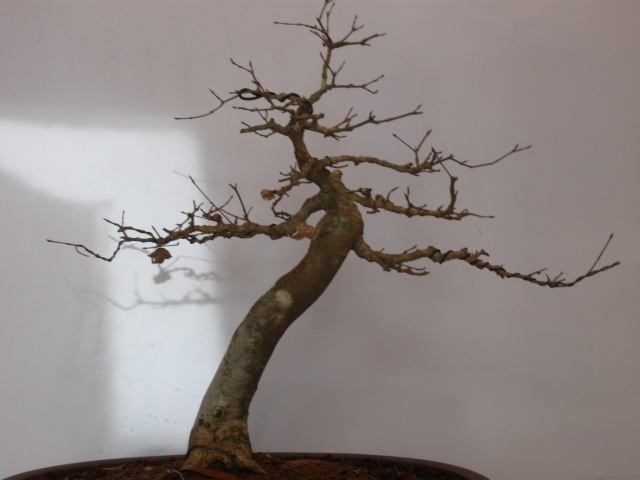 If that were my tree I would keep the current front, cut that thick number 2 branch way back (maybe cut it off) but most importantly I would plant that guy on a tile in a large shallow grow box or in the ground and come back to it in a few years.

Purchase Peter Adams, 'Bonsai with Japanese Maples', And go forth with confidence.
-Jay

drgonzo

Member





Hi Joe, what I see is typical pot grown tree. Yes you can grow trees in pots and very nice slenderella trunks. If you could come up out of the pot and let this tree run free for a few seasons you will see the kind of trunk you want. Tridents go balistic when you turn them loose in the garden, a nice sized gro-box is almost as good, add a couple more years. Once you've got trunk you can go to work on the tree. Branches come and branches go and leave their mark on the everlasting trunk. It's the foundation and needs to be addressed first. You just can't build a good upper story on a weak foundation. If you're a football fan you know sometimes you have to drop back and punt to make some forward motion in the game. I learned this lesson by doing alot of preme bonsai, trying to bonsai what was not yet ready, thinking they would 'grow into it', but they do not. Once you commit a tree to bonsai training it pretty much will stay the size it is. This does create graceful, slender trunks, but to get the big beefers you have to go to ground. Ha DR. you beat me to it!

RKatzin

Member








Glad to see you decided to stop lurking in the shadows.

Russell Coker

Member






---
Permissions in this forum:
You
cannot
reply to topics in this forum