Hello, I want to show the new model of my pine,
I hope you like it.
a greeting
Last edited by rafalbar on Tue Dec 27, 2011 8:42 pm; edited 1 time in total

rafalbar

Member





Great gnarly twisting trunk and mature bark like it.
Hi Rafalbar
Very nice yamadori. Technically good work.

But the composition is not ideal for me. If you introduce a bowl, movement and balance the tree rows. If it were my tree, I would crown the tree continued to move the tree trunk on the left side.
Sorry for another look.

Gretings Pavel
A little direction to go. Some other tree crown, but now just quickly explain my intention.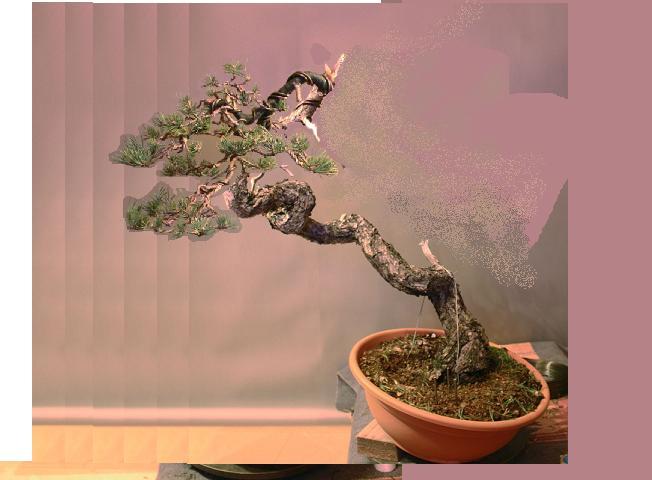 Pavel Slovák

Member





Thanks Neil and Pavel.

Pavel I really like your design idea and I appreciate your opinion and vision, because I am a great admirer of your pine.

Perhaps in future I dare to change the design, but for now I'm very happy with the outcome.

Thank you very much

rafalbar

Member





http://youtu.be/Wc2LXJhVPrk

I leave another youtube.

http://youtu.be/KfmiIsPV5SA

and a pair of yamadoris, I hope you like,

http://youtu.be/WsvtRgSvJiw

http://youtu.be/Y2O_KZlp5lk

rafalbar

Member





Nice Pavel, I like your design very much. It also gets rid of that straight trunk near the top. You've got a great eye Pavel...been reading your threads awhile now

Chris
Edit: Pavel, if you're still reading this, may I ask your reasoning behind suggesting the trunkline continue to the left vs. what Rafalbar did? I like both, but yours a bit better and I don't know why. I'm still developing 'my eye' and it would help a lot to know your reasoning.
Thanks! And not to hijack your thread Rafalbar, I still like you design

Last edited by Fore on Mon Jan 02, 2012 4:47 pm; edited 1 time in total (Reason for editing : Add note)

Fore

Member





Great Yamadori.....
This is what i was thinking. I guess similar lines to what Pavel has suggested!!
Cheers
Bryan!

DangerousBry

Member





---
Permissions in this forum:
You
cannot
reply to topics in this forum