Mas Nakajima (
suisekiart.com
) is pushing the boundaries of traditional suiseki display. These two displays were featured at Bay Island Bonsai Tenth Anniversary Exhibit:
Not claiming to know anything about suiseki display, I find these two exceptionally interesting.

bonsaikc

Member





I really like the stone-on-stone display in #2.
_________________
Jim Lewis - lewisjk@windstream.net - Western NC - People, when Columbus discovered this country, it was plumb full of nuts and berries. And I'm right here to tell you the berries are just about all gone. Uncle Dave Macon, old-time country musician

JimLewis

Member





JimLewis wrote:I really like the stone-on-stone display in #2.
Is that in fact, stone? Looks like it could be wood. And there seems to be a pattern on the slabs surface.
The paintings are wonderful.
These are stunning displays which combine both traditional Japanese and American views. The tunnel stone is on a board with a subtle suggestion of waves . California certainly can inspire this vision with it's many ocean beaches. I've been trying to show the waves with one of my tunnel stones but am not yet satisfied....
This is a photo I took when in N. California in 2006. Because the stone was on shallow beach at low tide I was able to get a good photo.
Norma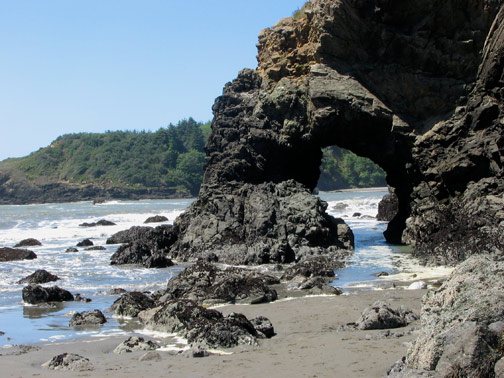 Norma

Member





Your photos are great, KC. Thanks for sharing!
Mas's suiseki art is very engaging, & Janet describes their experience related to stones so well on their
Suiseki Art blog
. Perhaps we'll hear more from them.
I particularly like the open space Mas allows above these landscape-view stones before his painting begins to rise. This is reminiscent of high placement on of paintings & calligraphy in the
Choseki
exhibit of 2004, where a Keido master who had been first-guest in lessons at
Chikufuen
noted that calligraphy as well as paintings (citing "heavenly bodies" for example) which are not closely associated with a landscape stone's inclusive view should not be placed very close if space allows. I'll try to recover the images from the Kyoto fall event...
with calligraphy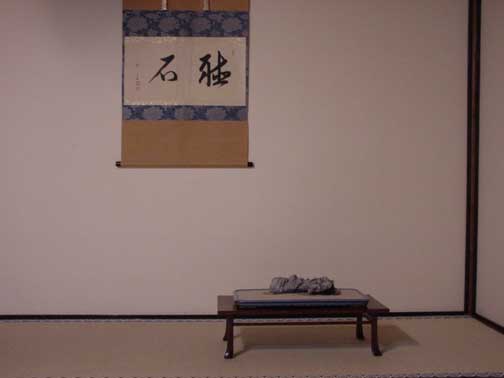 with painting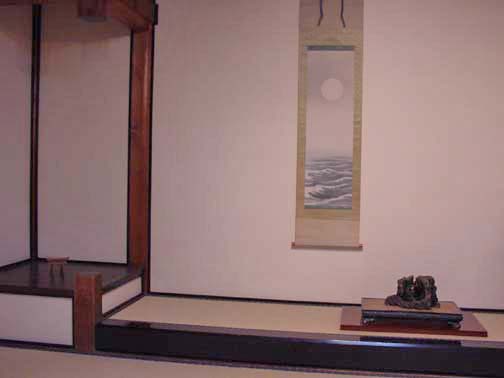 FWIW, the
Choseki
exhibit in
Kenninji
(a temple) appeared mounted with far more care and rigor than the bonsai and stone exhibits at the nearby
Taikanten
(bonsai exhibition including suiseki). Read a differing opinion in an article from the CAI newsletter noted below, where Tom Elias comments on each exhibit from his visit this past November. While I was only briefly at the
Kenninji
exhibit, I saw numerous well-known stone enthusiast including Uhaku Sudo, Seiji Morimae, "art-named" Keido masters & Nippon Suiseki Association directors (in addition to the two already named). Some kindly advised me on choices in arrangement; one explained his own stone on display using an unexpected table. Arishige Matsuura was in attendance throughout a considerably longer visit to the
Taikanten
along with several Nippon Bonsai Association directors.
Tom Elias noted a third suiseki exhibit mounted at the same time in Kyoto at Chion-ji (temple) near Kyoto University. I think this is where street vendors hold a monthly market offering modern craft. I visitied Kyoto from Tokyo in 2004 to share a visit from Susan. The
Taikanten
and
Choseki
exhibit were among breaks visiting historic sites including many gardens. Changing leaves (exploring
Tofukuji
(temple) &
Arashiyama
valley et al.) were spectacular.
If you go & are interested in vintage and antique traditional arts/crafts, don't miss the
Kitano
(shrine)
Art Fair
. On another day (Tuesday, perhaps?) visit the
Toji
(temple) market including vendors of biseki, bonsai, and endless other items...
places...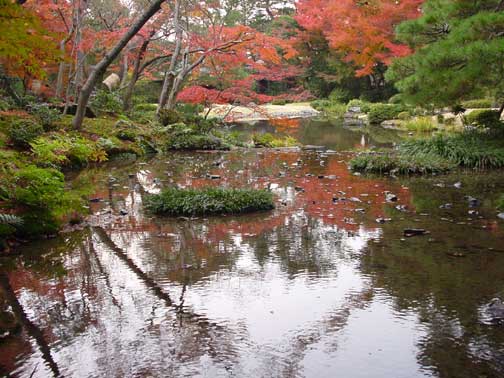 The exceptional annual suiseki exhibit of California Aiseki Kai is posted in the latest copy of their newsletter, posted on the
California Aiseki Kai website
. Folks who read the newsletter online regularly should subscribe-- annual dues are now $10. To cover shipping cost that have not covered CAK's shipping, I recommend sending $20 if you ask for a hardcopy-- my advice is neither solicited nor requested from anyone in California. The club has acknowledged losing money on mailing copies & gladly accepts donations above dues.

Chris Cochrane

Member






---
Permissions in this forum:
You
cannot
reply to topics in this forum