Actually it's a Willow Leaf Ficus - the species that we in my area use to substitute for not being able to grow Trident Maple bonsai.

This one is a triple trunk, hence the name.
Foliage is a bit skimpy due to the time of year, but I am hoping to be able to show this one at the US National Exhibition in June. Foliage then will be lush.
The pot is 24 inches (61 cm) across with the canopy spanning 44 inches (112 cm). From aerial root to aerial root is 14 inches (35 cm). Grown from a cutting - about 25 years old.
Pot is Chinese - (unknown kiln)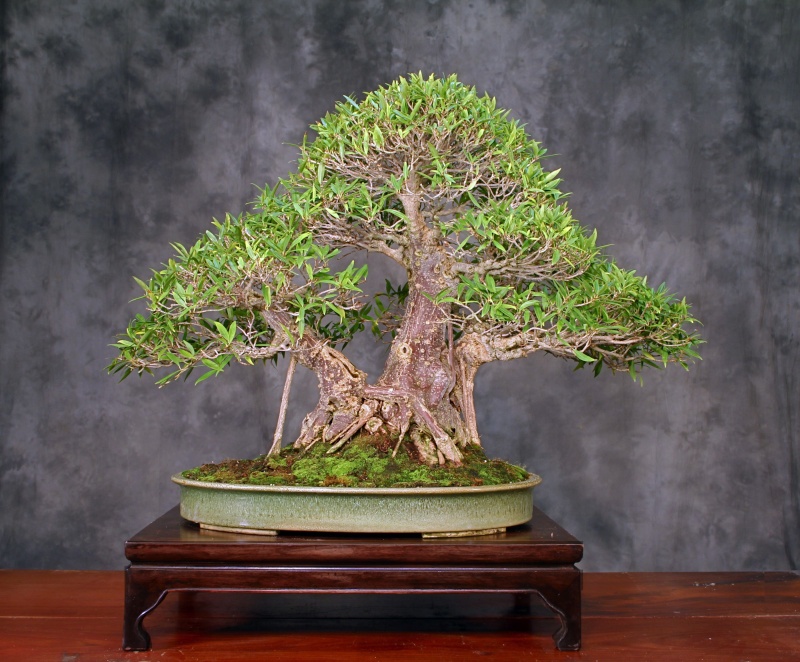 Last edited by Rob Kempinski on Thu Dec 22, 2011 8:54 pm; edited 1 time in total

Rob Kempinski

Member





This is another tree I am thinking about offering. It's a Florida Elm, "Styled by Wilma." (as in Hurricane Wilma)
It's 22 inches (56 cm) tall above the pot. Pot by American, Tom Dimig is 14 inches across.
The deadwood has developed some nice texture - what I call alligation patterns. When I collected this tree it was about 25 feet tall and a solid piece of lumber.

Rob Kempinski

Member





My vote is for the ficus. Amazing tree, wonderful pot. I hope to buy one that I can turn into that in my lifetime. Two amazing trees. That Elm is so natural looking. I hope to be able to go up to NY next year. I've never been to that show.

Merry Christmas!!!
Sam

Sam Ogranaja

Member





Like Sam, first tree for me Rob. Very much matured than the second tree.
regards,
jun

Rob
I'd love to see both you and that awesome willow leaf in June!
-Jay

It would be fun if we could figure out a way to ID all the IBC members who would be at the show,

drgonzo

Member





Hi Rob, I don't think we've spoke or met I'm not far from you anyway I started a bunch of Taiwan Tridents this year and they look better then my rubrums now there supposed to be more heat tolerant then the the common trident I also have a trident that I picked up in GA. the leaves are shaped a little different then the common one it did'nt have a cultivar name on it but im letting it grow out. It was 2' at the beginning of spring and now its passing the gutter on my house I think its a mutant the trunk doubled to

reg-i

Member





Very nice Ficus Rob, I am looking forward to seing it at the 3rd National Exhibition

Xuan

---
Permissions in this forum:
You
cannot
reply to topics in this forum