I got a bonsai this past summer. Of course i lost the name of it so i am at a loss to identity what it is. I know its between 2-4 yrs and it has small oval leaves. The leaves were never super dark in color. the guy i got it from told me it doesnt have to be in direct sunlight and i should just water it when the pot at the bottom is empty. he said that if it needed water it would take it so i should always keep water in the pot. it sounded easy and it was fine until less than a month ago,
The change started when things got colder even though i was doing everything the same. I got moss on the bottom and the leaves didnt look healthy so i checked online and realized how poor the directions were the bonsai guy gave me in regards to care. the websites told me i was over watering it and to dry it out and take the moss off so i did.
nothing improved. i even started checking the soil before watering to make sure it needed water. no improvement. when i do water it, it seems to soak everything up normally. the leaves dont look any better. they might even be worse than before as they are hard and dull and a few have a tint of brown on them.
i scraped the tree trunk and it didnt look green but i also tried snapping a branch and it didnt break off. I pulled it out of its pot and did not see any black roots although i did find a worm somehow.
i really dont know what to do at this point
any one wanna give this a shot??
the picture below is actually one i took when i first got it so this may help identify it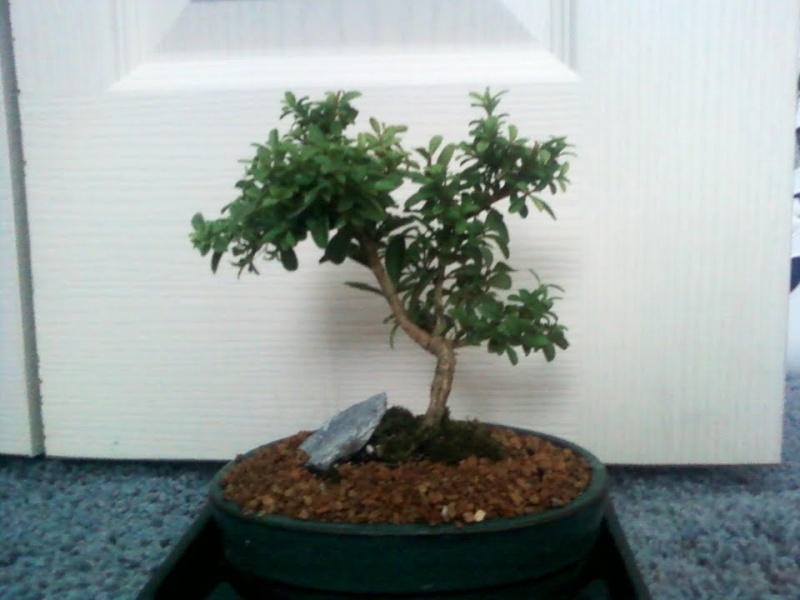 Sorry, without seeing a better pic of the foliage I really cant tell what it is. Depending on the species, some trees will hold on to their leave long after their death but you would be surprised how long they can look like death and still bounce back if given the right care. I have nursed some trees for some time that never came back but if you really like this one, I would just keep doing what you are doing until something tells you for sure.

Also just a thought, if it is a tropical or semi tropical and you have it inside for the cool weather, just keep your fingers crossed. Even tho tropicals don't go completely dormant their growth rate does slow quite a bit and are much slower to bounce back or heal itself.

If it isn't a tropical then I should be outside to go though the seasons and this would make a HUGE difference in care. Best to figure out what it is and go from there. Im sure a couple more close pics of the foliage and maybe bark, and someone on here can give you an ID and advice. Keep us posted

Blake

mojojava

Member





pretty sure its a fukien. hopefully i can revive it. not sure how to do that yet but i guess ill keep looking
thanks!
a current picture of the state of the tree will help us ID what is wrong and how to help it.

The "bonsai guy" did in fact give you excellent instructions on how to foster and encourage root rot.
-Jay

drgonzo

Member





can you crisp up/powder/easily crush a leaf between your fingers like its dried out?

where did you buy this tree?
-Jay

drgonzo

Member





It does look like a Fukien. Might want to be careful at this point. If it isn't dead, then I would try not to love it to death by continuing to move it around and mess with it. I would set it where it can get half a days sun outside and back off on watering it. Water sounds like the "root" (get it) cause of the problem. Even if it takes a couple weeks of no watering, get that soil on the dry side so it can breathe. I never understod out of all the Bonsai trees, Home Depot and Lowes and some others sell Fukien Tea.....ther are not for a beginner.

---
Permissions in this forum:
You
cannot
reply to topics in this forum