I'm not sure how to ask this..... I was wondering if putting my unused bonsai pots in the weather (rain, snow, ice, sleet, sun, etc) would be all right in order to age them. We read and hear about the patina on pots enhances their value and also "looks good" (a desired aesthetic), but I see many photos in books and on the internet of people storing their pots indoors; protected from the elements.

I also wondered about storing bonsai pots on the ground to help them age.

Does anyone have any thoughts about this?

Thanks,
Todd

Todd Ellis

Member





Yes. I keep bonsai pots (newer ones) that are not used outside in the sun and rain, to add the patina that influences the glazed and unglazed pots. Only in winter, when we have freezing periods, they are brought in.
The very bright colours of glazed shohin pots are faded nicely in a reasonable time, but the real ageing take years to achieve. Stored inside in a house nothing happens at all.

Regards
Morten Albek
Thank you Morten.


Todd Ellis

Member






peter krebs

Member





Wonderful article on patina, Peter. Thank you.

Dave
I keep mine outside because I don't have space anywhere else.

Billy M. Rhodes

Member





This is a 25 years old tokonamepot....
The patina has suffered a scratch....so the pot now have a backside ( I did not do it) I bought like this.
The fresh original collour is visible now, and the pot is smooth like new, in the scratch.
The rest of the the pot is matted, and not smooth to touch.
The patina will not wash off, but must be protected, as you can see.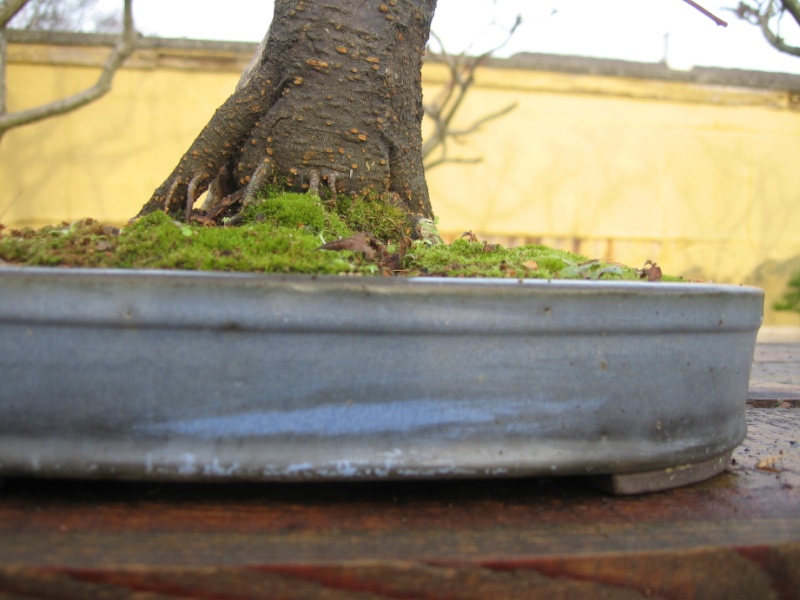 Kind regards Yvonne
Thank you Mr. Krebbs for "linking" us to your informative article.

my nellie

Member





Thank you for the article! I plan to continue keeping my pots outdoors inthe elements. I will keep them drained from snow and water and if "it" still breaks then I know it isn't frost proof.

Todd

Todd Ellis

Member






peter krebs

Member






---
Permissions in this forum:
You
cannot
reply to topics in this forum