This is another off-beat variety I haven't seen mentioned here.
It has an interesting history. When the Spaniards first colonized Florida in the Sixteenth Century, they planted orange groves. Some of them were the sour Seville orange, Citrus aurantium. I don't know if these old orange groves were abandoned, got too old to be productive, or are still cultivated. The miniature myrtle-leaf orange, C. aurantium 'Chinotto,' arose as a bud sport on these old orange trees. It was brought back to Spain and Italy, where it is cultivated for its miniature sour oranges. Because they thought it came from China, they called it 'Chinotto.' The Chinotto fruits are candied and used in confections and soft drinks. Of course it inevitably caught on as a pot plant and bonsai, but is not widely known. There are several named varieties with no taxonomic significance.
I decided to try it after someone here mentioned that it is more responsive than kumquat. Here is the only picture I found on the Internet of a Chinotto bonsai.
http://forums2.gardenweb.com/forums/bonsai/gal122041208947.jpg
You don't want to see my stick in a pot yet. Although it does grow faster than a kumquat, the trunk, at only 3/8 inch, about a cm., is already too hopelessly stiff to wire. Fortunately it has a little movement.
I'd like to hear other people's experience with this variety.
Iris

bonsaisr

Member







The name "Citrus aurantium" doesn't ring any bells, but "chinotto" sounds vaguely familiar. I'll ask my citrus friends tomorrow. When I click on you link I get a blank page with a garden web icon in the upper left corner.

Russell Coker

Member






bonsaisr

Member





Hi Iris, thanks for the bit of history of the Chinotto. I know someone in Fla. that grows them and I started some of his seed last fall. They are doing well outside in a small greenhouse (unheated), they didn't care for the bit of frost that hit them awhile back so I covered them. They are bushy little spikes about six inches tall. In the spring I'll plant them in my garden and let them grow for a few years I would quess, my first experiment with them. Citrus actually do well here, our winter average is about 40F. The occassional freeze may knock the leaves off till spring, but most years they are evergreen. You hear alot of chatter about citrus in regards to fruit production and damage to crops, but the trees themselves are fairly hardy trees. They do make a nice shohin bonsai, I'm suprized they're not more popular. Best of luck with yours, I'm excited to see what you can do, I'll show you mine if you show me yours.LOL

RKatzin

Member





bought a dwarf citrus that was labeled as 'chinotto' about 5 years ago. It does respond much better than kinzu (dwarf kumquat). However, it has never flowered or fruited - maybe it needs a certain amount of age before this happens? You can see from the photo that the leaves are quite small and it has the classic citrus bark that is quite stiff as Iris said, though I have been able to wire thinner branches with no problem. Being such small leaves, I am wondering if it is an even smaller sport of 'chinotto' or something else altogether. I've been trying to get a confirmation for some time. I am hoping that someday it will fruit! Any help with that would also be appreciated. I do fertilize it aggressively and even use a citrus fertilizer for it.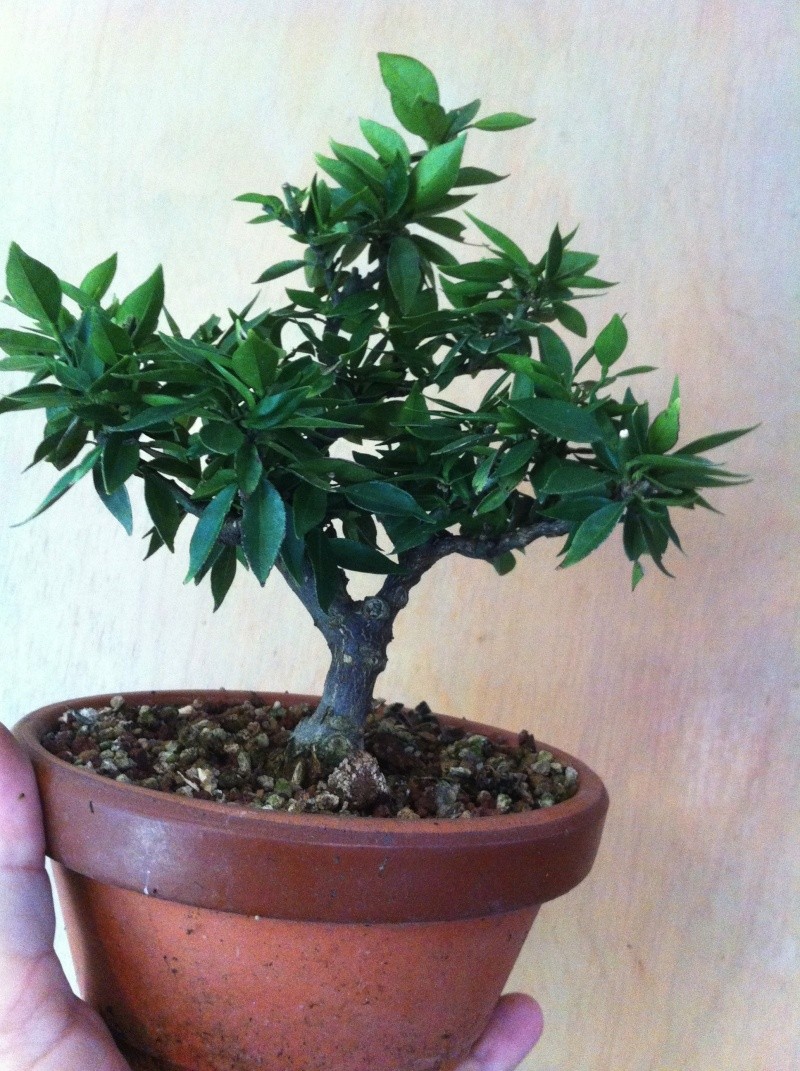 Thanks,
John Romano
zone 6 B RI, USA
Yes, that looks like my Chinotto. According to my notes, probably from Evergreen Gardenworks, it does not set fruit easily. It requires high winter temperatures & high humidity. Not clear if that is also to bloom. Since the plant is probably cutting grown, I don't think age is a factor.

bonsaisr

Member





Moderators, please change the title to Citrus xaurantium. After a few losses, I recently acquired a new one, but it is still a stick you don't want to see. I found out that the parent variety, the Seville orange, is a natural hybrid of Citrus maxima, the pomelo, with Citrus reticulata, the mandarin orange or tangerine. They are all from southeast Asia. There are very few pictures of Chinotto bonsai on the Internet. If you want to show it in fruit, the tree will have to be on the larger side. However, you occasionally see shohin crabapples with one fruit, so this would work the same.
Iris

bonsaisr

Member






---
Permissions in this forum:
You
cannot
reply to topics in this forum