Jun wrote (elsewhere):
For me I consider two types of windswept. The first one is the tree that is being continuously battered by the wind- like trees along the shoreline or cliff edge. and the trees formed in this areas got very different characters, such as contorted trunks and branches and mostly with one sided branches The other one I observed was a temporary windswept- a tree with normal trunk and branch growth, like we might commonly find in a field but if we caught a glimpse of a tree temporarily being blown by the wind I find it with features like my windswept above.

And here is the other windswept: The grove, continuously buffeted by the gale-force winds. Trident raft. Still some wiring to do, and some maturing -- and it is going to go onto a slate slab in the spring.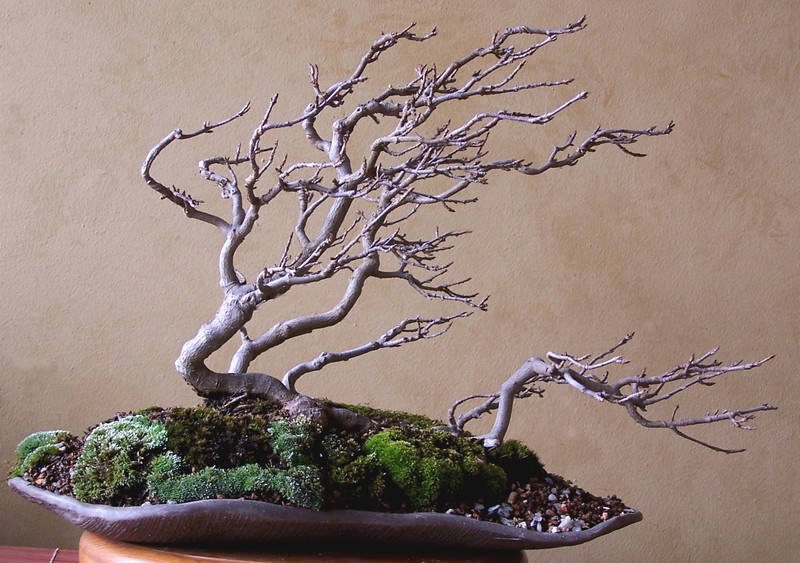 _________________
Jim Lewis - lewisjk@windstream.net - Western NC - People, when Columbus discovered this country, it was plumb full of nuts and berries. And I'm right here to tell you the berries are just about all gone. Uncle Dave Macon, old-time country musician

JimLewis

Member





another very nice windswept - but this i think is a very similar style as juns - that of a new wind blowing an existing tree - even though the trunks show a life of predominant wind direction it is because the first branch on the left points so much into the wind first, then bends back (as does a branch above too)- a tree that has a life of directional wind starts with just the trunk on the windy side and all branches are on the lee side, exactly as you have styled the lesser trunk to the right
great tree though - windswept bonsai have such movement

cheers Marcus

marcus watts

Member





Very Very Nice JIM ,, I see you are wireing befor winter too...I want to see this one in spring or we live pretty close send it on!! looks good take care john
Nice tree Jim! Great movement and I like the pot. I look forward to seeing it on the slab.
Todd

Todd Ellis

Member






---
Permissions in this forum:
You
cannot
reply to topics in this forum