While at the garden today (Elandan Gardens) I started working on a small hornbeam that has been needing some attention for a few years.... regular pruning has been taken care of but wiring has been lacking...
After a few hours of work Vic snapped some pictures (cell phone pics so they aren't great sorry) .... they aren't great... but enjoy
Wiring every twig....!!!
Working in the shop ...
The Front:
The Back:
I think in spring I will try and find a better pot for the tree... I'm personally not a fan of the current pot...
For those that are interested Daniel Robinson purchased this tree as a stump many years ago (at least 20) .... it is a member of the permanent collection at Elandan Gardens .... the process of wiring it (in the cold) took me about 5 hrs...

ang3lfir3

Member





ang3lfir3 wrote:.... the process of wiring it (in the cold) took me about 5 hrs...

Yeah, but the Nutcracker helped out......Didn't he?
-Jay

drgonzo

Member





drgonzo wrote:

ang3lfir3 wrote:.... the process of wiring it (in the cold) took me about 5 hrs...


Yeah, but the Nutcracker helped out......Didn't he?

-Jay
Yes he was instrumental in providing just the right amount pressure


ang3lfir3

Member





now that is a fantastic aged image - totally natural image of a battered ancient tree. i think the pot wants to appear rustic and aged too - the glazed blue is very young looking for such a tree with charactor.

nice, Marcus

marcus watts

Member






drgonzo

Member





I'm sorry Dan makes you work in the room with the stored Christmas decorations and cat boxes!

or does Vic make you work there?
Re: the tree,
It looks like it should fill out nice in spring and it looks like you did some carving on it.
As far as the pot, it sits way too high in the pot. If possible to get it lowered in that pot I certainly would when potting ( how long has it been in there pushing up?) and I agree, another pot would look better. Also, it looks like an exceptionally NARROW pot for it's length?
D.

Dale Cochoy

Member





Nice job wiring - looks cold in that shop.
Knowing Dan's emphasis on focal point design, If the focal point is the carved stump I'd consider making the tree much shorter and more compact with smaller canopy. It would make the trunk look more aged and proportional. And a much smaller pot.
To really improve it, it needs more taper in the branches and there's only one way to do that – chop low and regrow. Once the lower part of the new main trunks have fattened up I'd add some carving to them to extend the current carving to integrate those branches into the design.
Have fun.
Please excuse the MsPaint virtual design - but something like this.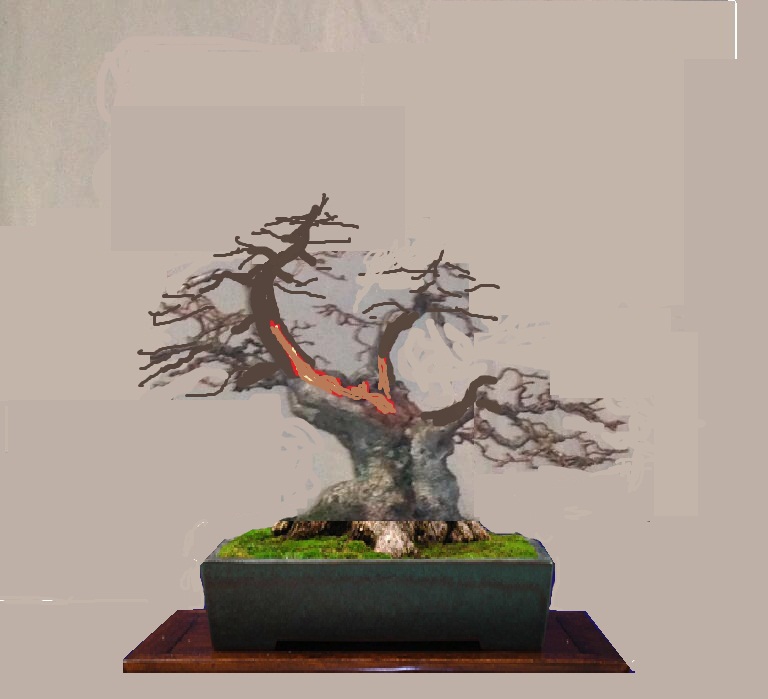 Rob Kempinski

Member





I think Robs virtual pretty much says it all.


thomasj

Member





@marcus -- thank you!! gnarly is how we like em



@drgonzo -- an interesting pot and one i like very much.... def the kind of thing I was thinking about...
@Dale -- Lol that is where I went to "get warm" once it started to get dark (4:30pm)... You are right it is really high in the pot (prolly been in there +/- 20yrs) and the pot is extremely narrow... more of a forest pot.... it does look extra high because of the 2" thick moss as well which will be "mowed" in spring... Hmm wondering how it might look in something with your dark forest green glaze (fall colors are always yellows)
@Rob -- I really like that Virt.... especially the pot... the strong masculin vibe in a glazed pot gives that aged feeling that this tree is really trying to evoke.... I love it... (gunna have to go shopping... Dale?).... I agree with the design.... I want to keep the crown rounded out and aged so will lower part of the tallest "trunk" this spring when it will get a better chance to callous and give us some nice gnarly scars

... Not so such about a bunch of chopping but we can send this guy on his way again... The tree was recovering from having a large roll of roofing plastic fall on it a couple years ago...
@Thomas J -- yup I think you called it....
I start on one of the larger hornbeams next weekend ... will prolly take me most of the weekend (and a few miles of wire) ...... I'll try and get better before and afters....
Thanks guys.....

ang3lfir3

Member





Alon,

I also think Rob's suggestion is alright, but :
- I'd prefer to move the middle trunk slightly to the left with foliage being overlapped little bit by the left main trunk to create depth; and at the same time to avoid the similar distance with the right trunk by giving more space.
- Form a wider canopies with wide open structure instead single line canopies because this is deciduous tree, not an apical dominant connifers.
- Those 3 "new" trunks look rather new from the bark texture, consequently, they look separated from the main basic trunk; so you can "hurt" gently on the bark around the necks. When they healed, they will swell with rougher texture as the main bark texture.

Robert Steven

Member





guys - the tree is magnificent.
Robert,
I think that your tip on the middle trunk is briliant

making the design both more 3d and more natural...
I am very intrique on how the design will look when making the canopies wider...also it can be created in many variations
I would be glad if you had the time to send us a virtual

alon

theBalance

Member






---
Permissions in this forum:
You
cannot
reply to topics in this forum