Hello, a friend of mine found this stump and bring it back to me, thinkink it could be useful for bonsaï.
I don't know wht kind of tree it was, it's not very hard, i could try a wood hardener to make it hader.
I can use it as a pot, (irst picture) or in the other way as a penjing, what do you think?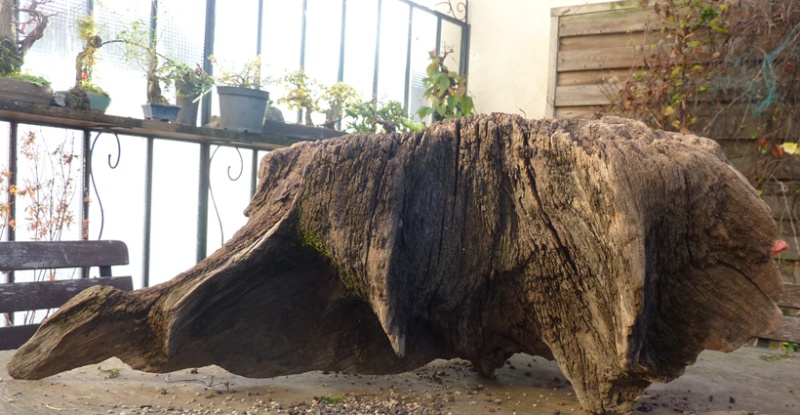 The first picture makes it look like it would be a comfortable bench from which to view your trees.
_________________
Jim Lewis - lewisjk@windstream.net - Western NC - People, when Columbus discovered this country, it was plumb full of nuts and berries. And I'm right here to tell you the berries are just about all gone. Uncle Dave Macon, old-time country musician

JimLewis

Member





If you could find a large stone slab, to place on top, you could make a nice display table/bench for a large tree or a few smaller trees. I think a wood sealer/preservative/hardener would make it last longer.
Nice piece of wood!

Todd Ellis

Member





That wood will be nice inside an aquarium. Lots of fish will love it.
If you could carve a few flat places on the stump that are at different levels, it could be used for a unique shohin display stand.

Mike

mike page

Member





Thanks for your replies.
Jim a bench woud be ok but it's too low.
Katoom for fishes i would need a very big aquarium

(and fishes too)
Mike and Todd A display for shohin or a large tree is a good idea, but it would need to be carved not too regulary to make it still look natural.
My first idea was to carve it to make a big pot (first picture) or to plant several shohin on it to make a penjing (other pictures)
The thing is that in both cases, it will be hard to move it.
---
Permissions in this forum:
You
cannot
reply to topics in this forum