This is Crape myrtle 'Cherry dazzle.' I purchased it as a nursery plant a year or so ago. It has the most brilliant fall foliage of all of my crape myrtles. It is in this round Nick Lenz pot, though I don't know if that will be its final home or not. I'm still debating on its front. The 3-D winner is the third picture, though it doesn't look that super in a photo. That
'honor' goes to the first picture. I have done NO work on the top, other than occasional pruning. Much wiring will be required, whatever front I choose. You are welcome to pitch in . . .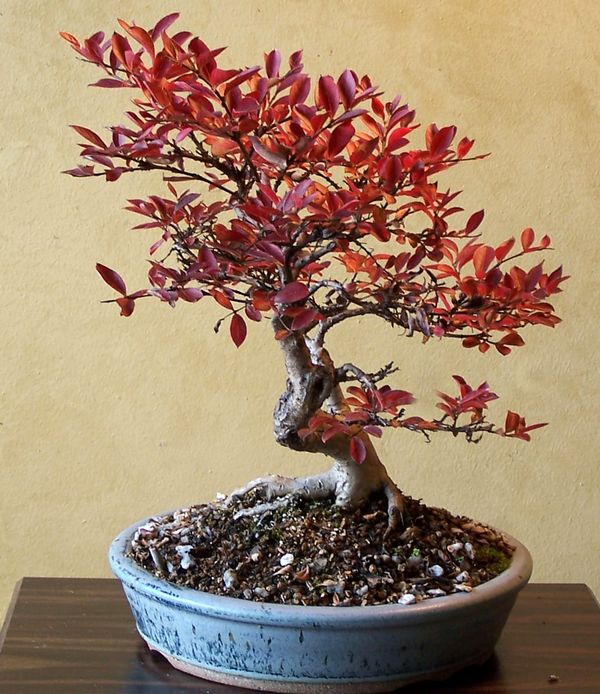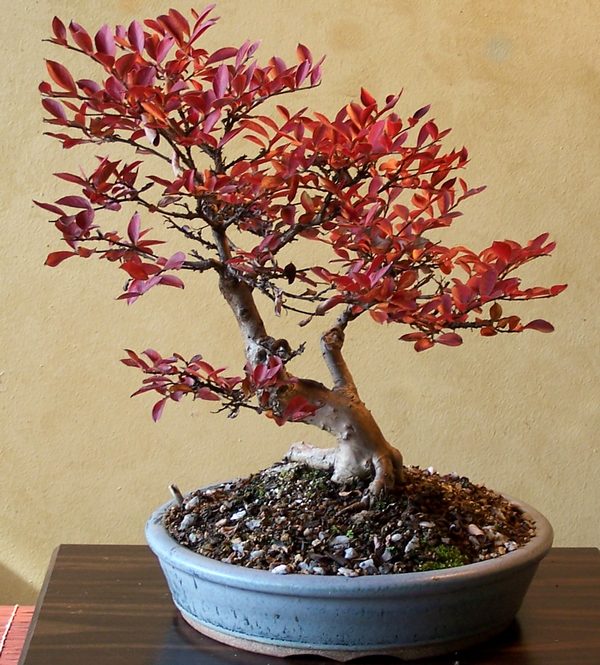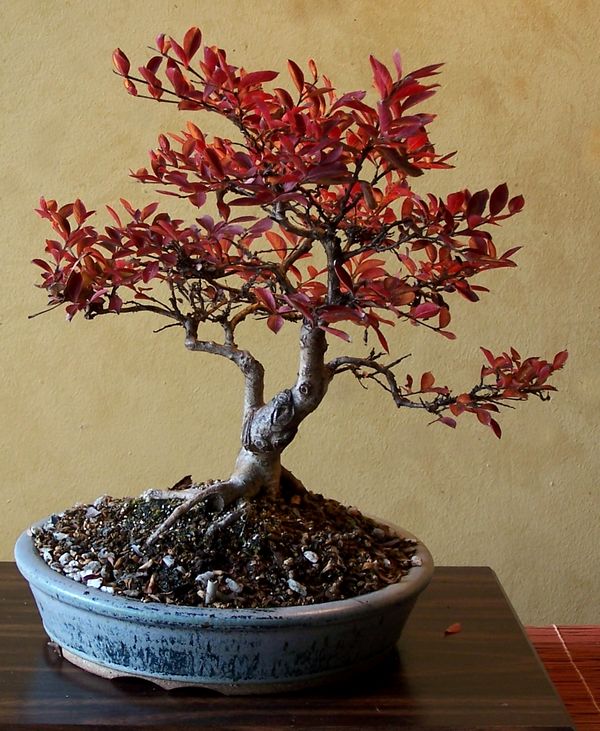 _________________
Jim Lewis - lewisjk@windstream.net - Western NC - People, when Columbus discovered this country, it was plumb full of nuts and berries. And I'm right here to tell you the berries are just about all gone. Uncle Dave Macon, old-time country musician

JimLewis

Member





Jim
I have a Ruby Dazzle and my fall color wasn't much further from the regular color,

I think the early frost put the kibosh on it, But I did get my first large section of bark to flake off today and reveal a mentos green underlayment. I was very excited by that. I've noticed nice fall color on all these Crape myrtles you've been posting recently.
-Jay

drgonzo

Member





Nice fall color.
Here are my thoughts on the front, keeping in mind the limitations of photographs. View 1 seems like it might have the best view of the surface roots. However, it's got an awkward relationship between the main trunk and that large back branch. Would you want to remove that back branch? It probably provides important depth in that view. I played around with deleting the 2 lower branches and other parts of the foliage mass, this is just a crude idea of what it might look like. Top would obviously need further design, but I'm much better at deleting stuff than adding stuff in photoshop. Big problem is I don't know how much of the top foliage mass/branch structure would go away if that back branch was removed.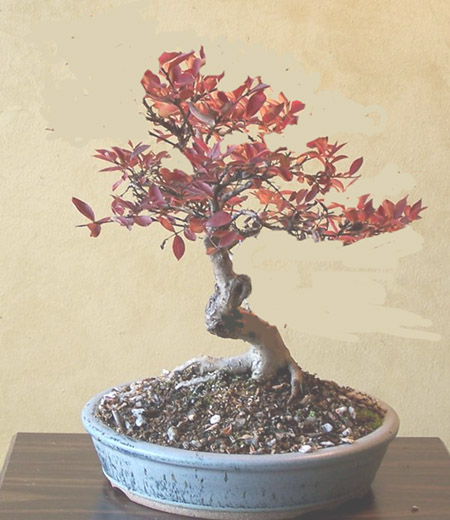 View 2 doesn't do much for me, seems to have the least interesting trunk and strange nebari with some of the roots coming strongly forward and some going strongly back.
View 3 looks to have an interesting trunk shape and well placed branches. Not sure about the nebari, there's that one root that looks to have space under it. Can't tell what else is there, especially to the right of the trunk. Think by reducing the top of the foliage mass you could get a pretty nice tree shape pretty quickly.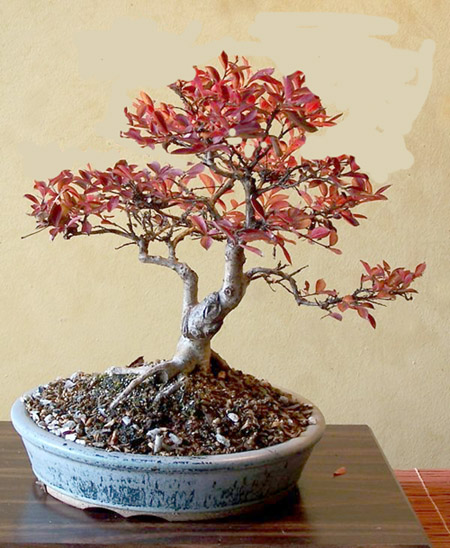 Don't know if any of that will be helpful, but it was interesting to experiment with.
Chris

coh

Member





Thanks, Chris. I'm leaning toward #3. Of course the main trunk pokes right into the viewer (see the piece of bamboo stuck in the soil in that pic and in others) and that's not ideal, but it looks OK in 3-D.
_________________
Jim Lewis - lewisjk@windstream.net - Western NC - People, when Columbus discovered this country, it was plumb full of nuts and berries. And I'm right here to tell you the berries are just about all gone. Uncle Dave Macon, old-time country musician

JimLewis

Member





JIM ,,This is a very nice looking tree !! My 2 cents use # 3 keeping the bottom branch also.... it is and will be a good bonsai....take care john

---
Permissions in this forum:
You
cannot
reply to topics in this forum