Hi Morgan,
Welcome to the forum. I found your final image a little too large for easy viewing, so I made it a little smaller (and brighter) and have re-posted it below. Maybe that will encourage others to comment.
I'm a beginner and don't have too much to say, but I find some of the branches to be a little too contorted for my taste - especially that one on the right. It looks like many of the branches are somewhat long with the foliage concentrated at the ends - is that correct? Are you planning to work on "chasing" the foliage back closer to the trunk over time? I haven't really worked with yews at all so I'm not sure how well that works.
Also curious about what is hidden behind the towel...does the trunk extend further? What further work are you planning?
Chris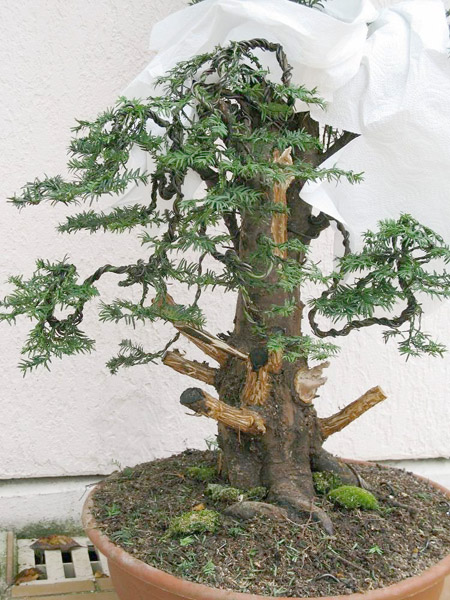 coh

Member





I am aware that this tree can not please everyone
I could make a tree more traditional but I'm not interested.
thank you and sorry for my bad English
hi,
it is both nice and refreshing to see someone with a clear idea of the tree they want to achieve - and the coiled spiralling branches will work very well - as you say it is not a traditional design along current tastes, but as a style it is very old, and chinese in origin, virtually pre-dating the modern bonsai styles seen and used today.
i also found the large picture perfectly alright - i like large pictures also

and the drawings were really good too !
keep the updates coming as the tree develops
regards Marcus

marcus watts

Member





Hello Morgan,
How long is the taxus planted in the pot, is it rooted well?
When you potted it this year you might be careful with freezing temperatures,
and wait till the tree recovered.
You took the big branches down, so when the tree is strong you will get a lot of new shoots on the trunk
to work with.
Making such yns and shari can easily result in die back of the trunk part and root underneath of it.
regards, Sunip

Hello Morgan.
I notice you draw the branches from the start down wards.
But on the tree they go first upwards en then down, that gives a totally different feeling.
Is this what you want?
On a naturalistic yew tree you do not see this so in bonsai one uses new shoots
or guy wire to bend the bigger branches over time downwards and on the same time they will bud back on the older wood
caused by the bending of the branch.
You need to leave some green on the branch other wise he will die.
Good luck with the bonsai adventure.
Sunip

hello
This is a first training.
For me the important thing is what gives off the tree as a whole.
As it is, I love it.
evolution will be very good.
The tree is potted for 3 years.
thank you

---
Permissions in this forum:
You
cannot
reply to topics in this forum